May and June are the most expensive months to rent in Miami.
Rental prices are the lowest from September to February.
When faced with the decision to rent a new place, city dwellers have to make the choice of which season makes most sense for them. While piling personal items into a U-Haul during January weather doesn't sound like the most stress-free experience, sometimes it means paying significantly less each month.
RentHop recently crunched the data to determine the relative seasonal rent differences for each month out of the year. And even in the warmest of climates, the holiday season tends to be the perfect time of year for renters to find a great deal.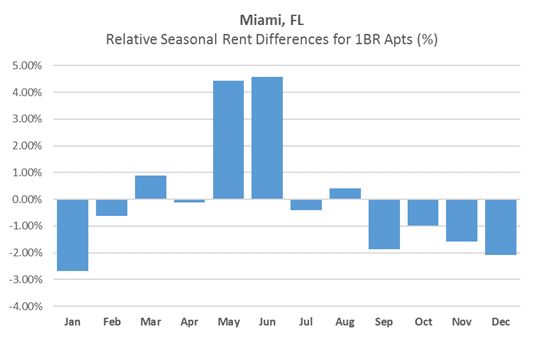 May and June are the most expensive months of the year to rent in Miami, and they are considerably more expensive than the rest of the year. Relative seasonal prices fall nearly 5 percent into July.
From September through February in Miami, renters can snag a deal on an apartment, with January offering the biggest break on rental prices. April rent is the closest to neutral zone.