Thanks to BoostUp's new partnership with ReferralExchange, future buyers collecting cash on the crowdfunding site have the opportunity to earn a dollar-for-dollar match on their down payment savings.
The main stipulation for buyers is that they choose to work with one of three agents provided by the TopAgentsRanked network.
The amount of money the company is willing to match is based on the price of the home and ranges from $250 to $1,500.
The online savings pot just got a little sweeter on BoostUp.com, where homebuyer hopefuls piecing together chunks of down payment change will find more than a glorified piggy bank.
Thanks to a new partnership with TopAgentsRanked, the consumer-facing division of ReferralExchange, future buyers collecting cash on BoostUp have the opportunity to earn a dollar-for-dollar match on their down payment funds, effective immediately.
According to Lisa Fettner, VP of Marketing for ReferralExchange, the partner donation match money — known as a "Boost" — comes from BoostUp. The amount the company is willing to match is based on the price of the home and ranges from $250 to $1,500:
Money matching in exchange for agent matching
The main stipulation for buyers is that they partner with an agent through the TopAgentsRanked network, which provides three local licensed professionals from its pool of 15,000 agent connections nationwide and lets consumers make the final selection.
Participants first create a free account on BoostUp and enter in some basic information including their birthdate and whether they're saving for a house or car. Akin to the well-known crowdfunding sites Kickstarter and Indiegogo, users establish a monetary goal. Down payment savers would enter their intended home purchase month and year.
To qualify for incentives like the partner program, buyers must have an account open for at least 30 days, automate deposits and make progress toward their savings.
'Parents Boost' — another creative funding option
In addition, the site is launching "Parents Boost," giving mom, dad and other relatives the ability to commit to matching a portion of a buyer's down payment savings (and maybe provide that gentle nudge to get their millennial offspring out of the basement for good).
This isn't the first site to harness the power of crowdfunding to finance a home purchase. Feather the Nest, for example, provides a platform for buyers to describe their real estate aspirations, share their campaigns and collect donations — a particularly effective strategy when posed as an alternative to a wedding gift registry.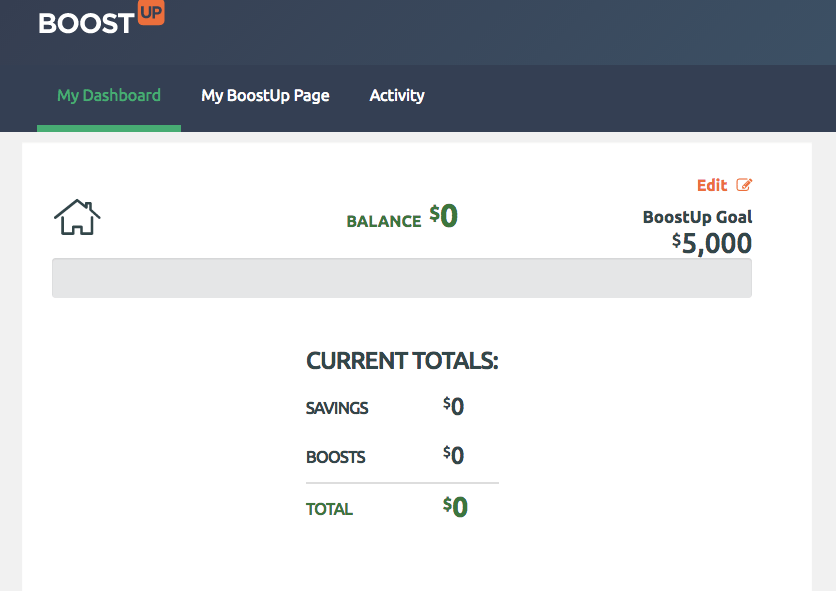 Moreover, Hatch My House and DownPaymentDreams.com similarly target couples seeking down payment assistance, as opposed to an onslaught of smaller presents, as they start their marriage.
BoostUp came to life in 2013 and has collected over $1 million in savings deposits. The company serves 50,000 active users, more than 7,500 of whom have used the platform to purchase a home or car.
Down payments — the struggle is real
For 77 percent of millennials, affordability is the largest obstacle standing in the way of homeownership, compared to less than half who feel it's mainly because they're not ready for marriage or settling down. In addition, the expensive metros where millennials flocked to in hoards require hefty down payments, a reality that many young professionals underestimate.
"Research shows that the down payment is the biggest obstacle for first-time homebuyers," said John Morgan, founder and CEO of BoostUp, in a press release. "Through BoostUp's first-of-its-kind savings platform, and the generosity of our partners, we are able to significantly reduce that hurdle."
Through a partnership with Hyundai, the company's match incentive method has already proved successful in the auto realm by helping people save up for cars.
Buying a home is a big step up in terms of purchase heft and responsibility, and some lenders limit the portion of a down payment that can be gifted. However, BoostUp CEO John Morgan doesn't foresee match participants as being risky homeowner bets.
"BoostUp users who gather donations are also saving their own money for their down payment with BoostUp, which helps them to be more financially ready to purchase," he said. "They do have to qualify through mortgage underwriting as to their ability to repay the loan just as any other buyer."
In the event of a lending situation that capped down payment gifts, funds raised can also be put toward closing costs for the buyer.
"It is both thrilling and humbling to play a role in helping more Americans achieve the dream of homeownership," Morgan added.
Indeed, just as all kids learn as soon as they start dropping allowance coins into a ceramic farm animal, every little bit helps.