Washington D.C.'s closed sales set a new record of 5,938 in the month of June.
The Baltimore metro area has experienced 23 consecutive months of increased closed sales.
D.C. and Baltimore metros saw annual median home price increases of 1.6 percent and 5.8 percent, respectively.
The month of June managed to set new records for Washington D.C. and the Baltimore metro areas, according to MRIS data. Sellers watched as median home prices crept up, while buyers had to act fast, as inventory levels have slowly declined since last year.
In the D.C. metro area, June's sales volume climbed 7.9 percent year-over-year to $3.2 billion, which is 14.1 percent higher than the previous month.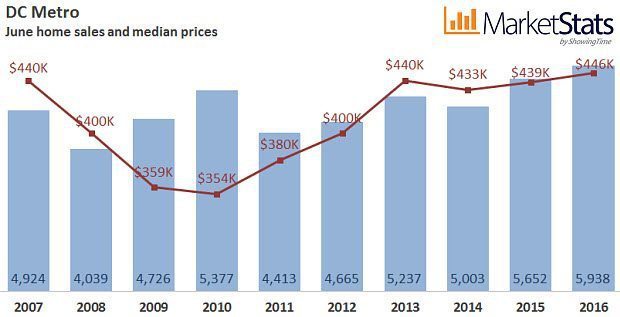 The amount of closed sales in the metro reached the highest level since June 2006 — a 5.1 percent hike to 5,938. According to data provided by ShowingTime RBI based on listing activity in the MRIS, this is the 19th month in a row of year-over-year increases in closed sales.
Median sales price set a decade high, at $446,000 — up 1.6 percent since June 2015 and 3.7 percent since the previous month. Buyers paid 98.1 percent of the original list price on average, which is up only slightly (0.1 percent) year-over-year.
A June inventory of 11,301 presents the second month in a row of decreasing availability. In June 2015, inventory was 8.4 percent higher. The increasing demand for homes coupled with rising median sales prices are two factors that contributed to a median days on the market of only 14 days.
Baltimore's metro area enjoyed it's 23rd consecutive month of increases in closed sales. The 4,303 closed transactions were 11.1 percent higher than June 2015. Also, the 4,260 pending contracts was the highest amount the metro has seen in 10 years.
Median sales price climbed $15,100 year-over-year to $275,000 — a 5.8 percent increase and the highest June sales price since 2007. Volume in the area reached $1.36 billion, an increase of 16.7 percent year-over-year and 21.9 percent month-over-month.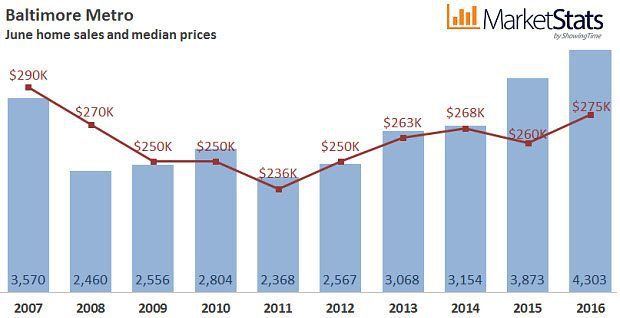 As well as setting records in median price and closed sales, new listings reached 5,810, which is the highest level since June 2007.
This time last year, homes sat on the market for median of 28 days, but that number dropped to 22 days in June 2016. And like much of the record-setting numbers produced in June, this was the lowest days on the market in a decade.