Baltimore's median sales price hit $275,000 in June, a 5.8 percent year-over-year increase and 5 percent month-over-month rise.
New listings are up 5.8 percent since last June.
Healthy job market, homebuyer tax credits and affordability are bringing more millennials and baby boomers to the city.
Canton, Fells Point, Camden Yards and Remington are hot neighborhoods at the moment.
The Baltimore housing market is seeing surging prices, fewer days on the market and plenty of new listings, according to MRIS. Charm City is blossoming, notwithstanding the fact that residual foreclosures remain high.
According to the latest MRIS Baltimore housing market report, June's median sales price of $275,000 represented a 5.8 percent year-over-year increase and 5 percent month-over-month rise. This is the highest median price of any June since before the recession.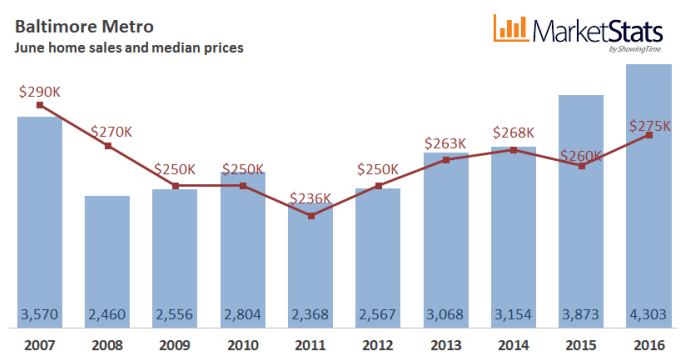 Soaring interest, inspired by a low barrier of entry, has inspired retailers, big brands and a slew of residential development within the Baltimore housing market. New listings are also up 5.8 percent since last June, the report says.
Inman with Senior Vice President of Long & Foster and MRIS Chairman of the Board Cindy Ariosa for some first-hand insight. Ariosa oversees Long & Foster's 35 offices across Maryland.
Ariosa's comments have been edited for clarity.
June held the highest monthly closed sales in 10 years, plus the sales price was the highest for June since before the recession. What's driving this activity?
Both boomers and millennials are driving the activity. We've had Amazon come in, a huge businesses doing expansions. Johns Hopkins University and Under Armour are also here.
Baltimore has always been a city of neighborhoods, and the millennials are moving in in droves because of walkability, activities, restaurants and our free transportation circulator. The millennials are also moving back to town because they are downsizing from other counties and taking advantage of the arts and culture Baltimore has to offer. We have quite a few small neighborhoods that are easy to walk around in.
The tax credits that the city is offering are driving this, including the 10-year Historic Restoration and Rehabilitation Property Tax Credit. Not only does it help us rehabilitate Baltimore's housing stock, but provides an incentive to stay for 10 years minimum. We also have a live near your work program. It's not a secret that Baltimore City has higher taxes, but these breaks lower their burden. The prices have gone up, but haven't priced out young buyers. We often get D.C. buyers because we are so much more affordable.
We're doing a better job of educating buyers with the incentives. As these millennials come in, they usually rent first and then want to stay, so now we can take advantage of that. The job market is very healthy in Baltimore City. Obviously, interest rates provide the perfect storm.
What are some of the new projects enhancing the Baltimore market?
One of the biggest projects that Under Armour is doing is in Port Covington. It's starting next June, and providing residential and retail space. It's one of the biggest projects the city has undergone since the Inner Harbor. Port Covington is going to fill the housing need for Under Armour employees, with mixed-use properties, condos and townhouses. It's going to turn the old industrial part of Baltimore City into a vibrant neighborhood.
Canton Crossing is another new development in Canton. Prices are up 22 percent in Canton since last year, which certainly has to do with retail coming in. The Rotunda next to John Hopkins is another huge residential and rental condo complex. It's good to see cranes again in Baltimore City. The Four Seasons is building luxury condos above their hotel. Harbor East has been popular for 10 years.
Where are the big areas for new development?
Canton, Fells Point, Camden Yards – even Remington is a new, emerging area. Yet, there's still affordable housing for first-time homebuyers who want to enter the market. There are all kinds of amenities, including restaurants, cultural hotspots and everything's walkable. There's a lot going on.
What are some tips for new homebuyers looking to move to the Baltimore area?
Take advantage of the two or three tax incentives to live near where you work. We have gorgeous, old homesm and to have that kind of tax break for 10 years is amazing. Baltimore is a city of neighborhoods, and everything has its own uniqueness.