Monterey County saw 27 percent growth in sales of single-family homes in June year-over-year.
Santa Cruz County's inventory dropped 9 percent annually in June.
Single-family home sales in Santa Cruz County also dropped 26 percent since June 2015.
Saying "coastal communities will always be a great investment" is a broad generalization that cannot always be quantified.
Sure, beachfront property is popular, but MLSListings released a comparative study of Monterey, San Benito, San Mateo, Santa Clara and Santa Cruz counties that points out some startling figures.
Monterey is going all the way up
Single-family home sales in Monterey County increased 27 percent in June year-over-year. During the same period, sales grew 23 percent in San Benito County and 4 percent in San Mateo County. When pitted against Santa Cruz and Santa Clara counties, the numbers are a bit scary. This year's single-family home sales in Santa Cruz County are 26 percent below June 2015 and 2 percent lower in Santa Clara County.
One positive is that all five counties showed growth in single-family home sales from May.
Santa Cruz is the only county of the five that saw an annual drop in inventory (9 percent) for single-family homes. However, San Benito County exploded with 35 percent growth, and San Mateo County increased 17 percent. Santa Clara County inventory rose 6 percent year-over-year, and Monterey increased 3 percent. Santa Cruz and Monterey were the only two counties to see inventory growth from the previous month, though.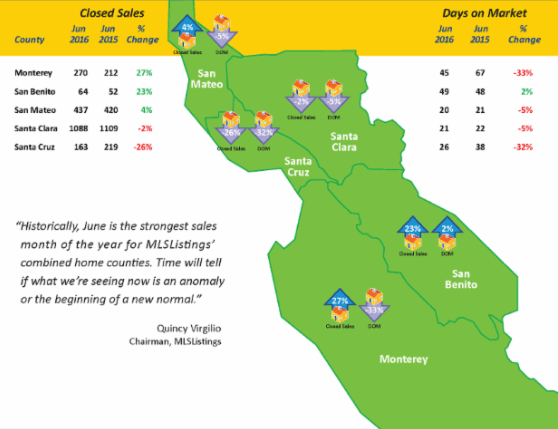 Silver lining for Santa Cruz
Although overall sales of single-family homes in Santa Cruz County dropped significantly, median price increased 10 percent in June year-over-year to around $800,000. Monterey County experienced 8 percent annual growth in median sales price, pushing that figure to $539,500.
Although Santa Cruz's closed sales were low compared to 2015, the demand is still quite high — it's the supply that's the issue. On average, homes in Santa Cruz were only on the market for 26 days in June, so the lessened supply that was available was still getting snatched up with haste.