We'll add more market news briefs throughout the day. Check back to read the latest.
U.S. Census and Department of Housing and Urban Development's New Residential Sales for June 2016:
Sales of new single-family homes were at a seasonally adjusted annual rate of 592,000.
That's 3.5 percent higher than the May 2016 estimate (572,000) and 25.4 percent above the June 2015 estimate of 472,000.
The median sales price of new homes sold in June 2016 was $306,700.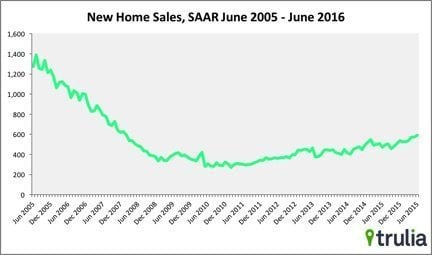 Black Knight Financial Services' "First Look" at June 2016 mortgage data:
June's first-time foreclosure starts (those properties starting the foreclosure process for the first time) were at 69,300 — the lowest starts reported in 16 years.
Total U.S. foreclosure sales are at 2.31 percent — a 13.54 percent month-over-month and a 20.65 percent year-over-year increase.
The U.S. loan delinquency rate, which includes homes that are 30 or more days past due, but not in foreclosure, experienced a 1.33 percent month-over-month increase and a 10.03 percent year-over-year decrease from June 2015.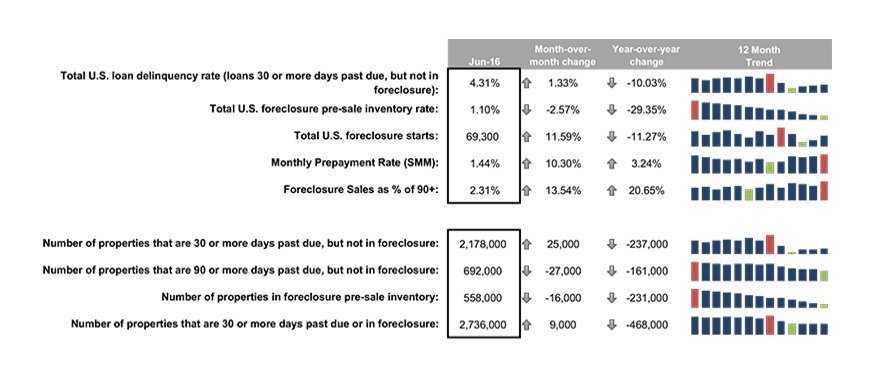 S&P/Case-Shiller Home Price Index for May 2016:
May 2016 marks 49 consecutive months of positive home price gains.
In May, the national home price index reported a 5 percent annual gain — growth that's level with the yearly index gain recorded in April.
Portland (12.5 percent) reported the highest year-over-year gains, followed by Seattle (10.7 percent) and Denver (9.5 percent).
Mortgage rates:
Home equity rates:
Most recent market news:
First American's Real House Price Index (RHPI) for May 2016:

The irreplaceable human
Why the people-driven side of technology shapes the all-important real estate consumer journey
READ MORE
Real house prices are 19 percent lower than they were in 2000.
The RHPI was unchanged in May 2016 from April 2016.
The RHPI increased 0.4 percent from May 2015 to May 2016.
Black Knight Financial Services' May 2016 Home Price Index:
The home price index in May was $263,000, up 31.7 percent from market bottom and 1.8 percent below the June 2006 peak.
Mountain states accounted for eight of 10 top-performing metro areas.
All states and metros experienced positive price movement in May, and six large states and 15 large metros hit new price peaks.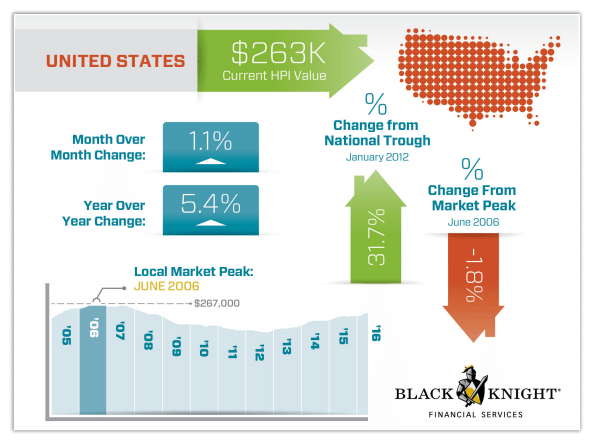 Email market reports to press@inman.com.