Shell announced it would cut nearly 200 jobs from its Gulf of Mexico deepwater operations, just after other energy-based companies such as ConocoPhillips and Schlumberger announced cuts.
Houston's job growth slowed to 0.2 percent over the past year compared with 1.5 percent in the state of Texas.
Houston's unemployment rate increased annually in May to 4.8 percent.
The Houston job forecast has been grim as of late, and unfortunately for some industries, the bad news only gets worse.
Shell recently announced that it would cut 190 jobs from its Gulf of Mexico deepwater operations in order to remain "competitive and better position Shell's Gulf of Mexico projects for future growth," according to a statement to the Associated Press by Shell spokeswoman Kimberly Windon.
The company reportedly is planning to shed 2,200 jobs globally, and this move will cut both contractors and staffers. This trend isn't new for an oil industry that is seeing jobs being eliminated left and right over the past 18 months. Just earlier this July, Houston-based ConocoPhillips announced a plan to cut 1,000 jobs company-wide and hundreds in Texas.
Other energy-based companies in Houston, including Hilliburton Co. and Schlumberger, also made announcements that staff would be cut.
Analysts do believe that the worst is behind the oil and energy industry, which saw a dip of 14,000 jobs (14 percent) in the past year. According to data released by the Labor Department July 22 and reported by the Houston Chronicle, the Houston area is seeing snail-like movement in job growth.
In the past year, 5,200 jobs were added by Houston employers, representing a growth rate of 0.2 percent. Statewide job growth was 1.5 percent, and national growth was reported at 1.8 percent.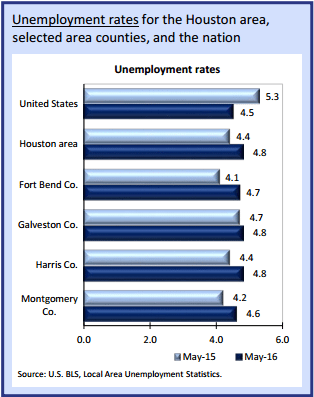 According to the Houston Area Economic Summary released June 29, the unemployment rate in Houston was 4.8 percent as of May 2016, which was a slight increase over 4.4 percent reported the previous year.
Specifically, the mining and lodging industry saw a fall of 13.3 percent from May 2015 to May 2016. Other industries that posted declines were manufacturing, information and professional and business services.
What's the oil industry's impact on Houston real estate?
The real estate market in Houston has been cooling off as of late, but trends are still showing strong figures in the metro. According to Altos Research, a California-based real estate analytics company, the median single-family home price in Houston dipped slightly in the week ending July 22 for the weighted 90-day average.
Reported at $389,753, the weighted average median price has been climbing since the start of the year and started to cool a bit in July. Demand also eased but is still showing a strong market.
Altos measures demand with its Market Action Index, which uses a value of 30 to measure whether a market is trending down in favor of buyers or up in favor of sellers. The MAI was reported at 35.19 (slightly in the favor of sellers) as of July 22, which is about where it started at the beginning of the month.