In the U.S., mortgage fraud dipped 1.4 percent over May and 12.2 percent over the same month in the previous year in June.
The top five markets for the Defect Index were located in South Carolina and Texas, with Houston receiving a Defect Index of 89.
Michigan, Florida and Deleware ranked as the top three states with the biggest decrease in mortgage fraud risk.
As mortgage rates continue to descend, loan application defects and fraud risk are following suit. According to First American's June 2016 Loan Application Defect Index, misrepresentations in loan applications dipped 1.4 percent in June compared with the previous month. Annually, these fraudulent trends decreased 12.2 percent.
The Defect Index, an estimation of mortgage loan fraud risk trends by geography and type of loan, has fallen 5.3 percent over the past three months to a rating of 72 in June and is down 29.4 percent from the highest point of risk in October 2013, according to First American.
The financial corporation says overall decline in the Defect Index is a product of modernization and improvements of systems and standards mitigating risk.
The Defect Index increased the most in Maine, climbing 14 percent year-over-year. North Dakota, Missouri, Montana and Alaska rounded out the top five.
Michigan saw the highest annual decrease in defect frequency. The state's fall in its defect frequency was largely impacted by the dip in Detroit, according to First American. Among the largest 50 Core Based Statistical Areas, Detroit defect frequency fell 35.9 percent. Michigan saw a whopping 31.4 percent dip overall, which was 10 percent more than the second-ranked state, Florida.
The Sunshine State had a 21.8 percent decrease. All of Florida's major metro areas saw large annual dips, and only Tampa decreased less than 20 percent. In Miami-Fort Lauderdale-West Palm Beach, the Defect Index was reported at 85, marking an annual decrease of 22.73 percent and a monthly dip of 2.30 percent.
Delaware, Connecticut and New York also ranked in the top five states for the biggest decrease in defect frequency.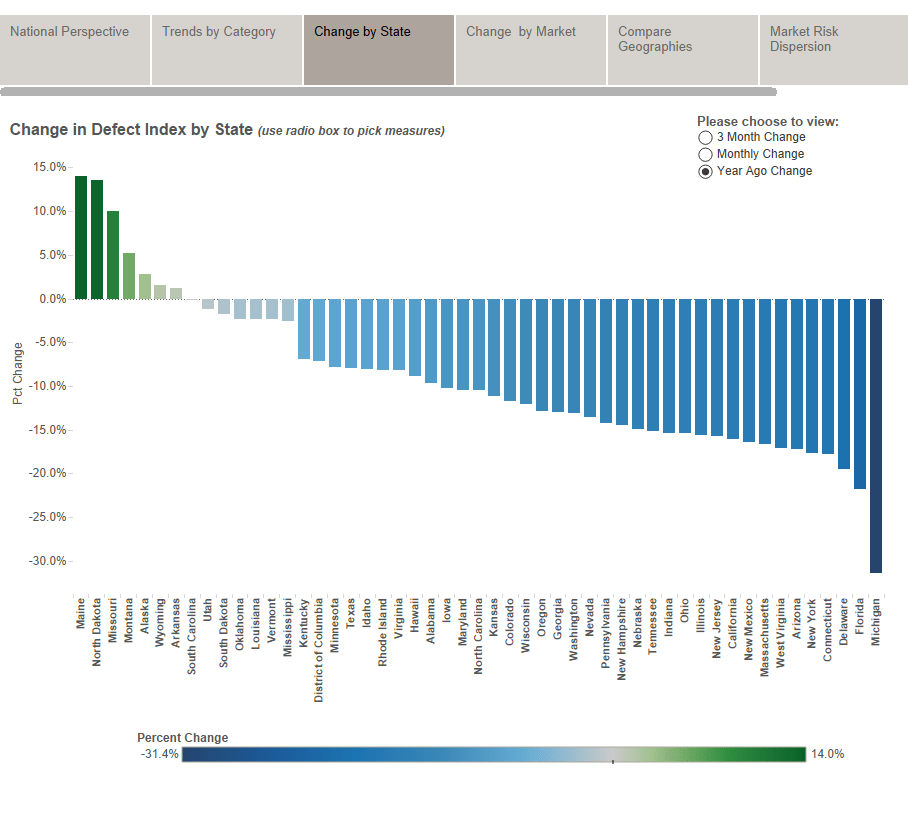 The top five was comprised of cities in South Carolina and Texas. Columbia, Charleston and Greenville, South Carolina, had a reported 94, 91 and 88 for their respective Defect Indexes.
McAllen, Texas, and Houston were also in the top five. Houston had a Defect Index of 89, which was a month-over-month dip of 2.2 percent. Annually, the city saw a 5.32 percent dip in the Defect Index.
Major markets
Los Angeles-Long Beach-Anaheim had a reported Defect Index of 71 — a 4.05 percent dip month-over-month. Annually, the metro area saw a 14.46 percent decrease in defects. Up north in San Francisco-Oakland-Hayward, the Defect Index was reported at 65, which was a 14.47 percent decrease on an annual basis and a 1.52 percent dip monthly.
In the Washington-Arlington-Alexandria metro area, the Defect Index of 71 was an annual decrease of 5.33 percent but represented no monthly change.
Out in the Midwest, the Chicago-Naperville-Elgin metro had a Defect Index of 72, representing a 15.29 percent decrease annually and a month-over-month dip of 2.70 percent.