The 2016 Olympic Games feature the world's best athletes, but how would Usain Bolt fare sprinting up Manhattan's 1,396-foot residential tower at 432 Park Ave.?
CityRealty compared the height of New York City's skyscrapers with the fastest speed of the premier Olympic runners, tennis players and swimmers, matching Usain Bolt, Serena Williams and Michael Phelps against Manhattan supertalls.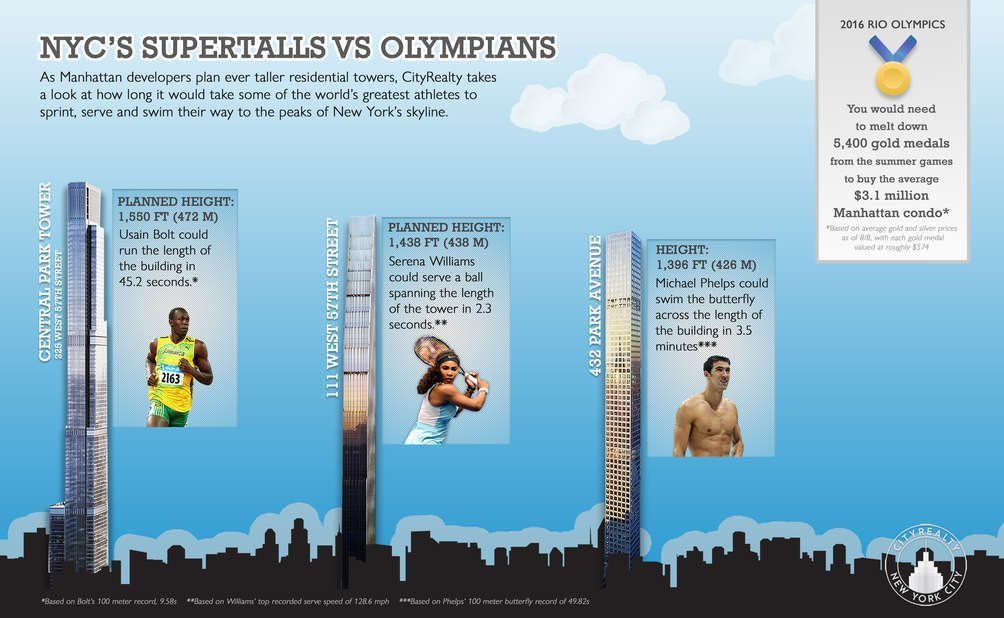 Olympic athletes and Manhattan supertalls
At Central Park Tower's planned height of 1,550 feet, Jamaican track star Usain Bolt could run the length of the building in 45.2 seconds if he could continue the pace of his 100-meter record of 9.58 seconds. Of course, that isn't factoring in the treacherous stair climbing sure to slow the sprinter down. Bolt, coined the world's fastest man, set the world record in Berlin in 2009 and just won his record third straight Olympic gold medal in the 100-meter sprint.
Central Park Tower from Extell Development Company will be the tallest residential tower in New York City upon completion, with sales due to launch later this year and completion in 2019.

3 ways to get ahead in 2020 — starting right now
Grow and nurture your sphere now so you can reap the rewards next year
READ MORE
It would take 2.3 seconds for a tennis ball traveling the speed of Serena Williams' fastest serve to scale the length of 111 West 57th St. Developed by JDS, 111 West 57th St. has a planned height of 1,438 feet and is slated for completion in early 2018.
William's fastest serve hit a speed of 128.6 mph back at the 2013 Australian Open, good for the third fastest ever recorded by a woman. Her older sister, Venus, holds the second fastest recorded serve by a woman in history, hitting 129 mph at the 2007 US Open.
Using his butterfly stroke, famed U.S. swimmer Michael Phelps could lap the towering height of 432 Park Ave. in 3.5 minutes based on his 100-meter butterfly record of 49.82 seconds, achieved at the 2009 World Championships in Rome. Phelps holds the record for most Olympic medals (28) and Olympic gold medals (23).
432 Park Ave. is currently the tallest completed residential tower in Manhattan.
How many gold medals buy one luxury condo?
These Billionaire's Row towers aren't only grandiose — they pack a mean price tag. CityRealty says you would need to meld down 5,400 gold medals from the summer games to buy an average Manhattan condo of $3.1 million, with the actual metal valued around $574 per gold medal.