In January, Berkshire Hathaway HomeServices released its 2015 Q4 Homeowner Sentiment Survey, which painted a somewhat grim picture for 2016.
According to the Q4 survey, the Fed interest rate hike had both existing and prospective homebuyers worried. Millennials and Gen-Xers were especially perturbed by the hike of interest rates they already deemed "average" or "high."
"An entire generation of first-time buyers has never experienced a meaningful rate increase," said Berkshire Hathaway HomeServices President Stephen Phillips. "This is a new and unfamiliar phenomenon to them."
He went on to note that homeowners and homebuyers would soon realize the hike was more "bark than bite."
It seems that Phillips prediction was correct, according to the brokerage's latest Homeowner Sentiment Survey.
The survey, which was released today, shows that homeowners and prospective buyers of all ages are far more optimistic about the current state of the U.S. real estate market than they were last year due to higher home values, robust housing inventory and low interest rates.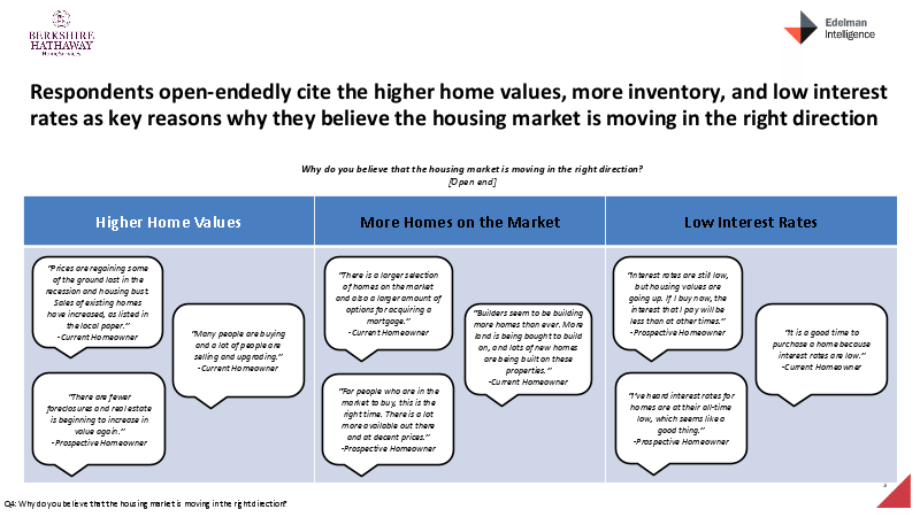 Sixty-six percent of existing homeowners view current market conditions favorably, which marks a 5 percentage point jump since spring and the highest levels seen in more than a year.

Using tech to build a business the old-fashioned way
'Shiny and new' won't help if you don't have the foundation
READ MORE
Moreover, baby boomers, who have historically been the most pessimistic group of respondents, experienced a 6 percentage point jump to 60 percent in market favorability since spring.
"We find this data particularly interesting in light of the housing-inventory shortage seen in many markets," said Gino Blefari, CEO of Berkshire Hathaway HomeServices in a press release.
"As homeowners feel increasingly confident about the outlook of housing and their homeownership investments, they are more likely to consider a move for themselves – up, down or laterally to another market. Perhaps this is a signal that more existing homes may gradually come to market freeing up more options for first-time and move-up buyers."
Fortunately, baby boomers aren't the only ones feeling better about the market and economy. Millennials, who were feeling anxious in November, are now the most optimistic demographic.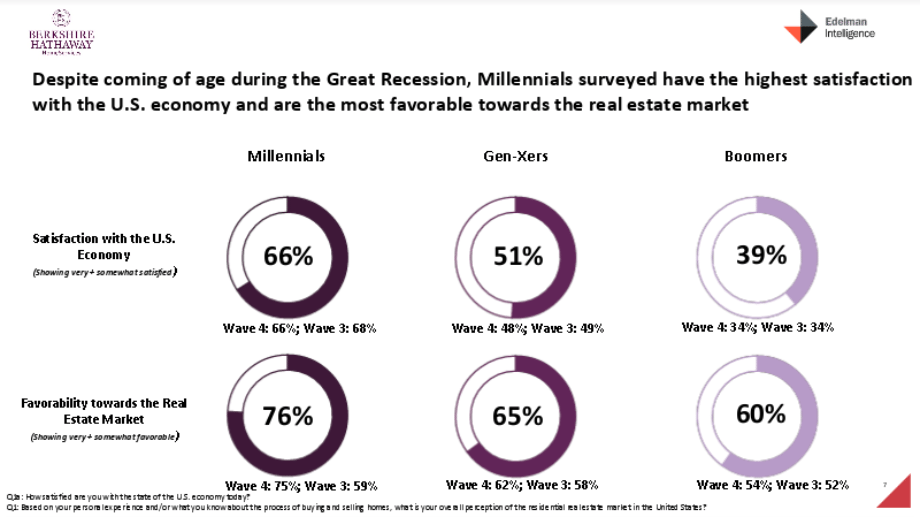 Seventy-six percent of Millennials had favorable views — a 1 percentage point increase from last year, and a 17 percentage point increase from November's survey. Furthermore, 85 percent of Millennials believed becoming a homeowner is an integral part of achieving the American Dream.
Although everyone seems to be much more optimistic, there are still lingering concerns about interest rates. Rates have been at historical lows, and buyers are starting to anticipate a hike in the near future.
Phillips stepped in again to calm everyone's qualms, and noted that "If and when rates do rise, it's also reasonable to expect only a gradual increase over time — no rate shock."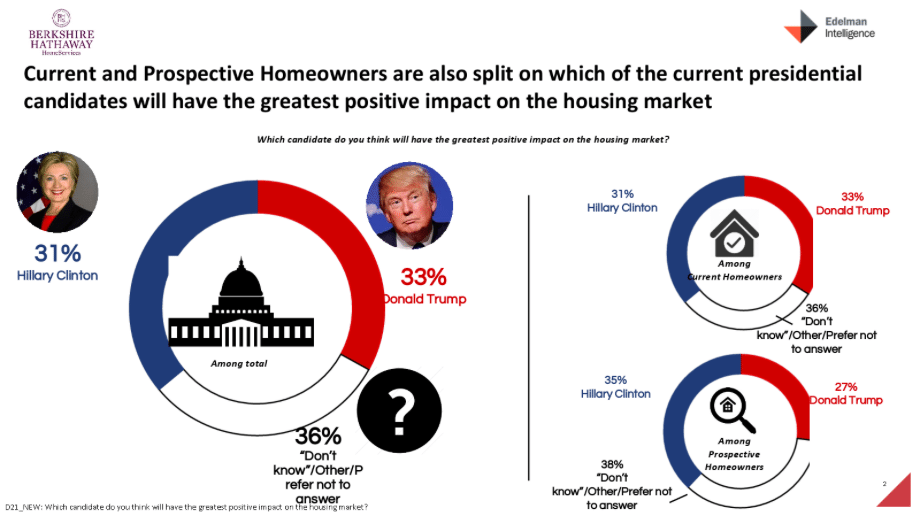 When looking to the future, homeowners and prospective buyers are keeping a close eye on the presidential election to decide which candidate will be best for the real estate market and economy.
Thirty-three percent of current homeowners think Donald Trump would be better for the market, compared to 31 percent of homeowners choosing Hillary Clinton.
Meanwhile, prospective buyers are putting their eggs in Clinton's basket. Thirty-five percent of these respondents said Clinton would be best for the market and overall economy.
But a much larger percentage of homeowners and prospective buyers have yet to make a final decision.
"A much larger percentage of survey respondents admitted they 'don't know' which candidate will be best for real estate," Blefari said.
"It will be interesting to see who will embrace the housing needs of Americans and put forth the best case for positively impacting our real estate market."