Home sales dipped 6.8 percent in the state of Illinois and 7.3 percent in the city of Chicago.
Home sales increased in 33 Illinois counties in July 2016 compared with the previous year, with notable gains in Grundy, McHenry and Madison counties.
Falling inventory and days on market pushed the statewide median home price 4.7 percent to $199,000.
This year continues to prove itself as a promising year in Illinois real estate. According to an Illinois Realtors report, inventory and days on market are trending downward while home prices are increasing throughout the state and in 33 counties.
While home sales are trending downward in the state, most signs point to the issue being the lack of available inventory. Much of the market remains active and buyers are showing interest throughout the state, the report shows.
Homebuyers are taking advantage of the mortgage rates, which, according to to the Federal Home Loan Mortgage Corp, are lower on a monthly and annual basis. In July, the 30-year fixed-rate mortgage was reported at 3.44 percent, down from 3.57 percent in June and 4.04 percent in July 2015.
But the market is still suffering from a lack of available inventory, the report says, helping to push up prices. The total pool of available homes in the state fell to 65,998, or 14.4 percent, from the 77,069 properties listed in July 2015.
Throughout the Land of Lincoln, home sales in July 2016 reached 16,108, representing a 6.8 percent decrease from the same time last year. Those homes for sale are also selling at a quicker pace than they were last year. In July 2016, the average home sold in 53 days, down six days from the same time last year.
"The drop-off in home sales in July underscores the fact that a continued lack of inventory is plaguing those who are in the market for a new home," said Illinois Realtors President Mike Drews said in a statement. "These homebuyers face limited choices and higher prices as a result."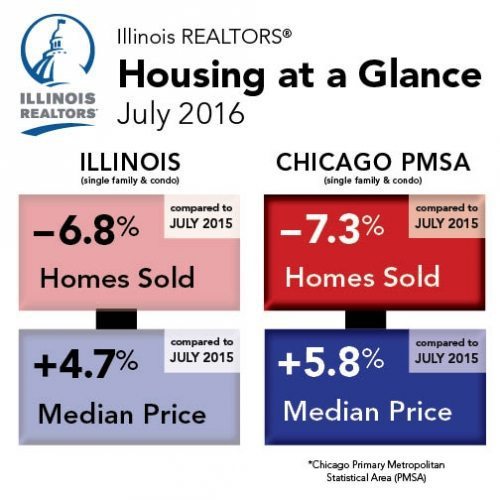 Throughout the state, the median home price was reported at $199,000 in July 2016, up 4.7 percent on an annual basis. In the Chicago metro area, specifically, the median home value was reported at $238,000 in July, up 5.8 percent from $224,000 reported 12 months ago.
Despite the state as a whole seeing a dip in home sales, 33 counties reported an increase in sales in July of this year. The most notable change was reported in Grundy County (15.4 percent), where 75 units sold. Other notable gains were reported in Madison and McHenry counties
Home sales decreased 11.9 percent in the city of Chicago in July compared with the previous year. There were 2,714 home sales in the city.
"If you have a home on the market, it's selling at an incredible pace," Dan Wagner, president of the Chicago Association of Realtors, said in a statement. "In Chicago, the time to sell was just 38 days, and when you pair that number with double-digit annual decreases in inventory, it's a market where sellers are reaping a premium."