Last month, growing home sales were finally slowed down by tight inventory — an issue that has been at the forefront of the housing market conversation since the beginning of the year.
And, according to the National Association of Realtors' latest existing-home sales report, it seems that slowing home sales will be the name of the game for some time to come.
In August, existing-home sales dropped 0.9 percent to a seasonally adjusted annual rate (SAAR) of 5.33 million — down from a downwardly revised 5.38 million in July. This is the second-lowest sales pace after July's slump, but there's still a slight 0.8 percent year-over-year gain from August 2015.
The only region to see an increase in monthly closings was the Northeast.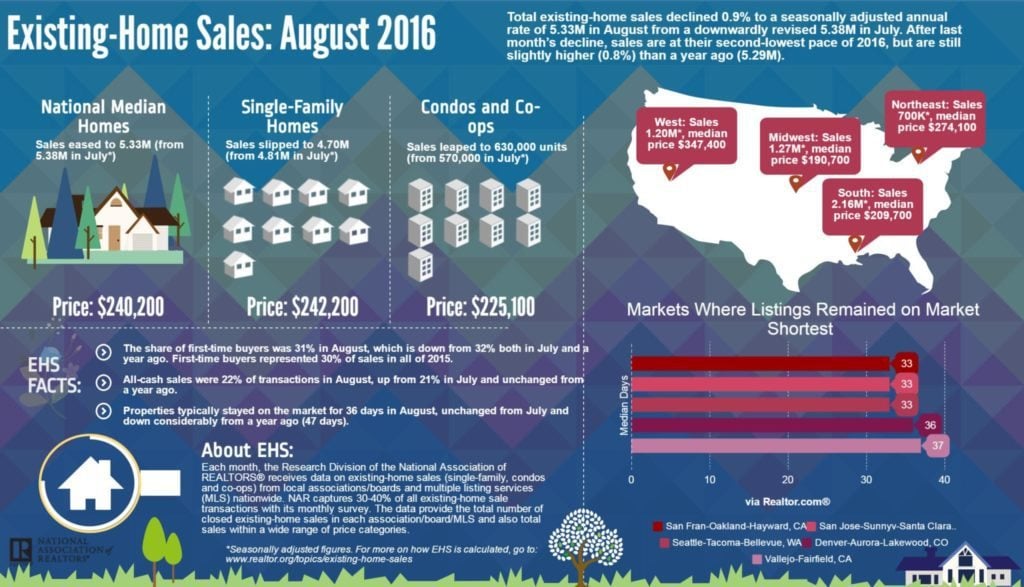 What's in it for you? How real estate organizations boost your business.
See why associations like AREAA can benefit you both professionally and personally
READ MORE
In July, NAR Chief Economist Lawrence Yun said slowing existing-home sales were due to growing home sales prices due to the lack of available inventory. And this month, it's more of the same.
"Healthy labor markets in most the country should be creating a sustained demand for home purchases," said Yun in a statement.
"However, there's no question that after peaking in June, sales in a majority of the country have inched backwards because inventory isn't picking up to tame price growth and replace what's being quickly sold."
The median existing-home sales price jumped 5.1 percentage points to $240,000. This is the 54th consecutive month of year-over-year price increases.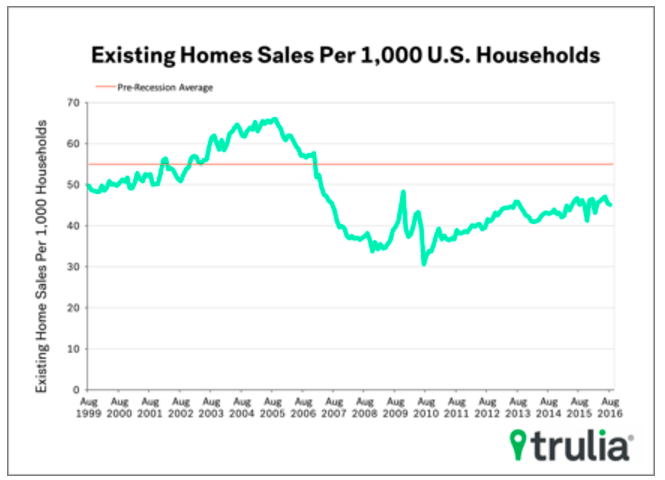 On the other hand, the total housing inventory dropped to 2.04 million existing homes for sale, a 3.3 percent month-over-month and 10.1 percent year-over-year decrease.
This is the 15th consecutive month of year-over-year existing home inventory decreases. Furthermore, unsold inventory is at a 4.6 month supply at the current sales pace — a 0.1 percent drop from July.
Distressed sales, which include foreclosures and short sales, accounted for only 5 percent of sales, unchanged from July and a 7 percent year-over-year drop from August 2015. Four percent of those sales were foreclosures and the remaining 1 percent were short sales.
Buyer and builder breakdown
The share of first-time homebuyers in August was 31 percent, which is down from July 2016 and August 2015's 32 percent share.
Trulia Chief Economist Ralph McLaughlin says low inventory and high home prices are keeping would-be sellers from putting their homes on the market, further blocking would-be first-time buyers from taking the jump into homeownership.
"Those who want to sell their home might not do so because finding another home is difficult. This introduces a first-mover problem into the homebuying landscape," said McLaughlin in a statement.
Yun echoed McLaughlin's sentiments with a strong prediction that the U.S. homeownership rate will remain near 50-year lows if the inventory issue doesn't turn around quickly.
Single-family home sales were at a SAAR of 4.70 million — a 2.3 percent month-over-month decrease and a 0.6 percent increase from August 2015. Meanwhile, the sales price for single-family homes increased by 5.3 percent to $242,200.
On the other hand, existing condominium and co-op sales sprung 10.5 percentage points to a SAAR of 630,000 units, a 1.6 percent increase from last year. The median existing condo price was $225,100 in August — up 3.7 percent from August 2015.
How did buying patterns vary across the country?
In the Northeast, existing-home sales jumped 6.1 percent to an annual rate of 700,000, unchanged from a year ago.
Median price: $274,100, a 0.8 percent year-over-year increase.
In the Midwest, existing-home sales decreased 0.8 percent to an annual rate of 1.27 million.
Median price: $190,700, a 5.5 percent year-over-year increase.
In the South, existing-home sales fell 2.7 percent to an annual rate of 2.16 million.
Median price: $209,700, a 6.7 percent year-over-year increase.
In the West, existing-home sales dropped 1.6 percent to an annual rate of 1.20 million.
Median price: $347,400, a 9.2 percent year-over-year increase.
NAR President Tom Salomone says the best way to work around the current low inventory woes is by pre-approving buyers so when affordable homes become available, they'll be ready to make an immediate offer.
"Given the inventory shortages in most markets, new listings at affordable prices are receiving multiple offers and going under contract almost immediately upon becoming available," said Salomone in a statement.
"Home shoppers serious about buying need to be ready with a pre-approval. This allows a Realtor to hone in only on homes within the buyer's price range and ensures any offer presented to the seller is taken seriously."
Existing-home sales are based on transaction closings from MLSs and include single-family homes, townhomes, condominiums and co-ops. Seasonally adjusted annual rates are used in reporting monthly data to help accommodate for seasonal variation; the annual rate for any given month represents what the total number of actual sales for a year would be if the pace for that month were maintained for a whole year.