Yardi reports annual rent growth at 4.7 percent nationally in September, falling for the first time since last November.
Despite seeing a slow in rental price growth, San Francisco is still the no. 1 metro for predicted rent growth by the end of the year.
San Francisco's occupancy rate was 96.5 percent in August – a 0.1 percent increase over July's rate.
For renters, a slowdown in the market's growth is a welcome trend. While the drop was hardly noticeable, September saw its first monthly dip since November 2015 to $1,219, down just one dollar from August, according to a new report.
According to the Yardi Matrix Monthly report for September 2016, which measures 123 markets throughout the nation, rent prices grew 4.7 percent in September on an annual basis — a 30-basis-point decrease from August and 200-basis-point decrease from the most recent high in October 2015.

In the majority of local markets, 26 out of 30 measured by Yardi, rent prices grew year-over-year by at least 3 percent in September. At the top of the list in growth is Sacramento, where rent prices grew 11.1 percent annually in September. San Francisco appeared at the bottom of the list as more inventory has been entering the market and offering locals a bit of relief.
Yardi expects new apartment completions to reach 360,000 in 2016 throughout the nation, while rent growth may continue to see some easing.

Affordable housing units are in high demand, and the renter by necessity sector is seeing its growth outpace the lifestyle sector, according to Yardi. The trailing 12-month growth rate in September was 5.9 percent for all asset classes — 5.4 percent for lifestyle and 6.2 percent for renter-by-necessity.
For the past few months, occupancy rates have remained strong and steady, staying flat at 95.8 percent in August.
While rents are continuing to keep pace with the expectations, the report shows job growth is taking a back seat across the country. The same metros that are seeing a bump in supply have seen a slow in rent growth, like San Francisco and Denver.
San Francisco
Despite the slowdown, forecasted overall rent growth in San Francisco by the end 2016 is at 10.5 percent, good for the no. 1 metro studied by Yardi for predicted growth. However, San Francisco saw a dip in market growth in both asset classes in September.
As of August 2016, the occupancy rate was 96.5 percent, which was a 0.1 percent increase over July's rate.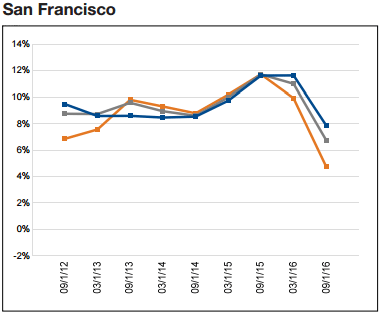 In September 2016, new completions made up 1.9 percent of the total stock of homes in San Francisco; job growth in the City by the Bay increased year-over-year in July 2016 by 3.3 percent, according to the six-month moving average.