As of 2014, 89.4 percent of homes in the U.S. held home insurance policies.
The amount of homeowners holding insurance policies dropped the most in the Tampa metro area. In 2006, 92 percent of homes were insured in Tampa, dropping to 79 percent in 2014.
Denver had the highest percentage of insured homes, at 92 percent.
Whether buying a beach house in Miami or cabin in Appalachia, you probably need homeowners insurance — but what kind? While you can skip over hurricane insurance in Appalachia, that's not a nationwide trend, according to a new study.
With insurance rates and prices rising on a sharp incline, more homeowners are opting out of policies, according to a new Trulia report.
The vast majority of mortgage lenders require homeowners insurance policies. However, if the homeowner pays off the mortgage in full, they are no longer required to hold a policy — so some simply stop paying for it.
The percentage of homes with insurance policies dropped to 89.2 percent in 2014, Trulia says, down from 94.1 percent in 2006.
Hurricane Matthew and homeowner insurance
Hurricane Matthew just finished its mayhem running up the East Coast. It was downgraded from a category four hurricane to a category three late last week, which allowed some to breath a little bit easier while significantly lowering the estimated damage costs.
CoreLogic reported a possible 303,501 homes in Florida that could be affected by a category three hurricane. The total costs for reconstruction was estimated to be more than $54 billion.
In Miami alone, there were a possible 176,225 homes that would be affected.
Mark Uh, a data scientist at Trulia, examined home insurance policies in the top 25 metros across the country.
The median price for homeowner insurance in Miami in 2014 was $2,000. Just eight years prior, it was $2,128 — one of just three metros examined that experienced a decline in median insurance price, with all of them being in Florida.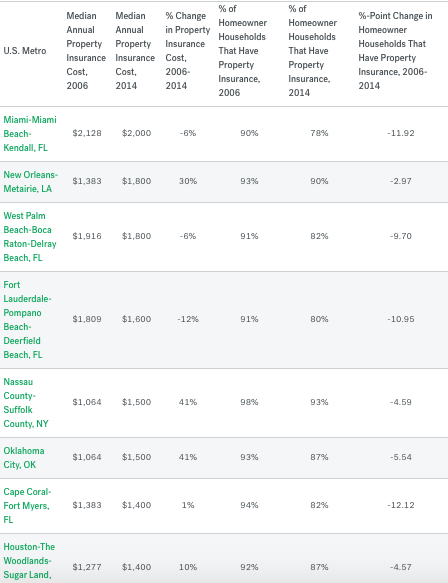 However, back in 2006, when insurance was actually more expensive, 90 percent of Miami households reported holding a policy. That number dropped down to 78 percent in 2014.
Houston's median homeowner insurance rate was $1,277 in 2006. It jumped 10 percent to $1,400 in 2014. And where 92 percent of homeowners held policies in 2006, just 87 percent reported so in 2014.
Miami and the estimated damages
If the aforementioned $54 billion figure regarding total reconstruction value seems a little high, it's because it was. Damages from three hurricanes in 2006 barely reached $30 billion.
A new report from CoreLogic shows insured losses ranging from $4 billion to $6 billion. While this figure is just an estimate, and does not include additional flooding from storm surge, business interruption or content, it does show the financial impact natural disasters can have on regions.
But while both Miami and Houston have somewhat affordable homeowner insurance offerings, other cities are not so kind to its residents — and the city's residents haven't been buying it.
The Tampa-St. Petersburg-Clearwater market, for instance, pushed median homeowner insurance prices up 10 percent, to $1,400 in 2014. However, 92 percent of homeowners held policies in 2006, while only 79 percent did in 2014. This market had the highest change in the amount of policy holders, the report shows.
In Cape Coral, though, insurance policy prices only increased 1 percent, but the amount of policy holders dropped from 94 percent to 82 percent from 2006 to 2014.
Trulia also reveals that regions that have been hit the hardest often wake up after the fact. In New Orleans, which was heavily damaged in 2005 from Hurricane Katrina, 90 percent of homeowners held insurance policies in 2014. While that is a decline of 3 percent since 2006, it's noted that policies increased in price 30 percent during the same time.
Of the 25 regions Trulia examined, the Denver market had the highest amount of policy holders in 2014, at 92 percent — but even that dropped from 97 percent since 2006.