Check Inman every day for the daily version of this market roundup.
Mortgage rates:
Home equity rates:
Friday, October 21:
First American Financial Corporation Q3 2016 Real Estate Sentiment Index:
Title agent market production increased 7.6 percent this past quarter as compared with a year ago.
Title agents are forecasting residential price growth of 5 percent for the year ahead.
Title agents surveyed remain optimistic about transaction volumes, with a 7.2 percent increase in optimism over a year ago.
Campbell/Inside Mortgage Finance HousingPulse Tracking Survey for September 2016:
The three-month average for non-distressed properties dropped to $302,600 in September from $310,100 in August.
The three-month moving average sales-to-list-price ratio was 98.0 percent in September, down from 98.6 percent in August.
The first-time homebuyer share of purchases in September was 34.8 percent.
Thursday, October 20:
National Association of Realtors' Existing-Home Sales Data for September 2016:

Top brokerages find new ways to carve out profit
While the average return on revenue for brokerages nationwide has faced downward pressure, some brokerages are bucking the trend
READ MORE
Existing-home sales were up 3.2 percent in September month-over-month.
This was propelled by a 34-percent share of first-time buyers.
The median existing-home price for all housing types in September was $234,200.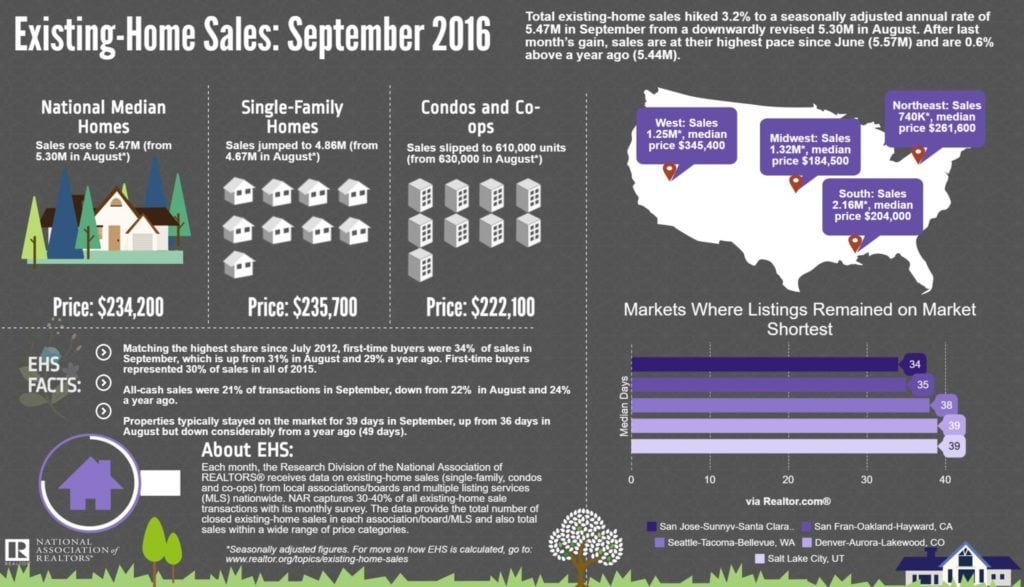 Wednesday, October 19:
Mortgage Bankers Association's Weekly Applications Survey:
Mortgage applications increased 0.6 percent from one week earlier for the week ending Oct. 14, 2016.
The refinance share of mortgage activity decreased to 61.5 percent of total applications from 62.4 percent the previous week.
The average contract interest rate for 30-year fixed-rate mortgages with conforming loan balances ($417,000 or less) increased to 3.73 percent from 3.68 percent.
U.S. Census Bureau/U.S. Department of Housing and Urban Development's New Residential Construction for September 2015:
Single-family authorizations in September were at a rate of 739,000, 0.4 percent above August 2016's revised figures.
Single-family housing starts in September were at a rate of 783,000, 8.1 percent above August 2016's revised figures.
Single-family housing completions in September were at a rate of 687,000, 8.8 percent below August 2016's revised figures.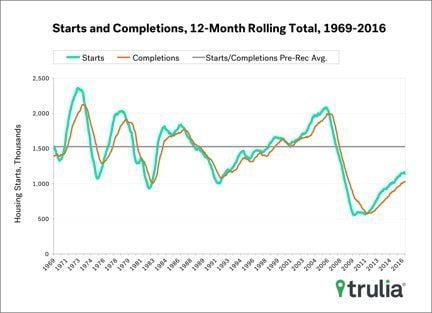 Ellie Mae's Origination Insights Report for September 2016:
The average time to close all loans increased to 48 days in September 2016 from 46 days in August 2016.
The 30-year note rate declined to 3.750.
Closing rates experienced a slight decrease to 71.8 percent.
Tuesday, October 18:
Houzz Renovation Barometer for Q3 2016:
The barometer (which tracks industry optimism in market improvements) posted high readings for Q3 across all industry groups.
Architects reported a five-quarter decline in confidence in market gains.
Remodelers and design-build firms reported that labor shortages are driving cost increases.
First American Financial Corporation's Potential Home Sales Model for September 2016:
Potential existing-home sales increased to a 5.8 million seasonally adjusted, annualized rate (SAAR).
In September, the market potential for existing-home sales grew by 6.5 percent compared with September 2015.
The potential existing-home sales is 351,000 (SAAR) or 6.0 percent below the pre-recession peak of market potential, which occurred in July 2005.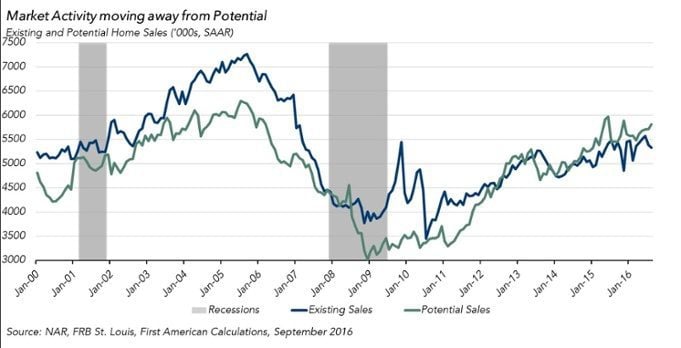 Monday, October 17:
Re/Max's October 2016 National Housing Report:
Home sales fell 11.7 percentage points from August to September.
However, home sales were up 2.0 percentage points form September 2015 to September 2016.
The median sales price in September was $219,780, 5.1 percent above one year ago.

Email market news to press@inman.com.