Check Inman every day for the daily version of this market roundup.
Mortgage rates:
Home equity rates:
Friday, October 28:
CoreLogic October 2016 Market Pulse:
The Home Price Index year-over-year change for August 2016 was a 6.0 percent increase.
The share of homes with negative equity in Q2 2016 was 7.1 percent.
The cash sales share (as of June 2016) was 29.3 percent.
Thursday, October 27:
National Association of Realtors Pending Home Sales for September 2016:
Pending home sales grew to 110.0 in September 2016.
This is 2.4 percent higher than September 2015.
It also indicates a 1.5 percent growth from August 2016.

Understanding the nuances of opportunity zones
It's more than just a tax break
READ MORE
Freddie Mac's Primary Mortgage Market Rate Survey:
The 30-year fixed-rate mortgage (FRM) averaged 3.47 percent with an average 0.6 point for the week ending October 27, 2016.
This is down 5 basis points from 3.52 percent last week.
A year ago at this time, the 30-year FRM averaged 3.76 percent.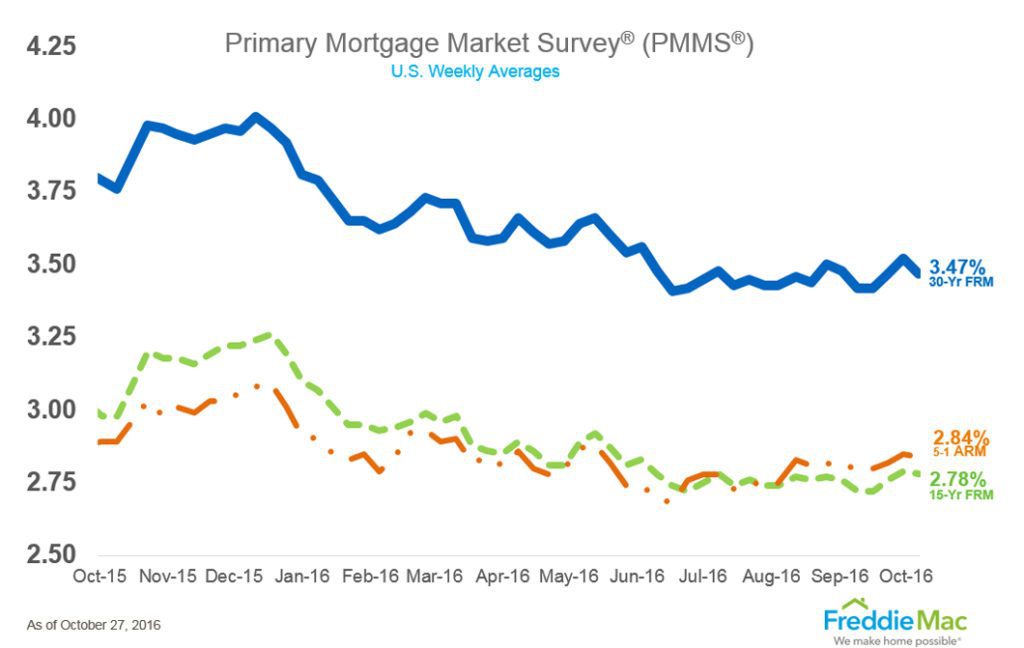 Federal Housing Finance Agency's September 2016 Mortgage Interest Rate Indices:
The National Average Contract Mortgage Rate for the Purchase of Previously Occupied Homes by Combined Lenders Index was 3.61 percent for loans closed in late September, up 3 basis points from 3.58 percent in August.
The average interest rate on all mortgage loans was 3.60 percent, up 1 basis point from 3.59 in August.
The average loan amount for all loans was $302,900 in September, down $19,800 from $322,700 in August.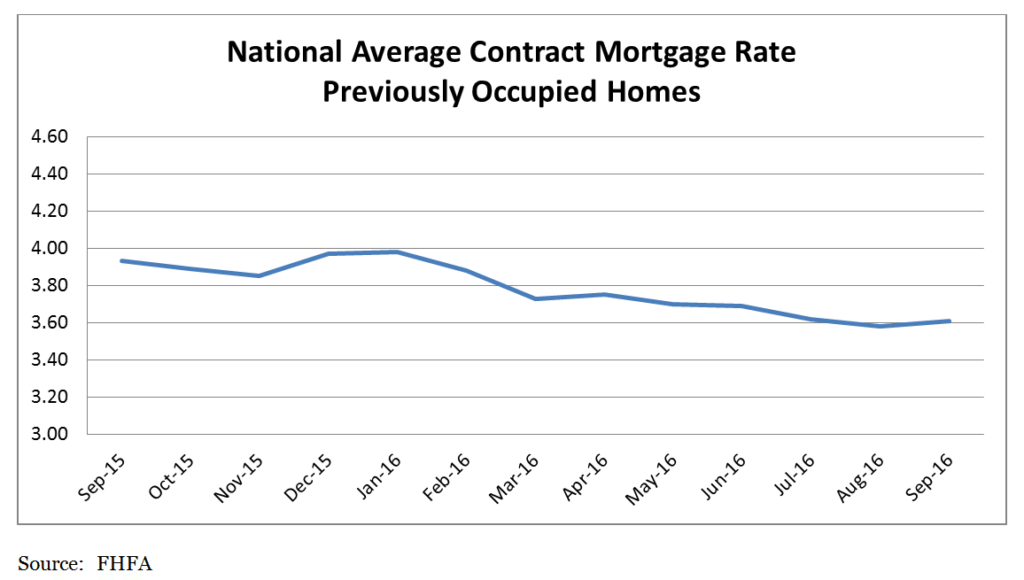 Wednesday, October 26:
Mortgage Bankers Association's Weekly Applications Survey:
Mortgage applications decreased 4.1 percent from one week earlier for the week ending October 21, 2016.
The refinance share of mortgage activity increased to 62.7 percent of total applications from 61.5 percent the previous week.
The average contract interest rate for 30-year fixed-rate mortgages with conforming loan balances decreased to 3.71 percent from 3.73 percent.
Freddie Mac's Multi-Indicator Market Index (MiMi) August 2016:
The national MiMi stands at 85.7.
This is a 1.05 percent improvement from July to August.
Year over year, the national MiMi improved 5.44 percent.
U.S. Census Bureau and Department of Housing and Urban Development's New Residential Sales for September 2016:
Sales of new single-family houses in September 2016 were at a seasonally adjusted annual rate of 593,000.
This is 3.1 percent above the revised August rate of 575,000 and 29.8 percent above the September 2015 estimate.
The median sales price of new houses sold in September 2016 was $313,500; the average sales price was $377,700.
Tuesday, October 25:
The S&P/Dow Jones Home Price Index for August 2016:
Home prices rose 5.3 percent year-over-year in August 2016.
This is up from the 5.0 percent year-over-year gain from July 2016.
Before seasonal adjustment, the national index was up 0.5 percent month-over-month.
Black Knight Financial Corporation's "First Look" at September 2016 mortgage data:
The total U.S. loan delinquency rate (30 or more days past due, but not in foreclosure) was 4.27 percent, up 0.74 percent from August 2016 but down 12.24 percent from September 2015.
The total U.S. foreclosure pre-sale inventory rate was 1.00 percent, down 3.38 percent from August 2016 and down 31.23 percent from September 2015.
Total U.S. foreclosure starts numbered 61,700, down 10.32 percent from August 2016 and 22.78 percent from September 2015.
Federal Housing Finance Agency's House Price Index for August 2016:
House prices rose 0.7 percent (seasonally adjusted) month-over-month in August 2016.
July's previously reported increase (0.5 percent) remained unchanged.
From August 2015 to August 2016, house prices were up 6.4 percent.
Monday, October 24:
Ten-X's "Hottest" Single-Family Markets for Fall 2016:
The top five housing markets ranked according to current and forecasted housing fundamentals were Fort Lauderdale, Palm Beach County, Tampa and Orlando in Florida as well as Las Vegas.

Fort Lauderdale

overtook

Palm Beach County

as the hottest market.
Phoenix, Seattle, Nashville, Dallas and Jacksonville ranked nos. 6 through 10.
Email market news to press@inman.com.