Check Inman every day for the daily version of this market roundup.
Mortgage rates:
Home equity rates:
Day-by-day market activity
Thursday, November 10:
Attom Data Solutions October 2016 Foreclosure Market Report:
There were a total of 105,481 properties with foreclosures filings in October.
This is up 27 percentage points from September 2016.
However, it's down 8 percentage points from October 2015.
Freddie Mac's Primary Mortgage Market Survey:
The 30-year fixed-rate mortgage averaged 3.57 percent with an average 0.5 point for the week ending November 10, 2016.
This is up from last week, when it averaged 3.54 percent.
A year ago at this time, the 30-year FRM averaged 3.98 percent.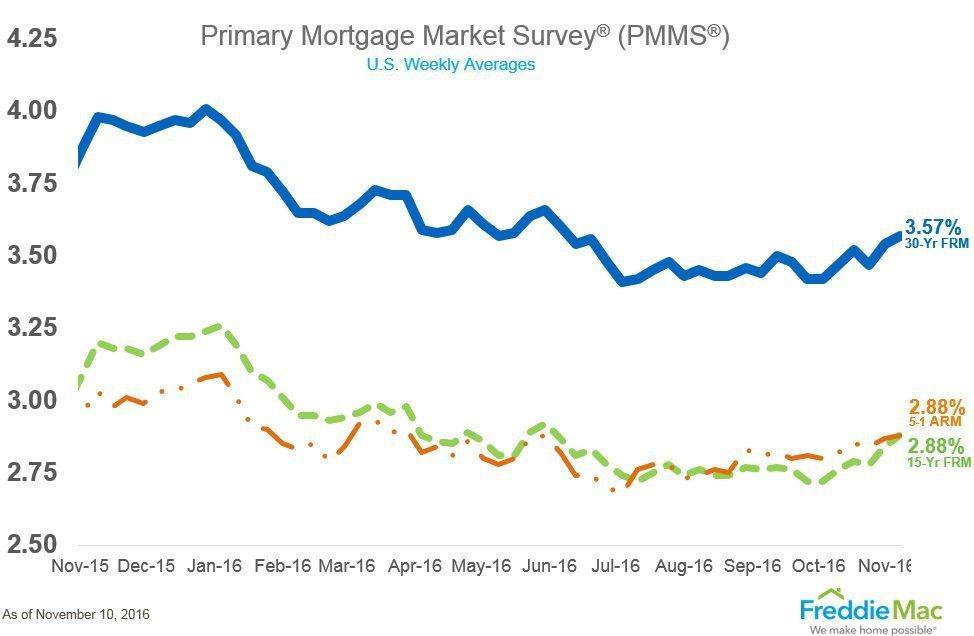 What to look for in a results-driven real estate team
For senior real estate advisors Richard Silver and Jim Burtnick, partnering brings a breadth of knowledge and a balance of skills
READ MORE
Mortgage Bankers Association's National Delinquency Survey for the third quarter of 2016:
The delinquency rate for mortgage loans on residential properties with one to four units decreased 14 basis points to a rate of 4.52 percent of all loans.
This is the lowest level since the second quarter of 2006, with a rate of 4.39 percent.
It's also 47 basis points lower than one year go.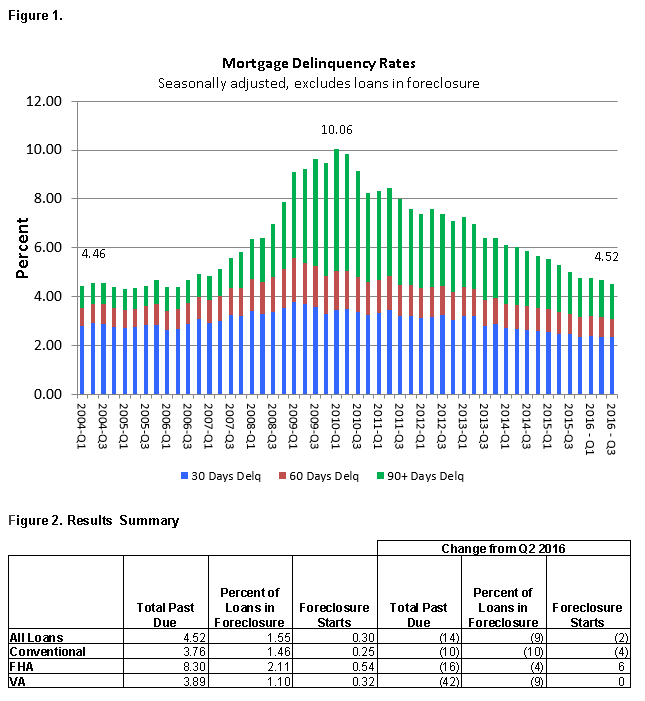 Wednesday, November 9:
Mortgage Bankers Association's Weekly Applications Survey:
Mortgage applications decreased 1.2 percent for the week ending Nov. 4, 2016, from one week earlier.
The refinance share of mortgage activity decreased to 62.3 percent of total

applications

from 62.7 percent the previous week.
The average contract interest rate for 30-year fixed-rate mortgages with conforming loan balances ($417,000 or less) increased to its highest level since June 2016, 3.77 percent, from 3.75 percent
Tuesday, November 8:
Quicken Home Price Perception Index for October 2016:
Owner estimates of home values were 1.15 percent higher than appraisers' opinions in October.
This represents a narrowing of the gap between homeowner estimates and appraiser valuations.
In September, appraised values were 1.26 percent lower than homeowner expectation.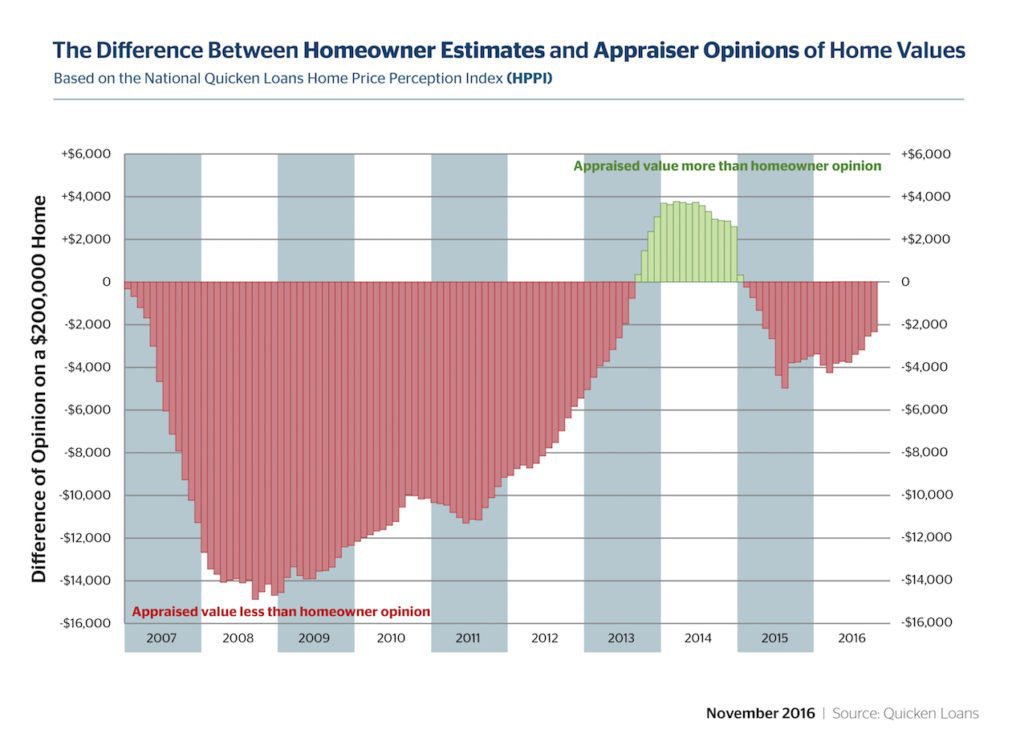 CoreLogic National Foreclosure Report for September 2016:
Foreclosure inventory was down 3.1 percentage points in September 2016 from August 2016.
There were 36,000 completed foreclosures in September.
This represents a 7.0 percentage point year-over-year decline.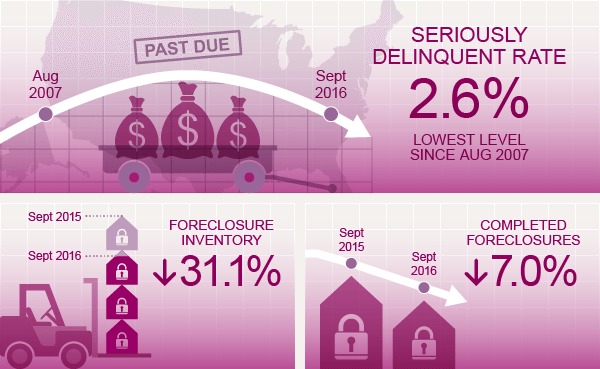 Monday, November 7:
Black Knight Mortgage Monitor for September 2016:
The seasonal uptick in delinquencies was less than 1 percent.
The foreclosure rate is about 70 percent above "normal" levels.
Despite the monthly decline, September saw the third-highest prepayment rate in three years.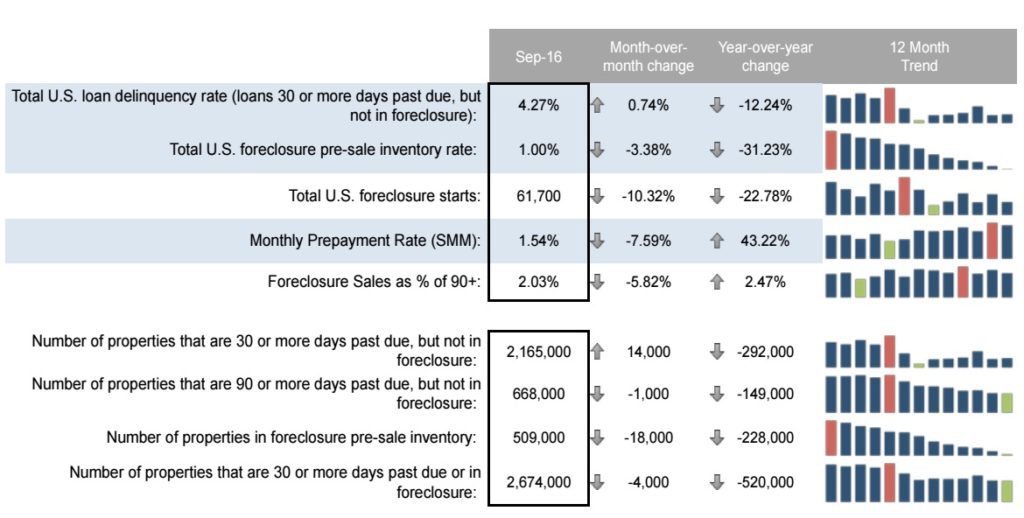 Fannie Mae Home Purchase Sentiment Index (HPSI) for October 2016:
The HPSI decreased by 1.1 percentage points to 81.7.
It is down 1.5 points since this time last year.
The net share of Americans who say it's a good time to buy was 31 percent; the share of Americans who say it's a good time to sell was 19 percent.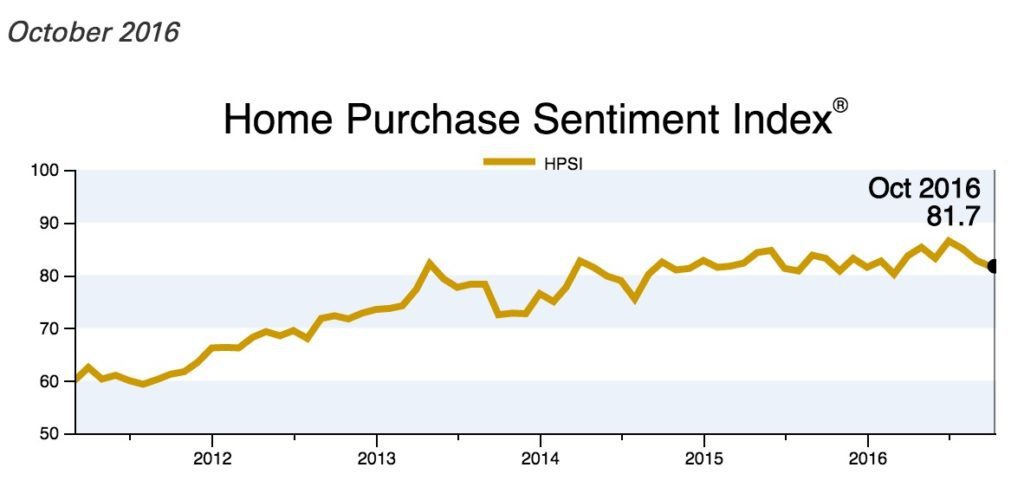 Email market news to press@inman.com.