After an impressive September, it seemed the housing market was on the cusp of an amazing comeback from low inventory, booming sales prices and scared would be first-time buyers.
"Buyer demand is holding up impressively well this fall with Realtors reporting much stronger foot traffic compared to a year ago," said National Association of Realtors chief economist Lawrence Yun of the fifth-highest index numbers seen in a year.
But, as comebacks usually go, there's no easy or fast path to victory.
October's reading in NAR's Pending Home Sales Index climbed to 110.0 from a downwardly revised 109.9 in September — a mere 0.1 percent gain from the previous month, but it's still the highest index seen since July (111.2).
"Most of the country last month saw at least a small increase in contract signings and more notably, activity in all four major regions is up from a year ago," said Yun.
"Despite limited listings and steadfast price growth that's now carried into the fall, buyer demand has remained strong because of the consistently reliable job creation in a majority of metro areas."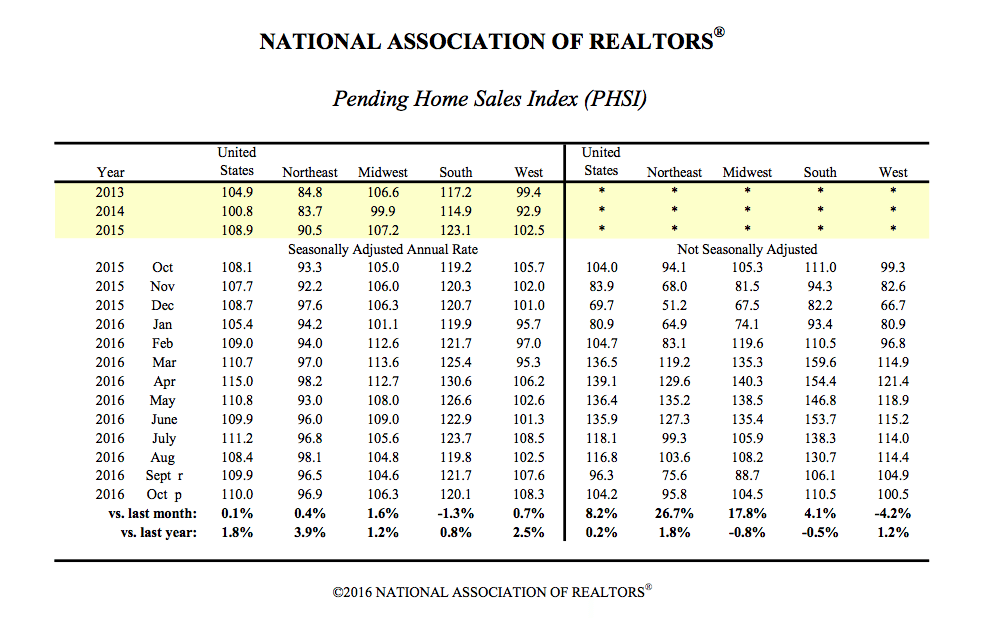 New trends in luxury second homebuyers: seeking a life well-lived
Luxury buyers want new features that go beyond brick and mortar
READ MORE
Regional outlook
The PHSI in the Northeast increased to 96.6 and is 3.9 percent above a year ago. In the Midwest, the index rose to 106.3, and is now 1.2 percent higher than October 2015.
Pending home sales in the South declined to an index of 120.1 — a 1.3 percent month-over-month and 0.8 percent year-over-year increase. The West outshone all the other regions with an increase to 108.3 — a 0.7 percent month-over-month and 2.5 percent year-over-year increase.
Yun says the health of the 2017 housing market will continue to be dependent on growing inventory and a strong job market.
"Low supply has kept prices elevated all year and has put pressure on the budgets of buyers," he said.
"With mortgage rates expected to rise into next year and put added strain on affordability, sales expansion will be contingent on more inventory coming onto the market and continued job gains."
NAR uses a large national sample of signed residential property sale contracts to build its monthly pending home sales index. The sample size typically represents about 20 percent of transactions for existing-home sales.
The index level was benchmarked to 100 in 2001, which was the first year to be examined. Existing-home sales in 2001 were in the 5 million to 5.5 million range, which is considered normal for the population in the U.S.