NAR's Pending Home Sales Index is a measure of how many real estate contracts were signed in the given month.
In June 2016, the index rose slightly but was constrained by tight inventory in certain regions.
Mortgage rates are at historic lows, so in theory, lots of people should be thinking about buying a house right now. Is that playing out in reality?
Not everywhere, according to the National Association of Realtors' most recent Pending Home Sales Index (PHSI), which measures how many real estate contracts were signed in June 2016.
While contract signings got a boost in the Northeast and, to a lesser extent, the Midwest, the activity in these regions were countered by dips in the South and West. The culprit? Tight inventory.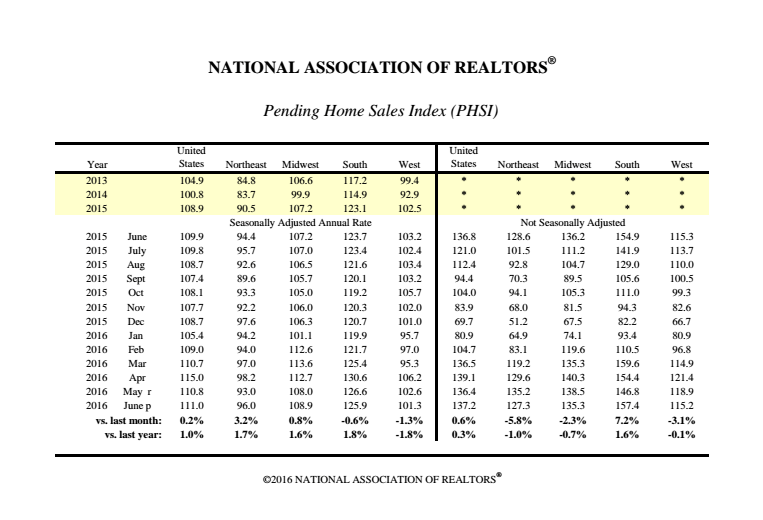 So the pending home sales index did inch upward but with a modest gain of 0.2 percent — from 110.8 in May to 111.0 in June — which is 1.0 percent higher than the PHSI reported in June 2015.
The PHSI reached its 2016 peak in April when it hit 115.0, and although June is noticeably down from that measure, it's still the second highest PHSI reading NAR's reported over the past 12 months.
"With only the Northeast region having an adequate supply of homes for sale, the reoccurring dilemma of strained supply causing a run-up in home prices continues to play out in several markets, leading to the last two months reflecting a slight, early summer cooldown after a very active spring," said NAR's chief economist Lawrence Yun in a press release.
He added: "Unfortunately for prospective buyers trying to take advantage of exceptionally low mortgage rates, housing inventory at the end of last month was down almost 6 percent from a year ago, and home prices are showing little evidence of slowing to a healthier pace that more closely mirrors wage and income growth.
"Until inventory conditions markedly improve, far too many prospective buyers are likely to run into situations of either being priced out of the market or outbid on the very few properties available for sale."
Pending home sales index among regions in June 2016
Ordered from largest growth in contract activity to the lowest, last month's PHSI regional breakdown was as follows:
Northeast (increased 3.2 percent to 96.0, up 1.7 percent year-over-year)
Midwest (increased 0.8 percent to 108.9, up 1.6 percent year-over-year)
South (decreased 0.6 percent to 125.9, up 1.8 percent year-over-year)
West (decreased 1.3 percent to 101.3, down 1.8 percent year-over-year)
NAR uses a large national sample of signed residential property sale contracts to build its monthly pending home sales index. The sample size typically represents about 20 percent of transactions for existing-home sales.
The index level was benchmarked to 100 in 2001, which was the first year to be examined. Existing-home sales in 2001 were in the 5 million to 5.5 million range, which is considered normal for the population in the U.S.
Yun also pointed to the decline in sales to investors (down from 18 percent in February to 11 percent in June — the smallest share since July 2009) as being "positive and noteworthy development" in the housing industry .
"Limited selection of homes at bargain prices is reducing the number of individual investors willing or able to buy," he said. "This will hopefully open the door for first-time buyers, who made some progress last month but are still buying homes at a subpar level even as rents increase at rates not seen since before the downturn."