On Dec. 5, the National Fair Housing Alliance (NFHA) filed a housing discrimination lawsuit against Fannie Mae alleging that it fails to keep up foreclosure properties in minority neighborhoods.
The NFHA's lawsuit also seeks to enjoin some agents and brokers who work with Fannie Mae, said its president and CEO.
Since 2009, the NFHA and its partners investigated 2,300 foreclosure properties owned and maintained by Fannie Mae and collected evidence on 39 data points identified as important to protecting, securing and marketing the homes.
Real estate agents and brokers who are listing agents for Fannie Mae, take note: A sweeping federal lawsuit accusing the government-sponsored enterprise (GSE) of neglecting foreclosure properties in predominantly minority neighborhoods could put you in the crosshairs of the Fair Housing Act.
And if you're an agent or a broker who has been trying to sell properties in areas where Fannie Mae has failed to maintain its foreclosure properties, you'll want to pay close attention to this case, too.
The lawsuit
On Dec. 5, the National Fair Housing Alliance (NFHA) and 20 local fair housing organizations filed a housing discrimination lawsuit against Fannie Mae alleging that the GSE purposely fails to give foreclosures in African-American and Latino neighborhoods the same upkeep and attention it gives to comparable, real estate owned (REO) properties in white neighborhoods.
The lawsuit, which seeks a trial by jury, alleges a pattern of "willful neglect" and racial discrimination by Fannie Mae in 212 cities located in 38 metropolitan areas across the country, "from the West Coast, to the East Coast, from the Heartland, to the South," as the NFHA said in a webinar presentation about its complaint, for about the last six years.
Filed in the U.S. District Court for the Northern District of California because many of the properties in question are located in that region, the lawsuit seeks compensatory and punitive damages, attorney fees, court costs and any other relief the court deems proper.
While a price tag on damages will be determined during litigation, NFHA President and CEO Shanna Smith said if the case goes the same way the Wells Fargo settlement did — with the bank shelling out about $1.6 million per city — damages in this case could reach about $150 million due to the number of cities that have allegedly been affected.
Fannie Mae did not respond to a request for comment by press time.
A word of advice for agents and brokers
The NFHA's lawsuit seeks to enjoin Fannie Mae's "officers, directors, employees, agents, successors, assigns, and all other persons in active concert or participation with any of them" from violating the Fair Housing Act — and that includes the agents and brokers who work with Fannie Mae, Smith said.
The NFHA had criticisms for some of the agents and brokers who listed the properties that it investigated, as it concluded that agents posted traditional, wooden "for sale" signage in white neighborhoods, but often posted small, cardboard signs in windows or nailed them to porch railings and siding in minority neighborhoods.
"Under the Fair Housing Act, the person who owns the property, as well as anyone who has anything to do with it, has a liability," Smith said.
"As this litigation progresses, some of those agents and brokers who have relationships with Fannie Mae could be named in the lawsuit. We don't know who all of Fannie Mae's brokers and contractors are, but we would love to be a friend to those agents who are trying to sell these homes, but can't because Fannie Mae's field service center left a bunch of garbage in the backyard."
Smith encouraged any agents or brokers who have had Fannie Mae listings and made recommendations for property maintenance or improvements that went ignored to contact her via email at ssmith@nationalfairhousing.org.
Not the first such case, and probably not the last
The lawsuit isn't the first such case the NFHA has brought against real estate investors for allegedly engaging in racially discriminatory practices over neglected foreclosures — and it's not likely to be the last filed by the alliance, which has been taking a close look at foreclosure trends since 2009.
In 2013, Wells Fargo agreed to pay a total of $39 million to settle similar claims brought to the Department of Housing and Urban Development (HUD) by the NFHA and 13 fair housing organizations, marking the first-ever agreement concerning the equal maintenance and marketing of REO homes.
The NFHA has also been pursuing similar complaints against Bank of America, Deutsche Bank and U.S. Bank, and those cases could be headed to federal court as well, according to Smith.
It was evidence of racially discriminatory practices at Fannie Mae, and the GSE's refusal to work with the NFHA to take corrective action, that prompted the consortium to file the current lawsuit, Smith said.
"Every year, we put thousands of dollars into homes across the country, and we are concerned that some of these homes are not getting any equity due to poor maintenance," Smith said.
"We have been investigating Fannie Mae since 2009, and they have been ignoring our evidence."
Discrimination by the numbers
Since 2009, the NFHA and its partners investigated 2,300 foreclosure properties owned and maintained by Fannie Mae in areas hit hard by the foreclosure crisis.
Investigators collected evidence on 39 data points identified as important to protecting, securing and marketing the homes, including curb appeal, routine maintenance required by local ordinances, health and safety items, and structural issues.
Investigators photographed foreclosed properties as well as neighboring properties to put the REO homes into the context of the surrounding neighborhoods.
According to Fannie Mae's foreclosure property website, Homepath.com, its REO strategy is to "maintain each property at a level of market readiness both inside and outside of the property, supporting neighborhood stabilization," and its maintenance team's mission is to "ensure the quality of our REO property maintenance services, consistently producing best-in-class, market-ready properties and maintaining them until removal from our inventory."
According to the GSE's own stated policies, it performs routine exterior maintenance of REO dwellings, including:
Mowing
Edging walkways and driveways
Weeding
Trimming shrubs
Trimming trees
Removing snow
Removing trash and debris
Eiminating overgrown grass and shrubbery
Securing doors and windows
Securing or replacing loose handrails and steps
Covering any holes in the dwelling, such as dryer vents
Fannie Mae's field service providers performed some of those tasks, but according to the NFHA's data, this happened more often in predominantly white working- and middle-class neighborhoods.
In contrast, Fannie Mae-owned properties in predominantly African-American and Latino neighborhoods were often left neglected with debris and trash strewn about on the property, out-of-control grass and weeds, and unsecured or boarded-up windows.
The more than 49,000 photographs amassed by investigators also depict some graphic scenes involving graffiti, broken glass, mold, pest infestation and decomposing rodents.
According to the NFHA's data, 52.8 percent of the Fannie Mae foreclosures in white neighborhoods and 23.6 percent of the Fannie Mae foreclosures in neighborhoods of color had fewer than five deficiencies.
In minority neighborhoods, 23.8 percent of Fannie Mae foreclosures had 10 or more deficiencies, while only 6.5 percent of REO properties in white neighborhoods had the same challenges.
"Fannie Mae's mission statement contradicts the findings of the multicity, multiyear investigation," Smith said.
"Fannie Mae executes its mission in predominantly white neighborhoods, but certainly the evidence in the complaint and the photographs illustrates that its foreclosures in middle- and working-class neighborhoods of color are not maintained as 'best-in-class,' and they are not even close to 'market-ready.'"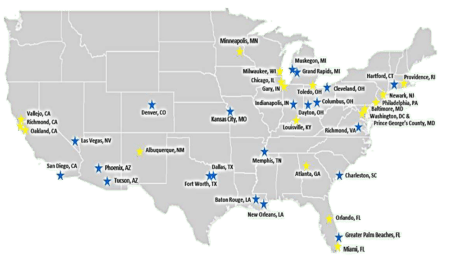 Consequences for homeowners, agents and brokers

The condition of these neglected properties threatened the health and safety of homeowners in these neighborhoods, invited vandalism, destroyed curb appeal for prospective homebuyers and contributed to declines in home values, "deepening the racial wealth gap and inequality in America," Smith said.
In addition, "If agents have listings in these neighborhoods, and their clients are trying to sell their properties with a foreclosed property next door that is poorly maintained, that homeowner is being injured," Smith pointed out.
"And of course, agents' commissions go down based on what he or she can get for the house, so they are also being harmed by these Fair Housing Act violations."
The NFHA brought its concerns to Fannie Mae and encouraged the GSE to take corrective action, including "using a local field service center model, rather than a national model, where local vendors are more familiar with the city, instead of continuing to work with contractors whose work quality was a concern," Smith said.
"We also encouraged them to increase their quality-control measures. Although they allegedly increased those efforts, we still did not see an increase in the quality of maintenance of homes in areas of color versus white communities," she added.
The NFHA also suggested that Fannie Mae adopt policies similar to those of Freddie Mac, which the alliance also investigated, but seemed to be operating under "the gold standard" of REO maintenance by comparison, Smith said.
"If a Freddie Mac vendor is nonperforming, they terminate them," she said.
"We also told Fannie Mae, 'you should have your vendors take photos of houses next door and across the street to get a good idea of what the neighborhood looks like, which should help you to make better decisions about where to spend money on necessary repairs, which Freddie Mac does.'"
Headquartered in Washington, D.C., the NFHA is a consortium of more than 200 private, nonprofit fair housing organizations, state and local civil rights agencies and individuals. The alliance works with its partners to achieve equal access to apartments, houses, mortgage loans and insurance policies for anyone who falls under the Fair Housing Act's seven protected classes: Race, color, religion, sex, handicap, familial status and national origin.