Real estate agents who work for one of the nation's largest real estate brokers in Mississippi are facing allegations that they steered qualified black homebuyers from high-income neighborhoods in Jackson.
One of the nation's top mortgage lenders stands accused of denying prospective Latino borrowers' requests to speak with loan officers and quoting them higher monthly payments and closing costs than white borrowers.
A 2015 Supreme Court decision greenlighting lawsuits filed over real estate actions that have a discriminatory effect, despite having no evidence of discriminatory intent, still has many people talking about its application to the real estate marketplace.
And many in the real estate industry are concerned about the implications of recent Department of Housing and Urban Development (HUD) guidance on how to handle criminal background checks when making decisions about real estate sales, rentals and financing.
All of these events have one thing in common: The Fair Housing Act, a landmark law enacted in 1968 to provide equal housing opportunities and access for all Americans. Nearly five decades into the act's influence on housing and real estate, it is still a top concern for everyone who is engaged in the business of real estate.
"It is very important for anyone in the real estate business to understand not just the federal law, but state and local laws as well," said Fred Underwood, the National Association of Realtors' (NAR) diversity director. "We advise our members to take it as seriously as they would any other compliance issue."
Morgan Williams, general counsel for the National Fair Housing Alliance (NFHA), a consortium of hundreds of private and nonprofit organizations, state and local civil rights agencies and individuals dedicated to combating housing discrimination, called real estate professionals the "gatekeepers" of the Fair Housing Act.
"They are fulfilling the legacy of Rev. Dr. Martin Luther King Jr.," Williams said. "They play a real role in helping perpetuate sustained patterns of integration and open housing choice, which is in all of our best interests.
"At the same time, being an actor in the housing market means you're subject to the law and liability under the law. If you don't take it upon yourself to learn about the rights and responsibilities under the Fair Housing Act and how it applies to your practices, you face real risk."
Here's a look at the history and evolution of the Fair Housing Act, some examples of how the law impacts everyone who works in all aspects of the real estate marketplace, how you can ensure that everyone has equal access to real estate and tips for reducing your risk of liability.
---
What did we have before the Fair Housing Act?
The United States traveled a long, difficult and tragic road to achieve fair and equal access to housing for all Americans, and the Fair Housing Act is but one chapter in the country's centuries-old quest to eradicate and prevent discrimination of Americans based on race, sex, age, disability or other personal characteristics.
The country's first federal law aimed at ensuring that all citizens had equal protection under the law was the Civil Rights Act of 1866.
Enacted in the wake of the Civil War, the law defined citizenship, affirmed that all citizens were entitled to equal protection and was specifically aimed at protecting the rights of those of African descent who were born in or brought to the United States as slaves.
This legislation survived two vetoes by President Andrew Johnson before finally becoming law, marking the first time that Congress ever overrode a presidential veto of a major piece of legislation. Provisions similar to the ones in this law were later written into the Fourteenth Amendment of the Constitution.
Ensuring civil rights for African Americans was still a challenge — due, in part, to the activities of white supremacy groups like the Ku Klux Klan and the lack of any provisions for penalties for violations of the law.
Shortly after the Civil War and during Reconstruction Era, Congress passed the Civil Rights Act of 1875, which guaranteed African Americans equal treatment in public accommodations and public transportation and prohibited their exclusion from jury service.
In 1883, the Supreme Court dismantled some aspects of this early stab at civil rights when it ruled that the Fourteenth Amendment's Equal Protection Clause prohibited discrimination by the state and local government, but did not give the federal government the power to prohibit discrimination by private individuals and organizations. Although the court noted that the Thirteenth Amendment was intended to eradicate "the badge of slavery," it also ruled that the amendment did not prohibit racial discrimination in public accommodations.
Congress did not pass any further civil rights laws until 1957.  And this Civil Rights Act, which responded to evidence brought forth by civil rights organizations that African Americans were being disenfranchised by voter registration rules and laws, guaranteed all Americans the right to vote.
But the new law still proved difficult to enforce, and Congress enacted another Civil Rights Act in 1960 to address some of its shortcomings — namely, by expanding the authority of federal judges to protect voting rights and requiring local authorities to maintain comprehensive voting records to document any evidence or patterns of discrimination against certain people.
From there, the Civil Rights Movement expanded, and President John F. Kennedy became an ally in the movement. In his now-famous Civil Rights address in June 1963, Kennedy called for a new civil rights bill to ensure equal access to public accommodations and education, and to address other aspects of discrimination.
Kennedy's address was lauded by civil rights leader Rev. Dr. Martin Luther King, Jr., as "the most sweeping and forthright" civil rights statement "ever presented by an American president."
But Kennedy did not live to see this legislation become a reality. Seven months after he was assassinated, his successor, President Lyndon B. Johnson, signed the Civil Rights Act of 1964 into law. This new act outlawed discrimination based on race, color, religion, sex or national origin, and it also ended unequal application of voter registration requirements and racial segregation in schools, in the workplace and by facilities that served the general public.
However, the much-anticipated law still fell short of the expectations of civil rights leaders because it lacked protections against police brutality or discrimination by private employers — and it did not expressly prohibit discrimination in housing or provide for federal enforcement of that much sought-after provision.
During this time, King was assassinated, leaving behind his dream of achieving those equal protections for all Americans for Congress to make a reality.
In 1968, amidst a wave of riots over King's assassination, Johnson signed into law a new Civil Rights Act, this time providing for equal housing opportunities regardless of race, creed or national origin, and making it a federal crime to "by force or by threat of force, injure, intimidate or interfere with anyone … by reason of their race, color, religion or national origin."
And Title VIII of the Civil Rights Act of 1968 came to be known as the Fair Housing Act.
---
The Fair Housing Act today
Where can I find the Fair Housing Act?
The act is codified at 42 U.S.C. 3601-3619, with penalties for violation at 42 U.S.C. 3631. Many states have some form of statute that can be invoked to redress discrimination in the sale or rental of housing.
What does the Fair Housing Act provide?
Once enacted, meaningful federal enforcement mechanisms to ensure equal access to housing were at long last put in place. The act outlaws the refusal to sell or rent a dwelling, requiring special terms or conditions for sales and rentals, or advertising sales and rentals indicating a preference of discrimination based on certain characteristics.
The act also prohibits coercing, threatening, intimidating or interfering with a person's enjoyment or exercise of housing rights based on discriminatory reasons, or retaliating against a person or organization that aids or encourages the exercise or enjoyment of fair housing rights.
The Fair Housing Act's anti-discrimination mandate prohibits local governments from exercising their land use and zoning powers in a discriminatory way.
Who is responsible for administering and enforcing the Fair Housing Act?
That would be HUD, a federal government department created by President Johnson in 1965 with the mission to increase homeownership, support community development and increase access to affordable housing free from discrimination.
The U.S. Department of Housing and Urban Development is led by a secretary who is appointed by the president to his or her cabinet and twelfth in the presidential line of succession. The Fair Housing Act also provides for an additional assistant HUD secretary to focus on fair housing issues.
Our current HUD secretary is Julian Castro, who was appointed by President Barack Obama and confirmed by the Senate in 2014. Gustavo F. Velasquez currently serves as assistant secretary for Fair Housing and Equal Opportunity.
Under the Fair Housing Act and its implementing regulations, HUD has the authority to investigate, attempt to conciliate and, if necessary, adjudicate complaints of discrimination involving, among other things:
home sales
rentals
advertising
mortgage lending and insurance
property insurance
environmental justice
HUD also investigates complaints alleging discriminatory zoning and land use, but must refer these complaints to the Department of Justice for enforcement.
HUD shares its authority to investigate housing discrimination complaints with state and local government agencies that participate in the Fair Housing Assistance Program (FHAP).
To participate in the FHAP, a jurisdiction must demonstrate that it enforces a fair housing law that provides rights, remedies, procedures and opportunities for judicial review that are substantially equivalent to those provided by the Fair Housing Act. According to HUD, at the end of fiscal year 2013, there were 90 FHAP agencies.
HUD pays FHAP agencies for each complaint they investigate, based on the timeliness and quality of the investigation. In addition, HUD provides funding to FHAP agencies for capacity-building, training and information systems.
The Fair Housing Act requires HUD's secretary to report annually to Congress on several aspects of the department's work in fair housing, including:
the nature and extent of progress made nationally in eliminating discriminatory housing practices and furthering the purposes of the act
obstacles remaining to achieving equal housing opportunity
recommendations for further legislative or executive action
It also directs HUD to report on the number of instances in which steps in the complaint process — including investigating a complaint, making a determination of cause, commencing an administrative hearing or issuing a decision — were not completed as prescribed by law.
HUD must also annually report data to Congress on the race, color, religion, sex, national origin, age, disability and family characteristics of persons and households who are applicants for, participants in or beneficiaries or potential beneficiaries of programs administered by HUD.
What kind of housing is covered by the Fair Housing Act?
The act applies to dwellings that are defined as "any building, structure or portion thereof which is occupied as, or designed or intended for occupancy as, a residence by one or more families, and any vacant land which is offered for sale or lease for the construction or location thereon of any such building, structure or portion thereof."
The act covers public, assisted and private housing, with a few exceptions.
In some circumstances, the act exempts owner-occupied buildings with no more than four units, single-family housing sold or rented without the use of a broker and housing operated by organizations and private clubs that limit occupancy to members.
What kinds of real estate transactions are covered by the act?
The act covers all residential, real estate-related transactions, including:
the making or purchasing of loans or providing other financial assistance for the purchase
construction
improvement
repair or maintenance of a dwelling
the selling, brokering or appraising of residential real property
It also covers access, membership or participation in any multiple listing service, real estate brokers' organizations or other service and organizations or facilities related to the business of selling or renting dwellings.
Protected classes: Who the Fair Housing Act protects
When first enacted, the Fair Housing Act prohibited discrimination based on an individual's race, color, religion, sex or national origin.
In 1988, the act was amended to add disability and familial status as other bases of discrimination. NAR played a key role in supporting those amendments.
"These were amendments that we supported quite readily," Underwood said. "In general, there did not seem to be society-wide recognition of both disability and families with children, and there was a lot of evidence of discrimination of those classes. As a real estate professional, you want the market to be as open as possible and have no artificial barriers for people to buy or occupy real estate."
The seven protected classes under the Fair Housing Act today are:
Race
Color, or the pigment of someone's skin
Religion, including beliefs as well as non-beliefs
National origin, or a person's birthplace, ancestry, language and/or customs
Sex
Disability, or any physical or mental factor that impairs any major life function, such as seeing, hearing, breathing, walking, speaking, learning or interacting with others — in addition, this applied to any person who has a physical or mental impairment, a history of disability or is perceived as being disabled;
Familial status, or households with pregnant women or children under 18, with an exception made for senior/elderly housing
According to HUD's most recent annual report, disability is the most common basis of complaints filed with the department and state and local government agencies that participate in the Fair Housing Assistance Program (FHAP).
HUD attributes this large number of complaints in part to additional protections afforded persons with disabilities under the Fair Housing Act, such as reasonable accommodation, reasonable modification and accessible design and construction.
Race is the second most common basis of complaints, being cited as a basis for 2,337 complaints, according to HUD.
Spotlight on disability discrimination
According to HUD, in fiscal year 2015, disability was the most common basis of complaints filed with the department and its partner agencies, with 4,548 disability discriminations complaints filed, comprising 55 percent of the overall total complaints addressing all of the Fair Housing Act's protected classes.
"This has been the highest basis of complaint for some years now, and the trend continues," said Elena Gaona, a spokeswoman in HUD's Office of Public Affairs.
The Fair Housing Act actually uses the term "handicap" instead of "disability," and defines a handicap as a physical or mental impairment that substantially limits one or more major life activities, a record of such an impairment or being regarded as having such an impairment.
This definition includes:
any physiological disorder or condition
cosmetic disfigurement or anatomical loss affecting one or more of the body's neurological, musculoskeletal, sensory, respiratory, cardiovascular, reproductive, digestive, genitourinary, hemic, lympathic, skin and endocrine systems
any mental or psychological disorder such as mental retardation, organic brain syndrome, emotional or mental illness and specific learning disabilities
The term "physical or mental impairment" includes, but is not limited to, diseases and conditions such as:
orthopedic, visual, speech and hearing impairments
cerebral palsy
autism
epilepsy
muscular dystrophy
multiple sclerosis
cancer
heart disease
diabetes
human immunodeficiency virus (HIV) infection
mental retardation
emotional illness
drug addiction (other than addiction caused by current, illegal use of a controlled substance)
alcoholism
"Major life activities" means functions such as caring for one's self, performing manual tasks, walking, seeing, hearing, speaking, breathing, learning and working.
Reasonable accommodations for the disabled
It isn't just unlawful to discriminate from disabled individuals in offering housing. The Fair Housing Act also states that housing providers must make "reasonable accommodations" in rules, policies, practices or services when such accommodations are necessary for people with disabilities.
To show that a requested accommodation may be necessary, there must be an identifiable relationship, or nexus, between the requested accommodation and the individual's disability.
For example, HUD offers this scenario: A housing provider has a policy of providing unassigned parking spaces to residents. A resident with a mobility impairment, who is substantially limited in her ability to walk, requests an assigned accessible parking space close to the entrance to her unit as a reasonable accommodation. There are available parking spaces near the entrance to her unit that are accessible, but those spaces are available to all residents on a first-come, first-served basis.
In this case, the provider must make an exception to its policy of not providing assigned parking spaces to accommodate this resident.
In another example offered by HUD, a housing provider has a policy of requiring tenants to come to the rental office in person to pay their rent. A tenant has a mental disability that makes her afraid to leave her unit. Because of her disability, she requests that she be permitted to have a friend mail her rent payment to the rental office as a reasonable accommodation.
The provider must make an exception to its payment policy to accommodate this tenant.
And in yet another example, a housing provider has a "no pets" policy. A tenant who is deaf requests that the provider allow him to keep a dog in his unit as a reasonable accommodation. The tenant explains that the dog is an assistance animal that will alert him to several sounds, including knocks at the door, sounding of the smoke detector, the telephone ringing and cars coming into the driveway.
The housing provider must make an exception to its "no pets" policy to accommodate this tenant.
A housing provider can deny a request for a reasonable accommodation if the request was not made by or on behalf of a person with a disability, or if there is no disability-related need for the accommodation.
In addition, a request for a reasonable accommodation may be denied if providing the accommodation is not reasonable.
For example, if it would impose an undue financial and administrative burden on the housing provider or it would fundamentally alter the nature of the provider's operations, the provider may deny the request.
The determination of undue financial and administrative burden must be made on a case-by-case basis involving various factors, such as:
the cost of the requested accommodation
the financial resources of the provider
the benefits that the accommodation would provide to the requester
the availability of alternative accommodations that would effectively meet the requester's disability-related needs
If an alternative accommodation would effectively meet the requester's disability-related needs and is reasonable, the provider must grant it.
According to NFHA's 2015 Fair Housing Trends Report, disability-based discrimination is easier to detect because "it is typically blatant and reported at higher levels than other types of discrimination, which occur more subtly and are less often recognized."
"When a person with a disability seeks a reasonable accommodation or reasonable modification from a housing provider, a denial is obvious," the report stated.
"When a housing provider refuses to communicate with persons who are deaf or hard of hearing through a relay service or American Sign Language interpreter, the discrimination is obvious. When a building covered under the Fair Housing Act is inaccessible to a person with a mobility disability, the inaccessibility is readily apparent.
"It is, therefore, much easier to identify and report complaints of discrimination based on disability. Discrimination based on other protected characteristics is typically subtle, concealed by a pretextual excuse, or undetectable because there is no basis for comparison (as when someone is quoted a rent rate $100 higher per month than another applicant)."
What constitutes "discrimination" under the Fair Housing Act, exactly?
 "The basic provisions of the Fair Housing Act prohibit discrimination on the basis of any of the protected classes, including outright, intentional discrimination, or what we call disparate impact," explained Michael Allen, a civil rights attorney and partner in the Washington, D.C.-based law firm Relman, Dane & Colfax PLLC.
Intentional discrimination and steering
In cases of intentional discrimination, someone is motivated to discriminate against people who are members of one of the seven protected classes. This kind of discrimination can be proved by direct evidence.
"Examples of outright, intentional discrimination are rental postings that say, 'We don't rent to African Americans,' or 'No families with children,'" Allen offered.
HUD offers some examples of intentionally discriminatory conduct one might experience from a landlord:
"There's a lot of traffic. It isn't safe for kids."
"The apartment I told you about on the phone has already been rented."
"My insurance won't cover a ramp if you get hurt."
"We only take English-speaking people."
"The ad is wrong. The rent is really $75 higher per month."
"Steps are what we have. We can't accommodate a walker."
Perhaps the most common form of intentional discrimination by real estate and mortgage professionals is steering, or directing persons to certain neighborhoods, loans or insurance products because of their race or other protected characteristic.
For example, a real estate agent who automatically limits the home search of an African-American couple to neighborhoods with large minority populations would be engaging in unlawful steering.
Disparate impact: Discriminatory effects without discriminatory intent
Disparate impact is not quite as obvious, however. This form of discrimination involves a neutral policy or practice that has an unintended effect of discrimination or segregation because it may make housing options for members of the protected classes more restrictive than for people outside of those groups.
This discriminatory effect is demonstrated by statistics and analysis showing there has been an adverse impact on a protected group.
"Disparate impact speaks to a neutral policy that was not designed to discriminate, but in practice, weighs more heavily on people who are in the protected classes," Allen said.
"An example is, 'we will not rent to someone with a FICO score of less than 600.' A lower FICO score often correlates with being a member of certain racial or ethnic minorities. While the policy did not start out meaning to discriminate against those people, those people were eliminated from consideration more so than white households.
"If that happens, your policy can only stand if it is shown to be a legitimate, non-discriminatory policy, and there was no less discriminatory alternative available," Allen said.
"So in the case of the landlord who excludes renters with FICO scores of less than 600, a landlord can say he didn't intend for that policy to discriminate against people of color, and that he considers it to be a predictor of the likelihood of a person's ability to pay rent.
"But can he achieve that same business purpose through some other means that is less discriminatory, like looking at a person's payment history to make sure they have been a good tenant in the past?"
Texas Dept. of Housing and Community Affairs v. Inclusive Communities Project: The Supreme Court weighs in on disparate impact and the Fair Housing Act
The nation's 10 federal appellate courts have all determined that a Fair Housing Act violation can be established using the disparate impact theory of liability, and in 2013, HUD issued a final rule setting forth how it applies disparate impact in Fair Housing cases.
But in 2015, the Supreme Court had not yet determined whether the act allows for disparate impact claims — until the case of Texas Dept. of Housing and Community Affairs v. Inclusive Communities Project made its way to the high court's docket.
The case was initiated in 2008 by the Inclusive Communities Project (ICP), a Texas-based nonprofit organization aimed at helping place low-income families in affordable housing, which alleged that the Texas Department of Housing and Community Affairs disproportionately allocated too many low-income housing tax credits in predominately black, inner-city areas, and too few credits to predominantly white, suburban neighborhoods. ICP alleged that practice led to a concentration of low-income housing in minority neighborhoods, which perpetuated segregation in violation of the Fair Housing Act.
Under Texas law, a developer's application for low-income housing tax credits is scored under a point system that gives priority to statutory criteria, such as the financial feasibility of the development project and the income level of tenants.
The Texas attorney general has interpreted state law to permit the consideration of additional criteria, such as whether the housing units will be built in a neighborhood with good schools.
The ICP contended that the department must modify its selection criteria in order to encourage the construction of low-income housing in suburban communities. The district court agreed that ICP established evidence of disparate impact, relying on two pieces of statistical evidence.
First, it found that from 1999 to 2009, the department approved tax credits for 49.7 percent of proposed non-elderly units in 0-percent to 9.9-percent white areas, but only approved 37.4 percent of proposed non-elderly units in 90-percent or 100-percent white areas.
Second, it also found that 92.29 percent of low-income housing tax credit units in the city of Dallas were located in Census tracts with less than 50 percent white residents.
The district court gave the department an opportunity to prove "that there are no other less discriminatory alternatives to advancing their proffered interests," but ultimately concluded that the department failed to meet that burden of proving that there were no less discriminatory alternatives to its policies. The court's remedial order required the addition of new selection criteria for the tax credits, but it contained no explicit racial targets or quotas.
The department appealed, and the Court of Appeals for the Fifth Circuit held, consistent with its precedent, that disparate impact claims are cognizable under the Fair Housing Act.
However, the court reversed and remanded the district's court's decision on the merits, holding that it was improper for the lower court to place the burden on the department to prove there were no less discriminatory alternatives for allocating low-income housing tax credits.
The appeals court also suggested that the district court incorrectly relied on bare statistical evidence without engaging in any analysis about causation, and observed that if the federal law providing for the distribution of low-income housing tax credits ties the department's hands to such an extent that it lacks a meaningful choice, then there is no disparate impact liability.
The department then asked the Supreme Court to answer the question of whether disparate-impact claims are cognizable under the Fair Housing Act.
On June 25, 2015, the Supreme Court, by a 5-4 margin, held that Fair Housing Act does allow disparate impact claims — subject, however, to some restrictions:
disparate impact claims cannot be based solely on statistical disparities
a plaintiff must show that a defendant's policy actually caused that disparity
housing authorities and private developers cannot be liable under a disparate impact theory if they can show that a policy is necessary to achieve a valid goal
According to NAR, the Supreme Court's decision will largely be felt by housing developers, multiunit property managers, lenders and government agencies. But real estate professionals who serve in any of those capacities need to be careful, NAR cautioned.
"While the result of this decision will unlikely affect real estate professionals to any great extent, there is potential for a real estate professional to be subject to disparate impact liability where a real estate professional adopts a policy that causes a disparate impact on a protected class.
"For example, if a real estate professional were to adopt a policy that the real estate professional would only show properties to individuals with advanced degrees, and a plaintiff were able to establish that this policy caused a disparate impact on minorities, a real estate professional could potentially be held liable for violating the federal Fair Housing Act," NAR advised.
"In addition, for real estate professionals that also operate as property managers or housing developers, consideration should be given to the effect of any adopted policy related to these activities to ensure that the policy does not have any unintended disparate impact on a protected class under the Fair Housing Act."
Underwood said the court's decision provided much-needed clarity on the issue of disparate impact liability.
"Disparate impact has always been part of the way that housing laws have been interpreted," Underwood said. "When the Supreme Court determined that the Fair Housing Act covers claims based on disparate impact, everyone said this was big news.
"But the reason it was big news was because the Supreme Court said, 'yes, the act said what we all thought it said.' You had people in the media saying that this was the end of civilization, but this is the way things had been going for decades. Now that we have settled that question, we have to determine how disparate impact applies to issues that are perhaps currently limiting some people's access to housing."
Are there any legal reasons to deny housing to someone?
Landlords, property managers, real estate agents and brokers, mortgage lenders and the like can consider the following when determining whether to make housing or financing for housing available to someone
Credit history
Income
History of nonpayment of rent
Prior bankruptcies
Personal references
Pets (unless they are medically required service animals)
Some types of criminal convictions
However, some local and state laws may impact some of these considerations.
Fair Housing Act protections for people with criminal histories
According to 2014 data from the DOJ, as many as 100 million U.S. adults — or nearly one-third of the population — have a criminal record of some sort.
The United States has the highest prison population in the world. More than 650,000 individuals have been released from federal and state prisons each year since 2004, and more than 95 percent of current inmates will be released at some point — raising the question, where will these people live?
According to HUD, many formerly incarcerated individuals, or those who were convicted of crimes but not incarcerated, encounter significant barriers to securing housing. This is likely to disproportionately affect minorities, who are arrested, convicted and incarcerated at higher rates than white individuals.
While having a criminal record is not a protected characteristic under the Fair Housing Act, HUD has noted that criminal history-based restrictions on housing opportunities violate the act if, without justification, their burden falls more often on renters or other housing market participants of one race or national origin over another.
Additionally, intentional discrimination in violation of the act occurs if a housing provider treats individuals with comparable criminal history differently because of their race, national origin or other protected characteristic, HUD said.
This was the justification for guidance that HUD issued on April 4, 2016, holding that a facially neutral policy or practice that has a discriminatory effect violates the Fair Housing Act if it is not supported by a legally sufficient justification.
"Thus, where a policy or practice that restricts access to housing on the basis of criminal history has a disparate impact on individuals of a particular race, national origin or other protected class, such policy or practice is unlawful under the Fair Housing Act if it is not necessary to serve a substantial, legitimate, nondiscriminatory interest of the housing provider, or if such interest could be served by another practice that has a less discriminatory effect," HUD stated.
The guidance was based on disparate regulations HUD promulgated in 2013 and mirrored the Supreme Court's 2015 decision on disparate impact.
"What HUD is saying isn't new," Underwood said. "The guidance just clarifies our understanding of what already exists."
HUD's guidance offered a three-step standard for analyzing whether criminal history screening procedures result in a discriminatory effect:
A court should analyze whether a criminal history policy results in a disparate impact on a group of people in a protected class. If a plaintiff or HUD can show a disparate impact, it should be considered to have satisfied its initial burden, and the burden would then shift to the housing provider to defend its policies.
If a plaintiff or HUD meets its initial burden showing that a policy has a disparate impact, then "the burden shifts to the housing provider to prove that the challenged policy is justified — that is, that it is necessary to achieve a substantial, legitimate, nondiscriminatory interest of the housing provider."
Once a housing provider demonstrates that a challenged policy is necessary to achieve a substantial, legitimate, nondiscriminatory interest, the burden would then shift back to the plaintiff or HUD to demonstrate that interest could be served by another practice that has a less discriminatory effect.
HUD also officially asserted some other positions on this topic:
A housing provider with a policy or practice of excluding individuals because of one or more prior arrests (without any conviction) cannot satisfy its burden of showing that the policy is necessary to achieve a substantial, legitimate, nondiscriminatory interest.
Although criminal background screenings based on criminal convictions may be necessary to serve a substantial, legitimate, nondiscriminatory interest, the burden is on the housing provider to prove that the specific policy adopted is necessary to serve that substantial, legitimate, nondiscriminatory interest.
A housing provider that imposes a blanket prohibition on any person with a conviction record without regard to when the conviction occurred, what the underlying conduct entailed or what has happened since the conviction will not be able to meet this burden.
A policy must "accurately distinguish between criminal conduct that indicates a demonstrable risk to resident safety and/or property and criminal conduct that does not."
The nature and severity of an individual's conviction and the amount of time that has passed since the criminal conduct occurred should also be taken into account.
An "individualized assessment of relevant mitigating information beyond that contained in an individual's criminal record is likely to have a less discriminatory effect than categorical exclusions that do not take such additional information into account."
What HUD's guidance means for real estate professionals
Law firm Holland & Knight LLP has noted that HUD's guidance suggests the department is very focused on the issue of criminal background checks and disparate impact liability, and it will likely investigate and bring enforcement actions for certain uses of criminal background screenings.
"Accordingly, housing providers should consider their policies in light of the recent Supreme Court decision, HUD's regulation and this guidance on criminal background screenings," the law firm advised.
HUD's guidance was issued shortly before NAR's Legislative Meetings & Trade Expo, which the association held in May in Washington, D.C.
During a session titled, "Criminal Background Checks, Fair Housing Compliance and You," Caroline Elmendorf, chief compliance officer for real estate developer and construction company Bozzuto Group, advised attendees to "have consistent procedures, uniform standards and an explanation for criminal background check programs."
"HUD has set a very high bar for what explanations we use," Elmendorf said.
Elmendorf also offered these tips for Realtors:
Run a criminal background check last, and only after candidates have passed financial and other screening processes. In other words, do not complete a criminal check until credit checks come back clean.
Consider the nature and severity of the crime, as well as how recently it occurred, when designing criminal screening policies. For example, some companies may decide whether to exclude misdemeanors and non-violent felonies, like gambling or tax fraud.
Establish a look-back period that begins at the time of conviction. HUD cited a study supporting a seven-year look-back period, and state Fair Credit Reporting Act laws also apply a maximum seven-year look-back.
Allow individuals to present mitigating and extenuating reasons for why they should be considered in light of a conviction. Those may include facts and circumstances surrounding criminal conduct, age at the time of conviction, evidence of good tenant history, employment or rehabilitation.
NAR's Legal Affairs Department also offered this list of dos and don't's to assist real estate professionals in reviewing their existing criminal history-based policies or practices, or in the creation of a new one, in light of HUD's guidance:
HUD's guidance raises concerns about possible unintended marketplace consequences
Although some have voiced concerns that the procedures outlined in HUD's guidance may result in some insurance providers showing reluctance to insure properties housing people with criminal records, Underwood noted that insurance companies are subject to the same disparate impact analysis as property owners.
"If an insurance company will not insure a property that has people with criminal backgrounds living in it, that policy has a disparate impact," he said. "Insurance companies also have to articulate a legitimate business reason for making that kind of a decision, and then the discussion will focus on whether there is a less discriminatory way to meet that business need."
In fact, HUD has in the past taken action against insurance companies for refusing to insure properties that housed certain protected classes.
For example, in 2013, the department settled two Fair Housing complaints against Madison, Wis.-based private mortgage insurance provider CMG Mortgage Insurance Co., for allegedly refusing to insure the home mortgage loan of a married couple because the wife was on maternity leave. CMG, which settled the complaints for $30,000, had maintained a written policy of refusing to consider the regular pay of women on maternity leave as income.
"Insurers are also affected by the Fair Housing Act and have to insure everyone on the same playing field," said HUD's Gaona.
Underwood added that any landlord or property owner can file a complaint against an insurer for this kind of conduct.
"In addition to a property tenant being a complainant, a landlord can also be a complainant," Underwood added. "They may have to advocate on behalf of a person with a criminal background, but if they feel they have also been hurt in this process, they can go ahead and file a complaint, too."
---
Compliance and enforcement of the Fair Housing Act
What is the complaint process like for Fair Housing Act violations?
A person who believes that he or she has experienced — or is even about to experience — housing discrimination may file a complaint, or have a complaint filed on his or her behalf by someone else, such as a parent, child, spouse or guardian.
HUD and FHAP agencies accept complaints in person, by telephone, through the mail and through their websites.
If HUD receives a housing discrimination complaint where the alleged discriminatory act occurred within the jurisdiction of one of its FHAP agencies, HUD is required under the Fair Housing Act to refer the complaint to that agency. HUD and FHAP agencies follow substantially similar, though not identical, procedures for handling complaints.
In general, when HUD or a FHAP agency receives a complaint, it reviews it to determine if it meets minimal jurisdictional standards. If the complaint is jurisdictional, HUD or the FHAP agency accepts the complaint and serves a copy of it on the respondent.
At no cost to the complainant, HUD or the FHAP agency begins an investigation to determine if there is reasonable cause to believe that a discriminatory housing practice has occurred or is about to occur.
As part of its investigation, HUD or the FHAP agency interviews the parties and witnesses, obtains and reviews relevant documents, and when appropriate, conducts on-site investigations. HUD and FHAP agencies have the authority to issue subpoenas and seek temporary restraining orders.
The Fair Housing Act and substantially equivalent state or local laws require HUD and FHAP agencies to complete their investigations and make determinations within 100 days, unless it is impracticable to do so. If the investigation has not been completed or the determination has not been made within the 100-day time limit, HUD or the FHAP agency notifies the complainant and respondent in writing of the reasons why it has not been able to do so.
From the time of the filing of a complaint, HUD or the FHAP agency works with all parties to resolve the case through conciliation. During conciliation, HUD or the FHAP agency represents the public interest in the case.
HUD or the FHAP agency will attempt conciliation until a complaint is dismissed or a determination of reasonable cause is made. If the parties sign a conciliation agreement, HUD or the FHAP agency terminates its investigation and closes the complaint without making a determination on the merits of the complaint.
Any conciliation agreement must be signed by the parties and approved by HUD or the FHAP agency.
An agreement may include relief for the complainant, such as a monetary payment, access to previously denied housing or the provision of a reasonable accommodation.
An agreement may also include public interest relief, such as a requirement for the respondent to pay a civil penalty or to attend fair housing training.
Additionally, an agreement typically includes assurances that the respondent will eliminate discriminatory policies and practices, provisions to remedy any other fair housing violations and prevent future violations, provisions for periodic reporting by the respondent and provisions for HUD or the FHAP agency to monitor compliance with the agreement.
Throughout the conciliation process, HUD or the FHAP agency continues to investigate the complaint. If HUD or the FHAP agency is unable to conciliate the complaint, it determines whether there is reasonable cause to believe that a discriminatory housing practice has occurred or is about to occur.
If HUD or the FHAP agency find no reasonable cause to believe this is likely to happen, the complaint is dismissed. In that case, the complainant retains the right to pursue the matter through private litigation.
If HUD determines there is reasonable cause to believe that a discriminatory housing practice has occurred or is about to occur, it issues a charge of discrimination, and a hearing is scheduled before a HUD administrative law judge (ALJ).
Either party — the complainant or the respondent — may cause a HUD-scheduled administrative proceeding to be terminated by electing instead to have the matter litigated in federal court. When this happens, the Department of Justice takes over HUD's role as counsel seeking resolution of the charge on behalf of the complainant, and the matter proceeds as a civil action. Either form of action — the ALJ proceeding or the civil action in federal district court — is subject to review in the U. S. Court of Appeals.
What is the statute of limitations for Fair Housing Act complaints?
Administrative complaints with HUD and other state agencies must be filed within one year. Plaintiffs have two years after the occurrence or termination of an alleged discriminatory practice to bring a complaint in federal and most state courts.
However, if an administrative case is filed with HUD, the statute of limitations is tolled during the period of time in which HUD is evaluating the complaint. If a person has been subject to ongoing discrimination, then this two- year statute of limitations begins to run at the time of the last incident, or the time when the continuous discrimination ended.
What are the penalties for violating the Fair Housing Act?
Penalties for violations vary, depending on whether the case goes to an administrative hearing or to federal court.
If a case goes to an administrative hearing, and the ALJ decides that discrimination occurred, the respondent can be ordered to pay the federal government a civil penalty to "vindicate the public interest." These penalties vary depending on the frequency and timing of violations:
First violation: Maximum penalty of $16,000
Respondents who had a violation in the previous five years: Maximum penalty of $42,000
Respondents who violated the act two or more times in the previous seven years: Maximum penalty of $70,000
HUD recently published a new, inflation-adjusted civil penalty schedule for a variety of different housing-related laws, including the Fair Housing Act. These new civil penalty amounts take effect Aug. 16, 2016:
First violation: Maximum penalty of $19,787
Respondents who had a violation in the previous five years: Maximum penalty of $49,467
Respondents who violated the act two or more times in the previous seven years: Maximum of $98,935
In addition to these penalties, the ALJ may also order the respondent to pay actual damages, including pain, humiliation and suffering, as well as reasonable attorney fees and court costs. The ALJ may also order the respondent to provide injunctive or other equitable relief, such as making the housing that was denied available and/or accessible to you.
If a case goes to federal district court, the attorney general will file a lawsuit and litigate it on the complainant's behalf. If the court finds that a discriminatory housing practice has or is about to occur, the court can award actual and punitive damages as well as attorney fees.
How common are Fair Housing Act complaints and cases?
According to the NFHA's 2015 Fair Housing Trends report, HUD received 1,710 complaints in 2014, or 9.1 percent fewer complaints than it received in 2013. HUD filed 33 secretary-initiated complaints, four less than in 2013, but still significantly higher than in 2011 and 2010, when it filed four and 10, respectively.
Nonprofit fair housing organizations, HUD, FHAP agencies and the DOJ reported a total of 27,528 complaints of housing discrimination in 2014. This number reflects a slight increase in reported complaints compared to the previous year, but is still 1,000 less than the number reported in 2012. NFHA attributed the increase to a rise in complaints reported by private, nonprofit fair housing groups and FHAP agencies and also an overall increase of complaints based on discrimination against people with disabilities.
In 2014, the DOJ received more than 1,100 written complaints from individuals, a decrease from the 1,200 it received in 2013. The department went on to file 34 cases in federal court in 2014, nine less than it filed in 2013.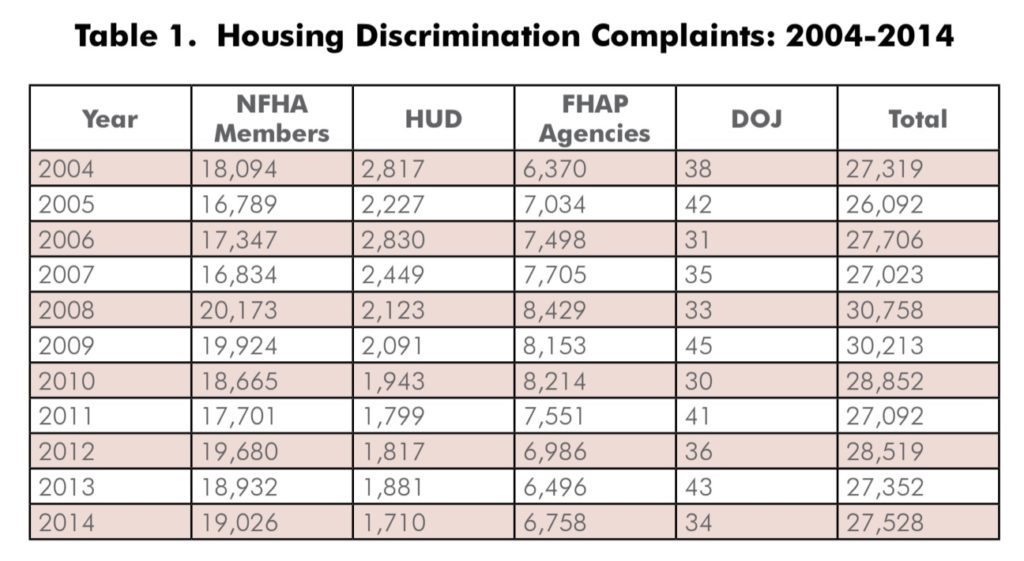 As stated above, a majority of the cases filed involve disability, followed closely by race and sex.
---
Real-world applications of the Fair Housing Act in the real estate industry
Discrimination in rental housing may seem more apparent, but that doesn't mean that real estate sales professionals are off the Fair Housing Act hook — as illustrated by the examples at the top of this page of current complaints being handled by the NFHA.
"The law applies equally to both rentals and sales," Allen said. "Problems may more frequently arise in a rental context, but there are plenty of things real estate agents still need to be attentive to."
Allen recalled a case in Detroit in which real estate agents were accused of steering white families to predominantly white neighborhoods, even if they asked to see homes in integrated neighborhoods, and steering African-American families to predominantly African-American neighborhoods, even if they asked to see homes in white neighborhoods.
"Any participation in or endorsement of that bad behavior could make a real estate agent liable under the Fair Housing Act," Allen said.
"As the country gets to be way more diverse than it used to be, we have to listen very carefully to what the customer is looking for in terms of housing. Part of that has to do with understanding that people may choose to make different choices as to where they want to live based on what they value. It may not be that a 'traditional,' white family wants to be in an all-white neighborhood. An African-American family may be seeking out a certain school district."
And speaking of schools, Allen identified giving buyers information about school districts as a potential Fair Housing Act minefield for agents.
"There isn't anything in the Fair Housing Act that says you can't make comments or recommendations about schools to your clients, but even an agent who collects and disseminates the best possible information may be putting his thumb on the scale in some way," he said.
"Real estate agents have to be really careful when they talk about, for example, things like school proficiency. Even if a real estate agent intends to be helpful in this situation by making comments or giving information about a school district, someone could file a complaint for steering.
"The safest thing to do is actually to say, without being obstructive or unhelpful, 'it's not my business to interpret these things for you, but you may find them with your school agency.' But as soon as you start collecting information, and saying you have it, there is the potential for someone to say, 'you left out half of it.'"
Tips for minimizing compliance risks
This is exactly the kind of scenario NAR anticipated when it created its Equal Professional Service Model, a set of policies and procedures designed to help members provide the same level of service to all real estate consumers. The model involves these consistently applied practices.
Let objective information, not subjective information, be the guide. Using the above example about responding to customer inquiries about school quality, NAR advises that it's best to guide them to third-party information, such as state data that compares different districts or setting up appointments with a principal or district leader, so they can make a decision on their own. Objective information is easy to document and quantify and is widely available, given the widespread use of the Internet. "Remember, it's not about your kids. It's about their kids. Every child has different needs, and every family has different preferences," Underwood said.
Offer a variety of choices in a systematic way. If you offer housing that meets a buyer's needs in terms of size, price, number of bedrooms, amenities, etc., but is maybe outside his preferred district, you are finding a way to expand choices but meet the buyer's needs.
Let the customer set the limits and make his or her own choices. By providing objective answers and resources and offering a variety of choices, the agent can take direction from the choices buyers make. This enables an agent to help buyers narrow their searches. If an agent offers them options outside the district but they decide not to pursue that option, their decision allows the agent to confidently move forward with finding homes only in that school district.
"If you make these procedures second nature — just like we make other things in our lives second nature, like how we don't need to read a manual every morning to make coffee or get our kids to school every day — it will make sure your way of doing things supports the principles of equal opportunity, and then you're most of the way there," Underwood said. "But the best way to address these issues is to talk about them with your fellow agents, your broker, etc. It shouldn't be a subject that we are afraid to talk about."