Check Inman every day for the daily version of this market roundup.
Mortgage rates:
Home equity rates:
Day-by-day market activity
Friday, December 23:
U.S. Census Bureau/U.S. Department of Housing and Urban Development's New Residential Sales for November 2016:
Sales of new single-family houses in November 2016 were at a seasonally adjusted annual rate of 592,000.
This is 5.2 percent above the revised October rate of 563,000 and is 16.5 percent above the November 2015 estimate of 508,000.
The median sales price of new houses sold in November 2016 was $305,400; the average sales price was $359,900.
Thursday, December 22:
Attom Data Solutions Q4 2016 Home Affordability Index:

Boost your brand, efficiency and productivity with one platform
Brokers, give your agents the strategic services and support to become productive powerhouses
READ MORE
The national affordability index in Q4 was 103, the lowest level since Q4 2008.
This is down from 108 in the previous quarter.
It's also down from 116 a year ago.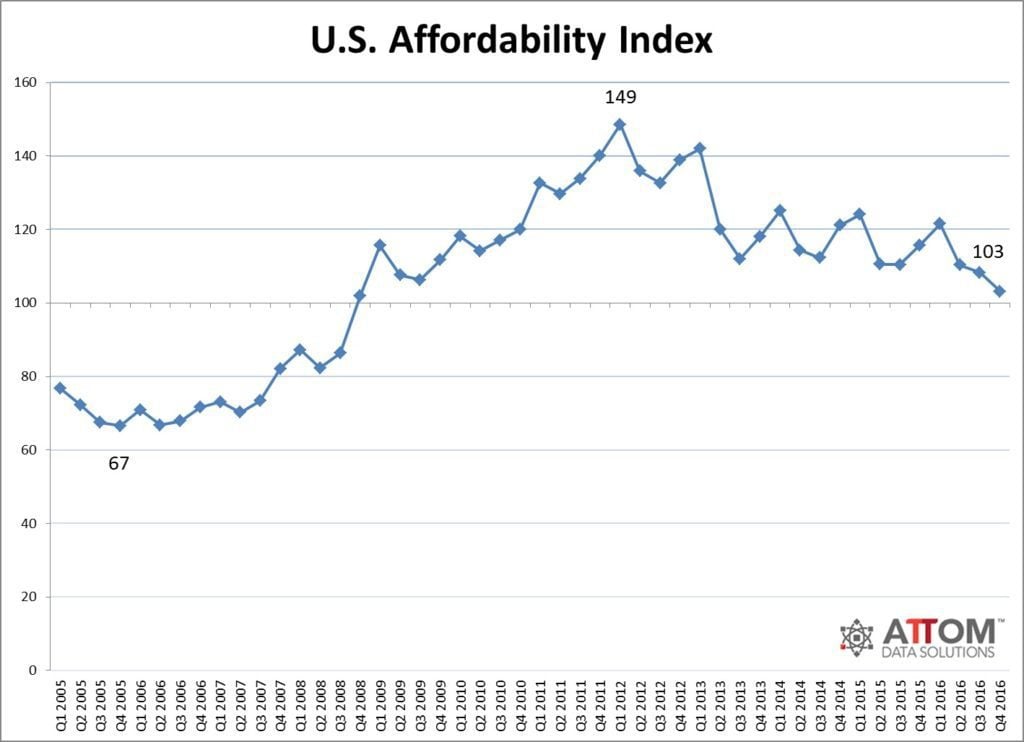 Federal Housing Finance Agency's House Price Index for October 2016:
U.S. house prices rose 0.4 percent on a seasonally adjusted basis from the previous month.
The previously reported 0.6 percent increase in September remained unchanged.
From October 2015 to October 2016, house prices were up 6.2 percent.
Freddie Mac's Primary Mortgage Market Survey:
The 30-year fixed-rate mortgage (FRM) averaged 4.30 percent with an average 0.5 point for the week ending December 22, 2016.
This is up from last week when it averaged 4.16 percent.
A year ago at this time, the 30-year FRM averaged 3.96 percent.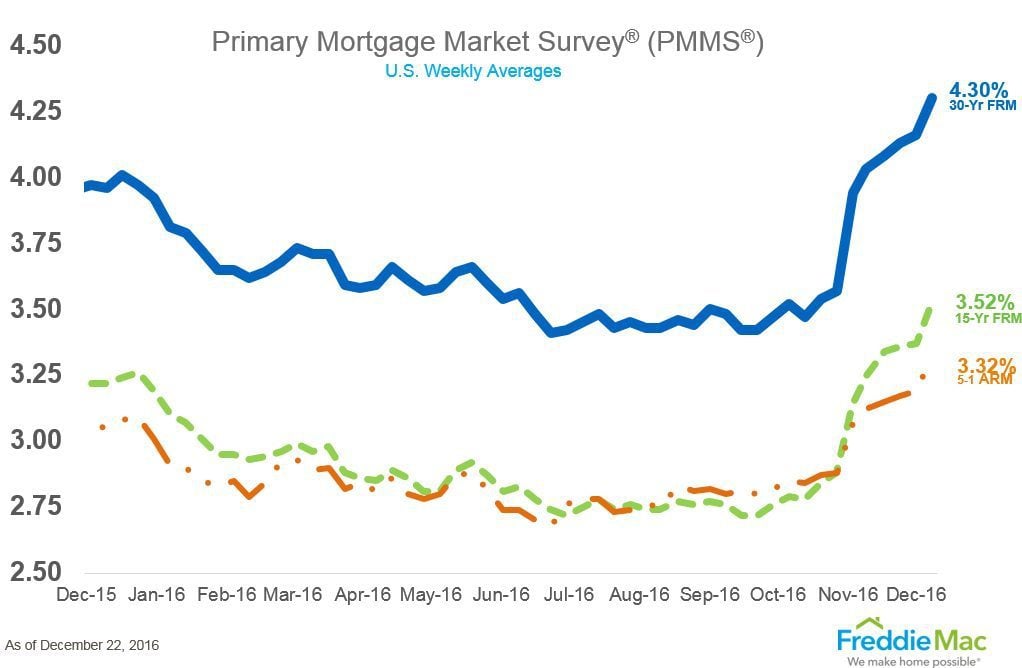 Campbell/Inside Mortgage Finance HousingPulse Tracking Survey for November 2016:
Non-distressed properties sold during November had an average price of $299,900, based on a three-month moving average.
That was up 0.9 percent from October 2016.
Prices in November were up by 5.8 percent percent compared with the average price for non-distressed properties sold in November 2015.
Zillow November 2016 Real Estate Market Reports:
The median home value in the U.S. is now $192,500.
Home values rose 6.5 percent over the past year.
Rents rose 1.5 percent over the past year to $1,403 per month.
Federal Housing Finance Agency's Q3 Foreclosure Prevention Report:
The serious delinquency rate for mortgages owned or guaranteed by Fannie Mae and Freddie Mac (the "Enterprises") fell to 1.16 percent at the end of the third quarter of this year.
Overall, the Enterprises completed 46,390 foreclosure prevention actions in the third quarter.
The number of 60+ days delinquent loans declined 3 percent to 421,765 at the end of the third quarter.
Black Knight Financial Services' First Look at November 2016 mortgage data:
The delinquency rate was up by 2.55 percent month-over-month.
However, the rate was down 9.43 percent year-over-year.
The number of loans in active foreclosure dropped below 500,000 for the first time in nearly 10 years.

Wednesday, December 21:
Mortgage Bankers Association's Weekly Applications Survey:
Mortgage applications increased 2.5 percent from one week earlier for the week ending December 16, 2016.
The refinance share of mortgage activity increased to 57.9 percent of total applications from 57.2 percent the previous week.
The average contract interest rate for 30-year fixed-rate mortgages increased to its highest level since May 2014, 4.41 percent, from 4.28 percent.
National Association of Realtors Existing-Home Sales for November 2016:
Total existing-home sales rose 0.7 percent to a seasonally adjusted annual rate of 5.61 million in November.
This is up from a downwardly revised 5.57 million in October.
November's sales pace is now the highest since February 2007 (5.79 million) and is 15.4 percent higher than a year ago (4.86 million)

.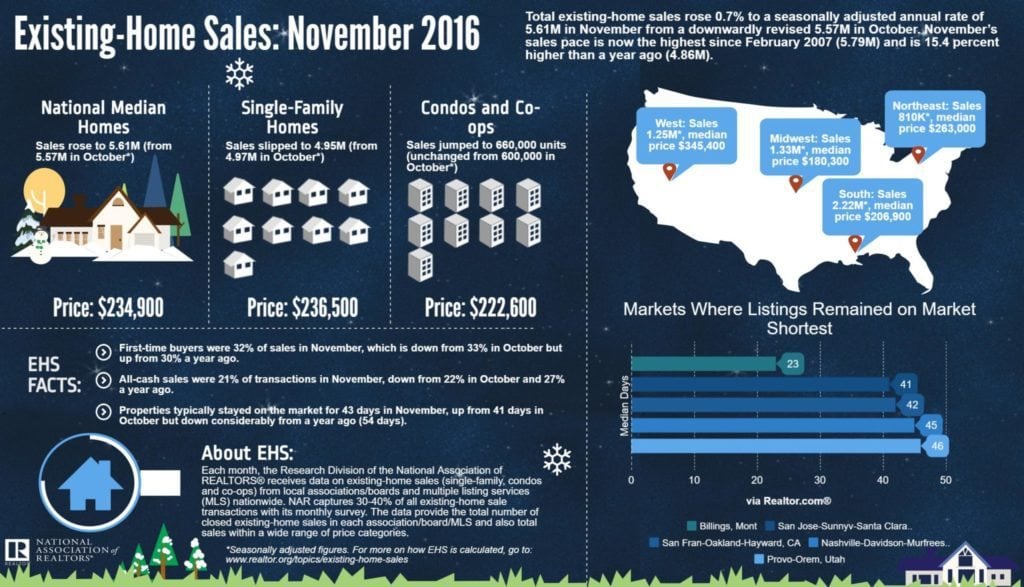 First American Real Estate Sentiment Index for Q4 2016:
Overall confidence for transaction volume growth over the next 12 months declined 11.8 percent from Q3 2016.
Confidence for transaction volume growth also fell 3.8 percent compared with a year ago.
Confidence for growth in purchase transaction volume over the next 12 months remains positive, but declined 8 percent from last quarter and fell 8.8 percent compared with a year ago.
Tuesday, December 20:
Quicken Loans National Home Price Perception Index (HPPI) for November 2016:
Homeowner perceptions were 1 percent higher than appraiser opinions in November 2016.
This marks the fifth consecutive month the gap between homeowner expectations and appraised values narrowed.
The National Quicken Loans Home Value Index (HVI) shows appraised values moved higher by 0.42 percent in November.
Mortgage Bankers Association's New Home Purchase Mortgage Applications for November 2016:
Mortgage applications for new home purchases increased 12 percent relative to November 2015.
Compared to October 2016, applications decreased by 3 percent relative to the previous month.
The MBA estimates new single-family home sales were running at a seasonally adjusted annual rate of 588,000 units in November 2016.
CoreLogic's National Foreclosure Report for October 2016:
Foreclosure inventory was down 3.6 percent in October 2016 from September 2016.
There were 30,000 completed foreclosures nationally, down from 40,000 in October 2015.
This represents a 24.9-percent decline year-over-year.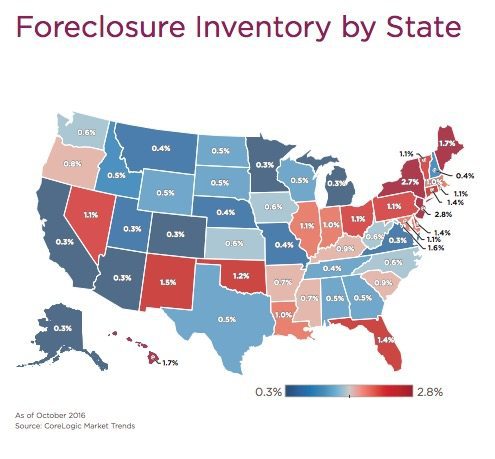 Monday, December 19:
First American Financial Services Potential Home Sales Model for November 2016:
Potential existing-home sales increased to a 6.1 million seasonally adjusted annualized rate (SAAR).
This was 4.0 percent above November 2015.
Currently, potential existing-home sales is 98,000 (SAAR) or 1.6 percent below the pre-recession peak of market potential, which occurred in July 2005.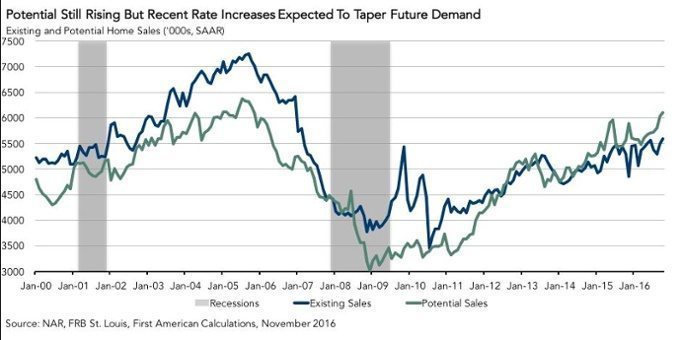 Email market news to press@inman.com.