Existing-home sales circled third base with another knockout month in what National Association of Realtors (NAR) Chief Economist Lawrence Yun called the "autumn revival."
In November, NAR's existing-home sales rose 0.7 percentage points to a seasonally adjusted annual rate (SAAR) of 5.61 million — up from an upwardly revised 5.49 million in September.
November's sales pace is 15.4 percentage points above November 2015 and is the highest SAAR sales pace since February 2007.
The Northeast and South experienced an uptick in sales, and distressed sales increased 1 percentage point to 6 percent, which is still lower than a year ago.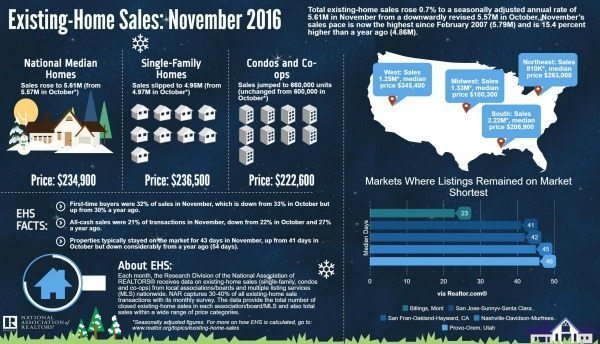 Finished 2016 strong; bumps still ahead for 2017
The median existing-home price for all housing types in October rose 6.8 percentage points to $234,900, which marks the 57th consecutive month of year-over-year gains.

What are you waiting for? Close the female leadership gap today.
How one leader believed in herself to make a massive change, and how you can, too
READ MORE
Meanwhile, total housing inventory took a hit and declined 8.0 percentage points to 1.85 million existing homes available for sale. Inventory is now 9.3 percentage points lower than a year ago — the 18th consecutive month of year-over-year declines. Unsold inventory is at a 4-month supply, down 4.3 percentage points from October.
NAR Chief Economist Lawrence Yun says November's solid existing-home sales are part of an "outstanding" three-month stretch — one the housing market desperately needed after an otherwise bumpy 2016.
"The healthiest job market since the Great Recession and the anticipation of some buyers to close on a home before mortgage rates accurately rose from their historically low level have combined to drive sales higher in recent months," he said.
But Yun tempered his enthusiasm with a cautious note about inventory: "Existing housing supply at the beginning of the year was inadequate and is now even worse heading into 2017.
"Rental units are also seeing this shortage. As a result, both home prices and rents continue to far outstrip incomes in much of the country."
Builder breakdown
Distressed sales, which include foreclosures and short sales, were at 6 percent — a 1 percentage point increase from October and a 3 percentage point drop from November 2015. Four percent of November sales were foreclosures, and 2 percent were short sales.
Single-family home sales were at a SAAR of 4.95 million — a 0.4 percentage point month-over-month decline and a 16.2 percentage point increase from November 2015. The sales price for single-family homes increased by 6.8 percentage points to $236,500.
On the other hand, existing condominium and co-op sales increased 10.0 percentage points to a SAAR of 660,000 units, 10 percentage points higher than a year ago. The median existing condo price was $222,600 in October — up 5.8 percentage points from 2015.
How did buying patterns vary across the country?
In the Northeast, existing-home sales jumped 8.0 percent to an annual rate of 810,000, up 15.7 percent from a year ago.
Median price: $263,000, a 3.3 percent year-over-year increase.
In the Midwest, existing-home sales decreased 2.2 percent to an annual rate of 1.33 million.
Median price: $180,300, a 6.5 percent year-over-year increase.
In the South, existing-home sales rose 1.4 percent to an annual rate of 2.22 million.
Median price: $206,900, a 9.2 percent year-over-year increase.
In the West, existing-home sales dropped 1.6 percent to an annual rate of 1.25 million.
Median price: $345,400, an 8.5 percent year-over-year increase.
Existing-home sales are based on transaction closings from MLSs and include single-family homes, townhomes, condominiums and co-ops.
Seasonally adjusted annual rates are used in reporting monthly data to help accommodate for seasonal variation; the annual rate for any given month represents what the total number of actual sales for a year would be if the pace for that month were maintained for a whole year.