Check Inman every day for the daily version of this market roundup.
Mortgage rates:
Home equity rates:
Day-by-day market activity
Thursday, January 12:
Attom Data Solutions Year-End 2016 Foreclosure Market Report:
Foreclosure filings (default notices, scheduled auctions and bank repossessions) were reported on 933,045 U.S. properties in 2016.
This is down 14 percent from 2015 to the lowest level since 2006, when there were 717,522 U.S. properties with foreclosure filings.
The report also shows that 0.70 percent of all U.S. housing units had at least one foreclosure filing in 2016, the lowest annual foreclosure rate nationwide since 2006.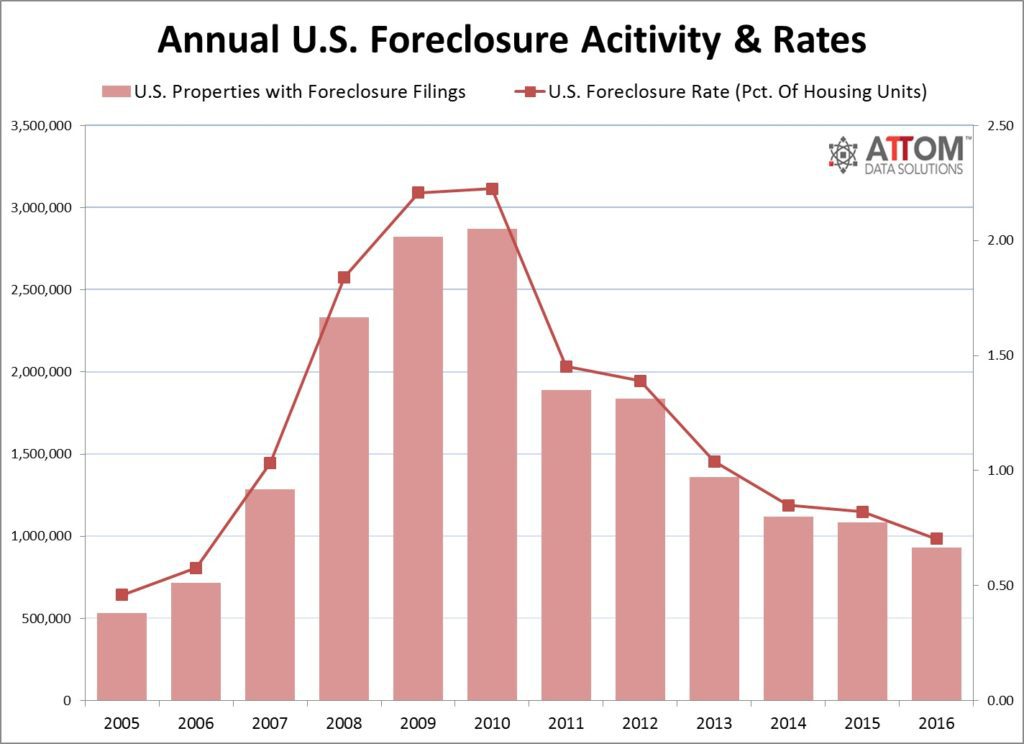 Mortgage Banker's Association's Builder Applications Survey for December 2016:

Episode 2 - Defining Success Through Failure
"Who am I? Why am I making these decisions? I came out of all that deciding who I was." - Gary Keller
READ MORE
Mortgage applications for new home purchases increased 2 percent relative to December 2015.
Compared to November 2016, applications decreased by 14 percent relative to the previous month.
This change does not include any adjustment for typical seasonal patterns.
Freddie Mac's Primary Mortgage Market Survey:
The 30-year fixed-rate mortgage (FRM) averaged 4.12 percent with an average 0.5 point for the week ending January 12, 2017.
This is down from last week when it averaged 4.20 percent.
A year ago at this time, the 30-year FRM averaged 3.92 percent.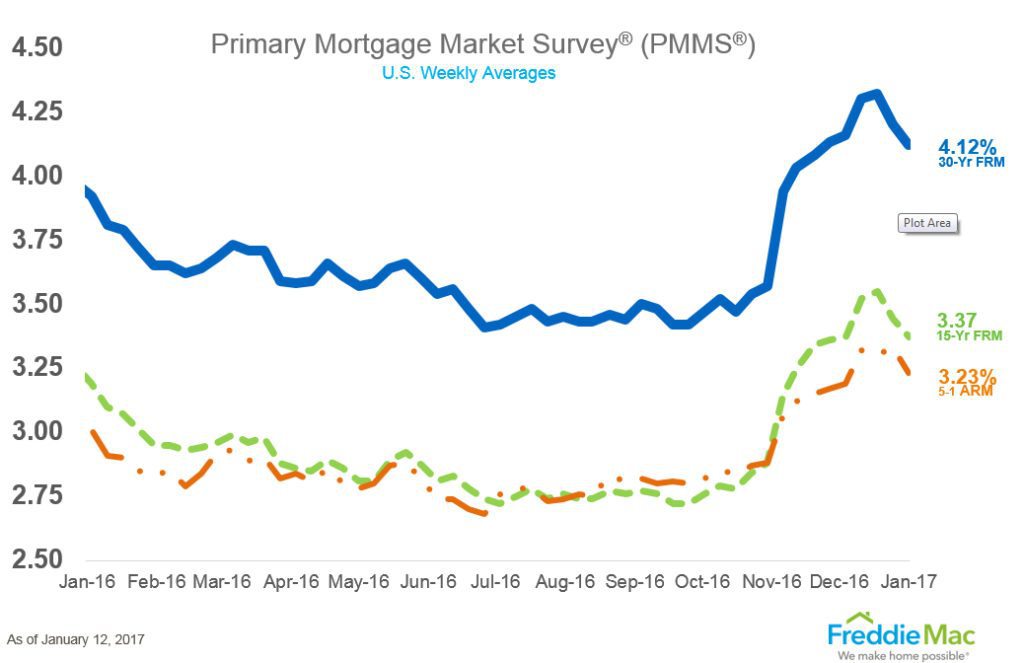 Wednesday, January 11:
Mortgage Banker's Association's Weekly Applications Survey:
Mortgage applications increased 5.8 percent from one week earlier for the week ending January 6, 2017.
The refinance share of mortgage activity decreased to 51.2 percent of total applications from 52.2 percent the previous week.
The average contract interest rate for 30-year fixed-rate mortgages with conforming loan balances decreased to 4.32 percent from 4.39 percent.
Tuesday, January 10:
CoreLogic National Foreclosure Report for November 2016:
The foreclosure inventory in November 2016 was down 2.4 percentage points from October 2016.
This indicates a 25.9 percent year-over-year decline.
There were 26,000 foreclosures completed in November 2016.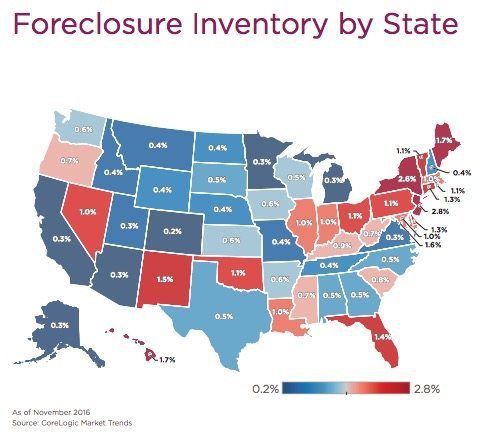 Quicken Loans Home Price Perception Index (HPPI) for December 2016:
The national HPPI shows appraised values were 1.33 percent lower than homeowners estimated in December 2016.
This indicates a widening of opinions between appraisers and homeowners.
Home values fell 1.19 percent in December, but increased 3.85 percent year-over-year.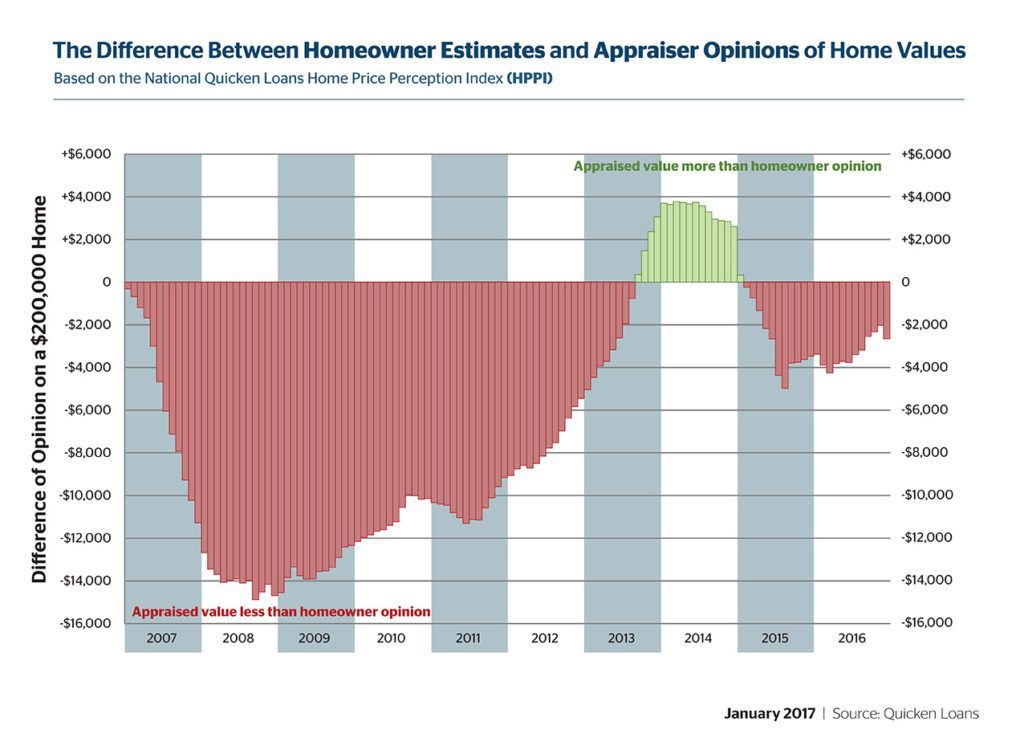 National Housing Tides Index for January 2017:
The Housing Tides Index rose from 72.8 in December to 73.3 in January.
The ratio of U.S. housing permits to changes in total employment improved for the year ending October 2016.
However, at a ratio of 0.46 housing permits per new job created, housing production remains too low to meaningfully slow price increases or return to a balanced inventory level.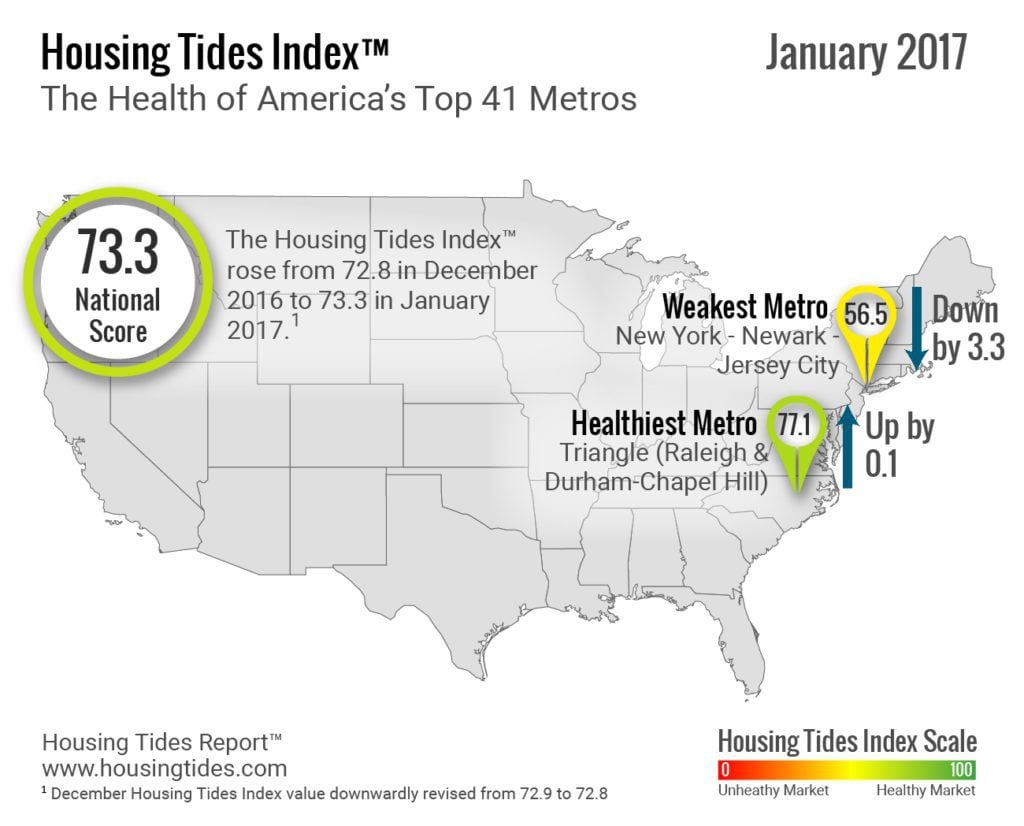 Monday, January 9:
Fannie Mae's Home Purchase Sentiment Index (HPSI) for December 2016:
The HPSI decreased again in December by 0.5 percentage points to 80.7.
The HPSI is down 2.5 percentage points compared with the same time last year.
The net share of Americans who say it is a good time to buy a house rose by 2 percentage points to 32 percent; the net percentage of those who say it is a good time to sell was unchanged from the prior month at 13 percent.
Email market news to press@inman.com.