According to Redfin's migration trends report, homebuyers are leaving San Francisco, New York City and Los Angeles in search of cities that offer a more affordable standard of living.
In 1966, The Mamas and the Papas were singing "California Dreamin'," but fast forward 51 years and Californians are belting out a different tune thanks to increasing home prices, unsustainable costs of living and a lack of access to affordable housing.
Redfin's new study on U.S. migration patterns shows that Californians are leaving the Golden State in droves — especially residents of San Francisco and Los Angeles.

Redfin analyzed 1 million users searching habits as it looked for homes in over 75 metro areas during the first three months of 2017. Out of those 1 million users, 19.8 percent searched for homes outside of their current hometown.
After breaking down the results city-by-city, San Francisco had the largest net outflow with 15,087 homebuyers looking for homes outside of the city. New York City nabbed the no. 2 spot with 7,137 buyers looking elsewhere. Los Angeles rounded out the top 3 with 5,367 users leaving the city.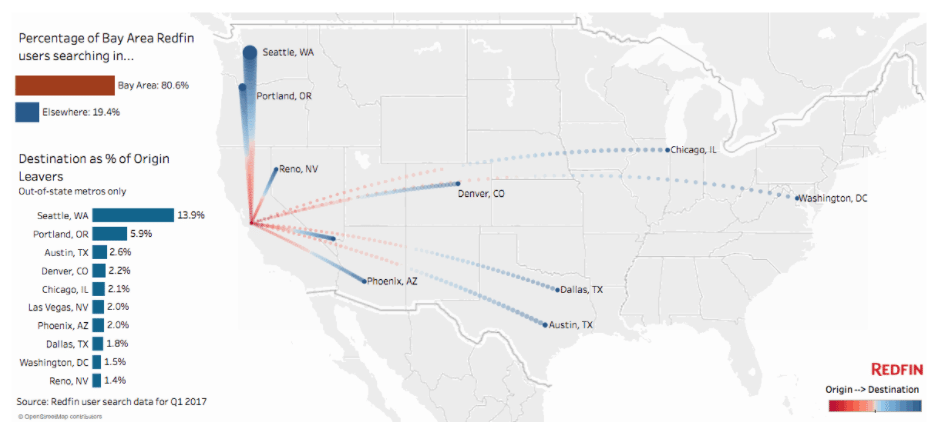 The company says it's been tracking Bay Area migration patterns for the past six years, and the results of this study fall in line with the buying habits of Redfin customers who use the company's brokerage services.
"As the price of the typical home in the Bay Area has surged to over a million dollars, residents are increasingly likely to seek more affordable places to live," wrote researcher Taylor Marr.  
So, if buyers are saying "goodbye" to the Bay Area, where are they going? North and increasingly, South.
Twenty-two percent of Bay Area users searched for homes in Sacramento, which keeps them in the state while giving them access to a more affordable standard of leaving.
The next most popular destinations were Seattle and Portland, booming tech hubs that provide job security and a lower cost of living.
Southern Californians migrated to the Southwest, favoring Phoenix and Las Vegas as the best places to start a new life.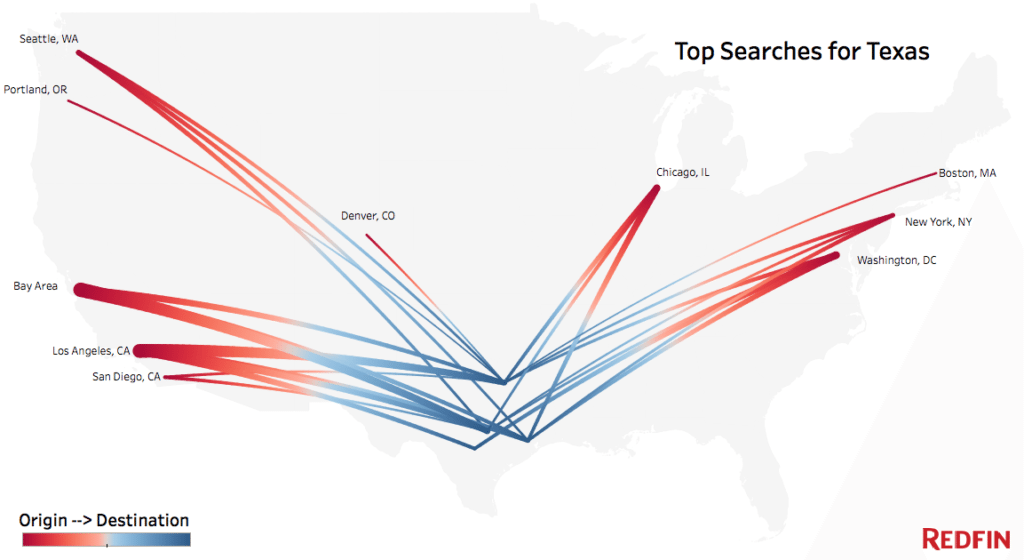 Lastly, Californians and residents of other high-priced cities across the nation are looking south for a financial reprieve. Austin, Texas, seems to be the most popular spot thanks to affordability, a robust job market and a solid economy.
"Austin is the gold standard of healthy migration, driven by its booming jobs market and a vibrant housing market," said Redfin chief economist Nela Richardson in a statement.
"In order for cities to attract and keep a talented workforce, win corporate investment and generate tax revenues, they have to prioritize the basics for their residents — ensuring an adequate supply of homes that are affordable to live in."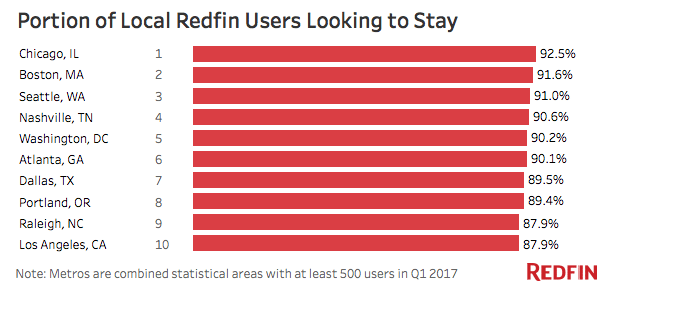 On the flip side, more than 90 percent of Redfin users in Chicago, Boston and Seattle are looking to stay in their cities.
Although the stats about San Francisco, New York and Los Angeles may be alarming, Marr says it's part of a historical trend.
"In the U.S., people move long distances at nearly double the rate of people in most other countries—with one in four American adults moving cities every five years, according to Gallup," he wrote. "In 2016 alone, more than 12 million people — 3.9 percent of the U.S. population — changed counties, according to the latest Census data." 
About the study
Redfin's Users must have viewed at least 10 listings during the quarter. Redfin also excluded locations that in aggregate represented less than 20 percent of a user's searches. The company determined the home metro by mapping the user's IP address of the most common location they searched from. Destinations were adjusted for the share of searches in that metro. If a user looked at 60 listings in one metro and 40 in another, their value would be split at 0.6 and 0.4 for the respective metros. Combined Statistical Areas (as defined here) must have had at least 500 users either searching from or in that metro during the first quarter.