In March, the California Association of Realtors hosted a panel — "The California Series: State of the State" — revealing that overly strict building codes, an aversion to affordable housing in affluent neighborhoods, and, most of all, exorbitant cost of living is pushing California toward becoming a majority renter state.
Zillow's latest "Breakeven Horizon" study, which shows that half of the eight major markets where it "pays to rent" are in California, backs up this assertion.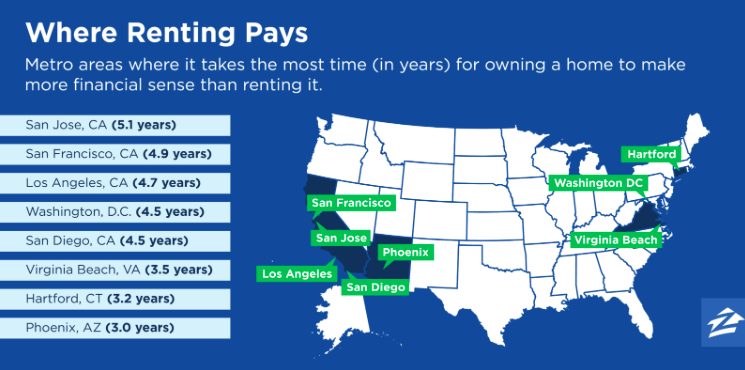 Nationally, it takes two years of homeownership before purchasing the typical median-valued home makes more financial sense than renting. But in areas where home prices are through the roof, it takes even longer.
In San Jose, California, a buyer would have to spend 5.1 years for the same result. In San Francisco, it's 4.9 years, followed by Los Angeles with 4.7 years. The markets of Washington, D.C.; and San Diego, both at 4.5 years, round out the list of the five largest markets with the longest breakeven horizon.
Of course, this isn't saying that renting isn't expensive — the average rents in San Jose and San Francisco are well over $3,000 per month. But the difference between renting and owning comes from the extra costs associated with buying a home, such as the down payment, fees, closing costs and monthly mortgage costs.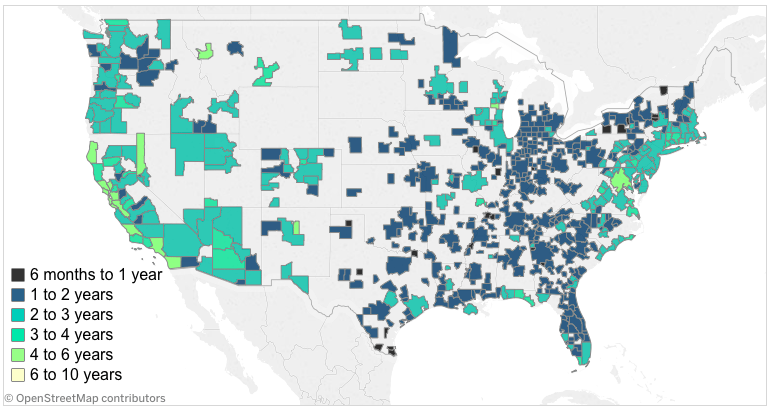 Elsewhere, buyers are faster to break even.
In the southern markets of Texas, Oklahoma, and Arkansas, buyers only have own a home anywhere from six months to two years for homeownership to pay off.
Homeowners in Memphis and Rochester, New York, have the smallest wait times of 1.2 and 1.3 years, respectively.
The Breakeven Horizon is calculated using a number of factors, including:
Tenants' monthly rent payments and security deposits against homebuyers' down payments (assuming 20 percent down)
Mortgage payments (assuming a 30-year, fixed-rate mortgage at today's prevailing rates), property taxes and home maintenance costs (it assumes that renters invest the 20 percent they would have used for a down payment, along with the property taxes they avoid paying, and make 5 percent on that money annually)
Rental and home value appreciation forecasts for each market