Home prices experienced another 5.6 percent year-over-year increase in the month of May, the same as the month prior; but this is not pre-housing crisis déjà vu, according to the S&P CoreLogic Case-Shiller U.S. National Home Price NSA Index.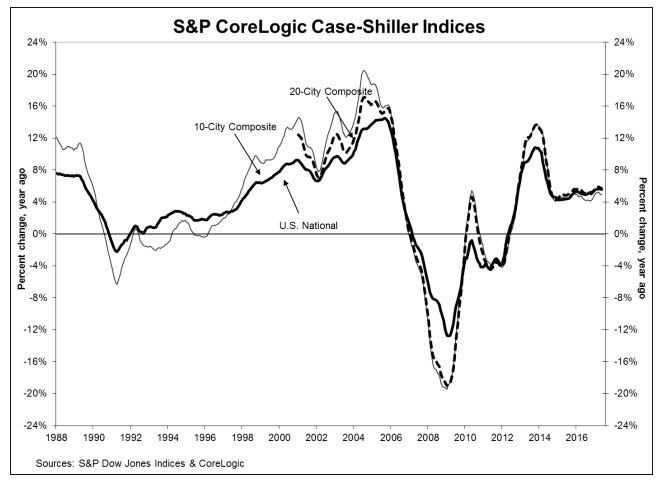 "Home prices continue to climb and outpace both inflation and wages," said David M. Blitzer, Managing Director and Chairman of the Index Committee at S&P Dow Jones Indices, in a statement. "Housing is not repeating the bubble period of 2000-2006: price increases vary across the country unlike the earlier period when rising prices were almost universal; the number of homes sold annually is 20 percent less today than in the earlier period and the months' supply is declining, not surging.
"The small supply of homes for sale, at only about four months' worth, is one cause of rising prices. New home construction, higher than during the recession but still low, is another factor in rising prices."
The cities reporting the highest annual gains of the index's 20-City composite were Seattle, Denver and Portland, Oregon.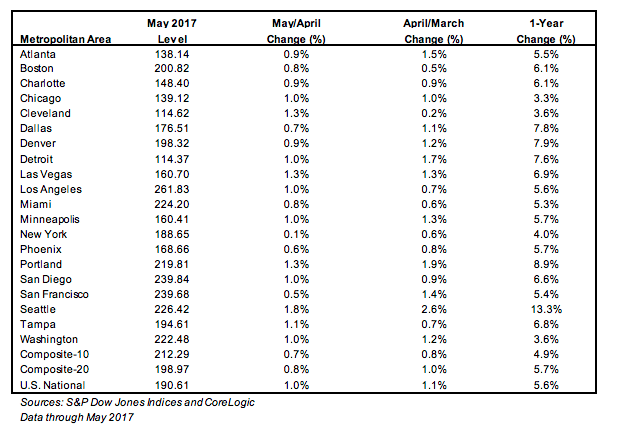 About the Index
The S&P/Case-Shiller U.S. National Home Price Index is a composite of single-family home price indices that is calculated every month; the indices for the nine U.S. Census divisions are calculated using estimates of the aggregate value of single-family housing stock for the time period in question.
The nine divisions are:
New England
Middle Atlantic
East North Central
West North Central
South Atlantic
East South Central
West South Central
Mountain
Pacific
CoreLogic serves as the calculation agent for the S&P/Case-Shiller U.S. National Home Price Index.