After nearly two months of declines, mortgage rates inched higher this week.
Freddie Mac's Primary Mortgage Market Survey (PMMS) showed the average 30-year fixed mortgage rate increasing from an average of 3.78 percent to 3.83 percent. This is the first time rates have increased in seven weeks, disrupting the steady decline that began after rates topped 4 percent in July.
Context is important here — mortgage rates remain at historic lows despite five Fed rate hikes since December 2015. Freddie's average rate in the year 2000 was 8.1 percent, while the average rate in 2006, right before the housing bust, was 6.4 percent.
"My first reaction is that even with the increase, rates are 20 basis points or more lower than the experts predicted them to be at the end of the third quarter," said Steve Cook, real estate communication consultant at commsconsulting.com. "Despite the Fed's planned increases in the Federal Funds Rate, I think mortgage rates will remain hovering around 4 percent in the near future, as they did after last year's modest increase."
Low rates mean high buyer demand, but the National Association of Realtors' (NAR) existing-home sales nevertheless declined 1.7 percent to a seasonally adjusted annual rate (SAAR) of 5.35 million in August (down from 5.44 million in July), and this month's sales pace is the lowest seen in a year.
The culprits? Low inventory and rising home prices.
"Steady employment gains, slowly rising incomes and lower mortgage rates generated sustained buyer interest all summer long, but unfortunately, not more home sales," said NAR Chief Economist Lawrence Yun.
Cook concurs: "My bottom line on home sales is that the three-year inventory drought, which has cut supplies by 40 percent or more over the past three years in some markets, is a much greater threat to sales than mortgage rates," he said in an email statement to Inman.
"As the latest existing home sales report confirms, millennials aren't going to buy if they cant find the homes to buy," he added.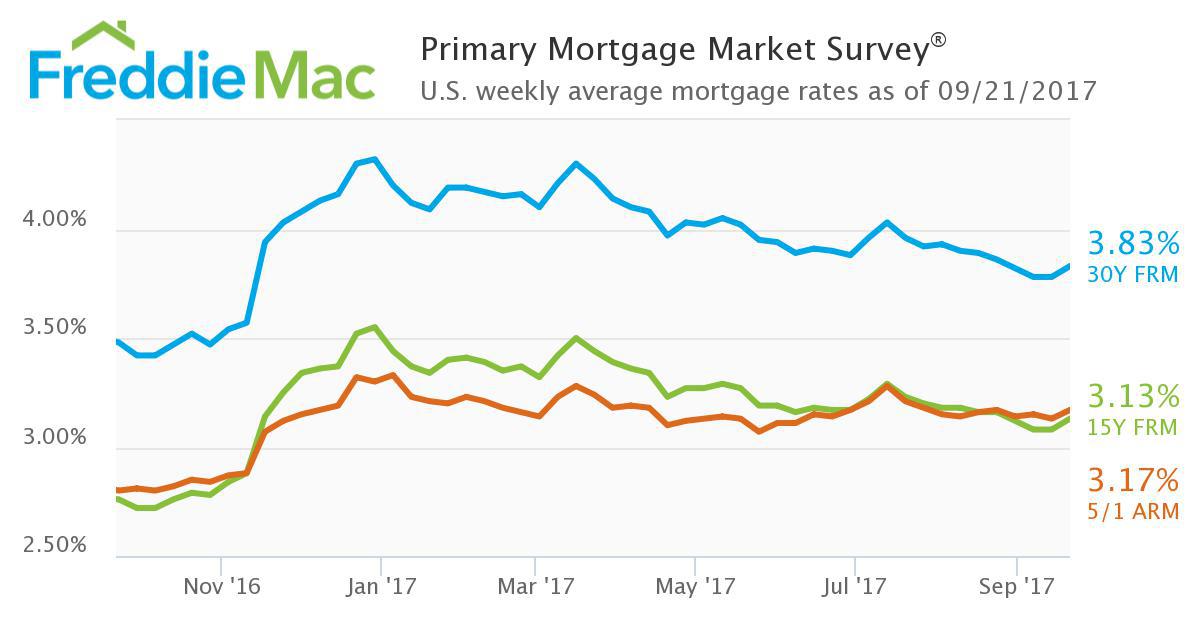 Mortgage rates this week
30-year fixed-rate mortgage (FRM) averaged 3.83 percent with an average 0.5 point for the week ending September 21, 2017, up from last week when it averaged 3.78 percent. A year ago at this time, the 30-year FRM averaged 3.48 percent.
15-year FRM this week averaged 3.13 percent with an average 0.5 point, up from last week when it averaged 3.08 percent. A year ago at this time, the 15-year FRM averaged 2.76 percent.
5-year Treasury-indexed hybrid adjustable-rate mortgage (ARM) averaged 3.17 percent this week with an average 0.4 point, up from last week when it averaged 3.13 percent. A year ago at this time, the 5-year ARM averaged 2.80 percent.