In the company's quarterly earnings results for the third quarter of 2017 (Q3 '17), Realogy reported $1.7 billion in revenue, a 2 percent increase year over year, and 4 percent year-over-year growth in homesale transaction volume for an overall profit of $95 million for the quarter.
The third quarter of 2017 proved to be a more difficult one for the company than the quarter prior, when Realogy reported profit of $106 million and operating EBITDA (earnings before interest, taxes, depreciation and amortization) of $279 million (compared to $258 million in Q3).
Richard A. Smith, Realogy's chairman and chief executive officer, said in the earnings conference call:
"We faced a number of challenges in the quarter. Our revenue growth of 2 percent was affected by the continuation of persistently low inventory and the hurricanes constrained the level of transactions. And our operating EBITDA was adversely affected by higher commission costs at NRT and lower employee relocation volume at Cartus."
Toward the end of 2016 Realogy acknowledged its shrinking market share concerns and appeared to start 2017 with an aggressive regrouping strategy.
Throughout the year the company has announced a series of executive-level shifts from naming former Zillow exec Nick Bailey as CEO of Century 21 to most recently announcing that Ryan Schneider of credit card giant Capital One will assume the position of president and CEO of Realogy when Smith retires at 2017's end.
On the earnings conference call, which will be the last in which Smith makes an appearance, Smith said that the "the transition to Ryan is well under way."
"[Schneider] brings a wealth of experience in leveraging big data, rigorous analytics, and new technology all of which will bring a new perspective to our industry and company," Smith said.
Schneider confirmed his plans to take a data-driven approach to growing the company and echoed the sentiments of the real estate industry in honoring Smith's leadership through thick and thin.
"During the toughest times of the financial downturn, Richard was at his finest, working tirelessly to bring our company through the storm and back on solid footing to position us for our IPO five years ago," Schneider said.
Third-quarter results
Smith attributed the growth in the company's combined homesale transaction volume, which he noted was "approximately 170 basis points higher than the statistics reported by the National Association of Realtors," to the company's strategic efforts particularly in the areas of agent recruiting and retention.
Still he noted that sales volume for NRT and RFG came in "at the low end of guidance" and that NRT — which operates Coldwell Banker and Sotheby's International Realty — suffered lower volume due to the company's large operations in Houston and Florida that were adversely impacted by hurricane season.
The hurricanes will have been only a temporary hurdle, as demand has already returned to pre-storm levels in the affected markets that RFG (Realogy Franchise Group) and NRT serve, Smith noted.
NRT's agent count grew 4.5 percent in the last 12 months to more than 50,000 agents, and the retention rate for NRT's top-performing agents (first and second quartile) came in just above 94 percent, a historic high for the company.
However, these recruiting and retention efforts have brought with them one unexpected side effect: Realogy is also handing more commission to its real estate agents than anticipated. That's because transaction activity and agent count has grown in NRT's West Coast operations, where commission splits are generally higher, resulting in a setback for earnings for the time being.
Moreover, as fewer of Realogy's largest corporate clients seek to relocate employees, Realogy's referral-driven employee relocation service Cartus is underperforming. To address this, in 2018 Realogy plans to better align Cartus's cost structure with the new level of relocation activity, Smith said.
Comment on GOP tax plan
Smith took a moment during the call to comment on the Tax Cuts and Jobs Act introduced by the House Ways and Means Committee yesterday. He noted that although he was pleased to see House Republicans working toward tax reform that will strengthen the economy, the real estate industry stands opposed to the bill's treatment of the mortgage interest deduction — which would be limited to loans of $500,000 or less under the plan — and state and local taxes.
Realogy plans to be "deeply engaged" in working toward a bill that both it and the industry can support, according to Smith.
Looking ahead
The company expects its fourth quarter transaction volume to increase in the range of 4 to 6 percent year over year with transaction sides remaining flat or up 1 percent due to home price growth.
For the full year, it anticipates combined home sale transaction volume will increase in the range of 6 to 7 percent year over year.
Realogy forecasts full-year revenue to land between $6.1 billion and $6.15 billion.
About Realogy
Realogy Holdings Corporation owns the following real estate business units:
Better Homes and Gardens Real Estate
Century 21
Coldwell Banker
Coldwell Banker Commercial
The Corcoran Group
ERA
Sotheby's International Realty
ZipRealty
NRT LLC
Cartus
Title Resource Group
ZapLabs, Realogy's technology development subsidiary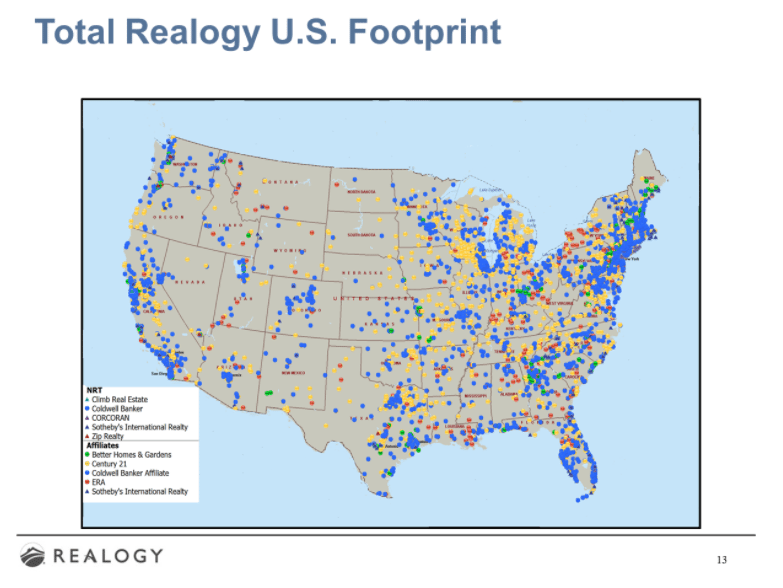 Its NRT business unit operates Realogy's company-owned real estate business segments, which also include some of Realogy's franchise and agency brands:
Climb Real Estate
Coldwell Banker
Sotheby's
Corcoran Group
ZipRealty