Keeping in tune with the last two weeks, mortgage rates have continued their steady climb into the third consecutive week of increases.
The Freddie Mac Primary Mortgage Market Survey (PMMS) showed the average 30-year fixed mortgage rate rising to 4.15 percent — 11 basis points up from the 4.04 percent seen last week.
"Rates keep climbing," said Freddie Mac's deputy chief economist Len Kiefer in a statement. "The 10-year Treasury yield reached its highest point since 2014 reflecting expectations of broad-based economic growth. Mortgage rates, in turn, followed the surge in Treasury yields."
Last week was the first time interest rates reached 4 percent since July 2017, and it appears they'll only keep inching up. Kiefer said existing-home sales data showed that 2017 was the best year for home sales in over 10 years, and he — like everyone else in the industry — is wondering whether 2018 will be even better.
"Homebuyer affordability will be a challenge, with mortgage rates moving higher and robust house price gains across the country," Kiefer said. "The FHFA reported that house prices increased 6.5 percent from November 2016 to November 2017, with all regions showing positive 12-month changes."
NAR chief economist Lawrence Yun and Keller Williams chief economist Ruben Gonzalez both believe 2018 will shape up to be a strong year for home sales as well, despite continued inventory issues.
"The current strength of the employment situation and consistent economic growth leads us to believe that the fundamentals driving demand for homes in 2018 will remain strong," Gonzalez said in an emailed statement. "Low inventory remains an issue for existing homes and may constrain sales if it persists throughout the year."
"Overall, we look forward to 2018 being another strong year for home sales, likely similar in magnitude to the previous two years," he concluded.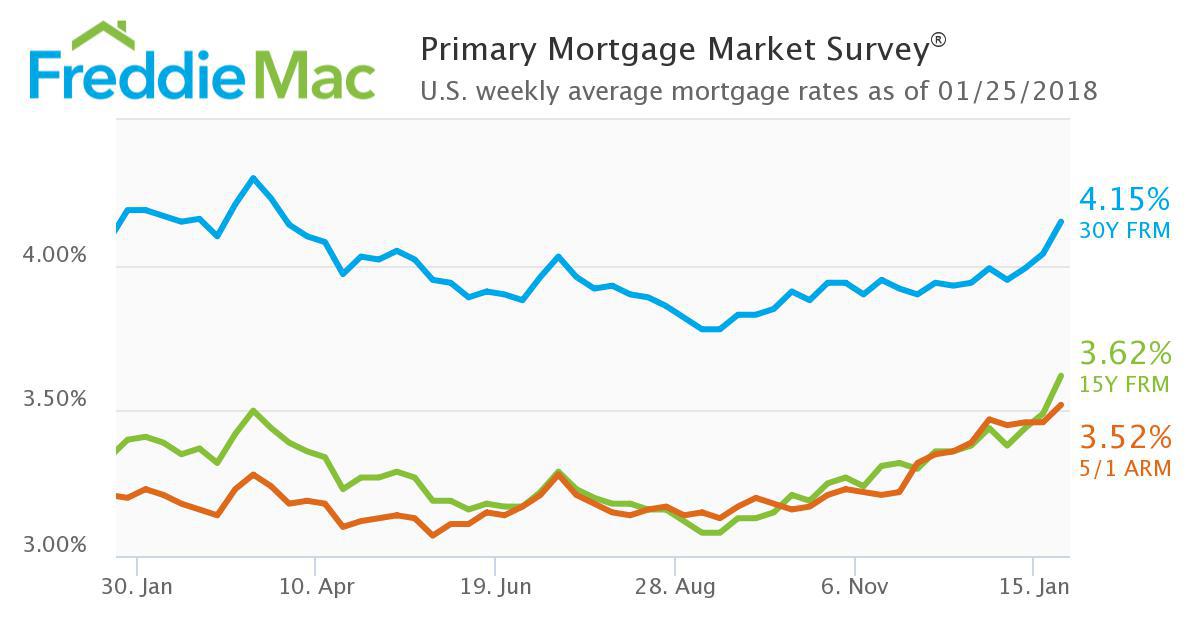 Mortgage rates this week
30-year fixed-rate mortgage (FRM) averaged 4.15 percent with an average 0.5 point for the week ending January 25, 2018, up from last week when it averaged 4.04 percent. A year ago at this time, the 30-year FRM averaged 4.19 percent.
15-year FRM this week averaged 3.62 percent with an average 0.5 point, up from last week when it averaged 3.49 percent. A year ago at this time, the 15-year FRM averaged 3.40 percent.
5-year Treasury-indexed hybrid adjustable-rate mortgage (ARM) averaged 3.52 percent this week with an average 0.4 point, up from last week when it averaged 3.46. A year ago at this time, the 5-year ARM averaged 3.20 percent.