The U.S. housing market has gained back all $9 trillion in value lost during the 2007 recession, according to a recent Zillow report. Furthermore, the average U.S. home is now worth $55,200 more than it was at the bottom of the housing bust.
Zillow says West Coast markets have fared the best since 2007, thanks to robust job growth and low inventory that has pushed home values up. On the other hand, The Sand States (California, Florida, Arizona and Nevada), excluding California, have yet to fully recover from the disproportionate impact the housing bust had on them.
The median home in San Jose and Las Vegas dropped $190,000 in value during the recession, but today, homes in Las Vegas have only regained $130,000 in value — leaving a $60,000 gap. Meanwhile, the median home price in San Jose is $615,000, three times the value that was lost.
During the recession, San Francisco homes lost $225,000 in value, but now, homes have gained 91.7 percent of their value back from the December 2012 crisis low, bringing the median home value to $435,700. Los Angeles and San Diego have experienced relatively strong recoveries with homes gaining back 64.5 and 62.6 percent of their value from the crisis low, respectively.
Meanwhile, Zillow classifies Denver as an outlier that didn't experience much of a housing bust, since home values only fell 9 percent. But Denver median home values have climbed to $379,500 — 61 percent higher than the highest value reached during the mid-2000s bubble.
"A decade after the financial crisis, the scars of the housing bust are still with us," said Zillow senior economist Aaron Terrazas in a press release. "The gap between the metros with the strongest and weakest housing market recoveries is as wide as it has ever been."
"The California Bay Area's housing recovery stands out when compared to other markets that saw similar home value appreciation because it has more than regained all of its lost value," Terrazas added. "Strong, high-paying job markets and persistently limited inventory sent prices skyrocketing, leading to the Bay Area having the most valuable housing markets in the country."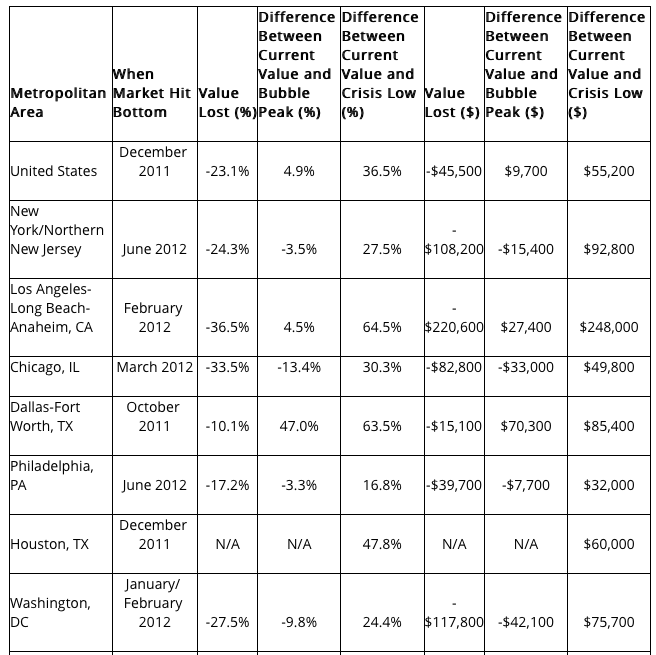 See the rest of the list here.