Find something that you love to do, and find a way to make money doing it — that's the dream, right? Whether it be art, cars, outdoor living or adorable pups, the four real estate agents below have found their passions and managed to work them into their businesses.
Art you glad you came out?
Matthew Steer, a Keller Williams luxury agent in New York City based in the Tribeca, co-owns an art gallery in Chelsea, Turn, which his wife Annika Peterson runs.
Steer, a former musician, enjoys the nurturing of artists' careers he is involved in through the gallery.
"We love the people we work with, they become like a family. It's a community," he said.
And having a gallery is a great place to invite his real estate clients. "I think it's been great in terms of having a different place to interface with my clients. It slows things down and allows us to not talk about real estate as much, and then you are getting to know each other better."
"And when you understand a person well, you can serve a person better, "said the Keller Williams agent, who feels he is "at his best" when at the gallery among his community.
"I am connecting with people in a completely authentic way, and that's improved my abilities as an agent," he added.
More than just a sick ride
There are few finer places than L.A., to be based if your business is real estate and your passion is cars. Gideon Lang-Laddie, a Morgan car aficionado would definitely argue he is "at his best" when behind the wheel of a car.
Lang-Laddie, an Englishman and former Wall Street private equity guy who has cars in the U.S. and in the UK, does monthly property tours, branded Gideon's Agency Roadshow at his luxury L.A. brokerage, The Agency.
He has taken Agency clients to listings in borrowed Morgans, Aston Martins and Lamborghinis so far, in one case, enlisting the help of a former racing car driver, and he has Rolls Royce and Ferrari lined up for upcoming ones.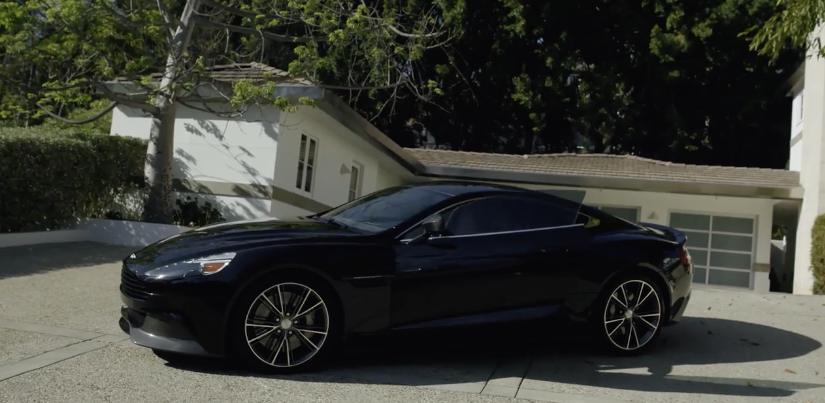 The agent thinks a love of cars brings people together as a love of real estate does. People who are into collecting cars feel they are custodians of the car in the same way people are of a luxury home, he said.
And, he points out pragmatically, if you are buying a $10 million Beverly Hills home, chances are, "you are going to have something nice in your garage."
Lang-Laddie's passion for cars is helping the real estate newbie, currently dealing with rentals and working with buyers, introduce himself to the L.A. luxury market.
"It's me indulging in something I absolutely love, and a Realtor needs to communicate with clients and have something in common," he said.
Lang-Laddie has a good relationship with a big car collector — they are always exchanging photos of cars they like — and the millionaire has told Lang-Laddie he wants to do some real estate business with him in the future. "Because you and I are on the same page," is how his client explained it to him.
Lakeside queen
The common passion that Avenue Properties' Jenn Mueller shares with her clients is her local lake, Lake Sammamish, just eight miles east of Seattle, a popular place to live if you work at Microsoft in Redmond. Mueller is happiest when out on the lake, wake surfing behind a boat or paddle boarding.
She has established many relationships with clients and friends living lakeside with a similar love of water.
"Doing the hobbies together, having barbecues together — it's an opportunity to get in front of people who live here," she said.
And for the young agent who was in Realtor Magazine's top 30 under 30 in 2014, it's bringing her plenty of business.
One of her water sports friends who lives in a condominium community on the lake had been there for nine years. When it came time to sell, he came to her. And he's also referred her to at least three other friends.
"We have done real estate transactions together, but we also go out on the lake and wake surf, there is that element of building relationships and enjoying the lake life," she said.
Her passion is working in Mueller's favor — last year she sold 23 homes as a solo agent, an average price of around $650,000, and the business is largely coming from referrals.
"My dream is to be the Lake Sammamish queen and have a big part in the real estate market there," she said.
Every dog has its day
In the case of Pacific Union International's Rebecca Chambliss, she is one of many agents around the country for whom dogs are an all-abiding passion. The president of Tibetan Mastiff Rescue has been involved in dog rescue for 30 years, and most of her referrals come from this community, she said.
Because she understands dog lovers, she will go to extreme lengths to get her clients what they need in a home for themselves and their canine family.
"Many of my clients' dog needs are as important as the people's needs," said Chambliss, who once gave her client a closing gift of an installed doggy door and a custom ramp on the outside for their senior dog.
For her dog-loving clients their priorities are fencing, yard space, proximity to vets, not being near a busy road in case they get out, and being nice and central for dog walkers, she said.
Chambliss, who operates in the Los Angeles South Bay market, remembers one client who purchased a single-story home with a nice backyard, which was not her first choice, but it worked very well for her animals, especially her older golden retriever.
The agent gets it. "Their animals make them happy, and if the animals are happy, everybody's happy," she said.
Meanwhile if her client is selling, and there is a dog in the home during showings, no problem. Chambliss will put them on the leash and keep them with her, or move the dog around from one room to another, whatever works. She used her rescue work in a recent marketing video that will melt your heart.
The Pacific Union L.A. associate partner is also a handy agent to have if you are moving your pet from another part of the country. Chambliss, as president of a rescue organization, can help advise with the relocation of the animals — she knows the best airlines to travel with and how to best protect the animal.
Chambliss's tip to other dog-loving agents around the country who want to network more with other dog lovers, is to get involved in the rescue community — and think about donating a portion of each commission to a pet rescue of their choice.
"It's a great cause," she said.