The National Association of Realtors (NAR) Pending Home Sales Index (PHSI), a forward-looking indicator that tracks home sales in which a contract is signed but the sale has not yet closed, decreased 1.3 percent in the month of April to 106.4, down from an upwardly revised 107.8 in March.
NAR chief economist Lawrence Yun said continued inventory shortages are to blame for declining pending home and existing home sales.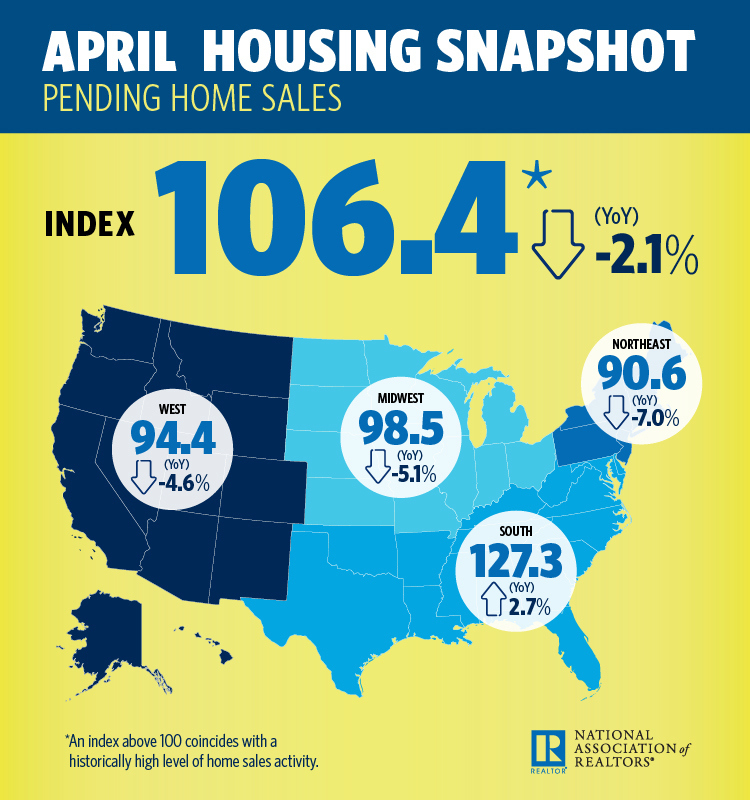 "Pending sales slipped in April and continued to stay within the same narrow range with little signs of breaking out," he said in a statement. "Feedback from Realtors, as well as the underlying sales data, reveal that the demand for buying a home is very robust."
"Listings are typically going under contract in under a month, and instances of multiple offers are increasingly common and pushing prices higher," Yun added. "The unfortunate reality for many homeshoppers is that reaching the market will remain challenging if supply stays at these dire levels."
April's PHSI is 2.1 percent lower than last year — the fourth consecutive month of such declines. Looking forward, Yun predicts 2018 existing-home sales to be around 5.54 million — up from 5.51 million in 2017. The national median existing-home price is expected to increase around 5.1 percent.
As the summer homebuying season kicks off, Yun said an impending uptick in mortgage rates this summer may hinder would-be buyers from jumping into the market and further hinder sales.
"The combination of paying extra at the pump, while also needing to save more for a down payment because of higher rates and home prices, may weigh on the psyche of those looking to buy," he said.
"For now, the economy is very healthy, job growth is holding steady and wages are slowly rising," Yun finished. "However, it all comes down to overall supply. If more new and existing homes are listed for sale, it would allow home prices to moderate enough to stave off inflationary pressures and higher rates."
Realtor.com chief economist Danielle Hale echoed Yun's sentiments, but also offered a bit of hope to buyers: "While there is no increase in inventory from these dire levels yet, May inventory data from realtor.com suggests that the decline is slowing, a necessary step on the road to more homes for sale."
Here's the regional breakdown, straight from the report:
The PHSI in the Northeast remained at 90.6 in April and is 2.1 percent below a year ago.
In the Midwest the index decreased 3.2 percent to 98.5 in April and is 5.1 percent lower than April 2017.
Pending home sales in the South declined 1 percent to an index of 127.3 in April but is still 2.7 percent higher than last April.
The index in the West inched backward 0.4 percent in April to 94.4 and is 4.6 percent below a year ago. 
NAR uses a large national sample of signed residential property sale contracts to build its monthly pending home sales index. The sample size typically represents about 20 percent of transactions for existing-home sales.
The index level was benchmarked to 100 in 2001, which was the first year to be examined. Existing-home sales in 2001 were in the 5 million to 5.5 million range, which is considered normal for the population in the U.S.