Digital marketing has reshaped how real estate agents generate leads and brand themselves. It's an incredibly powerful tool that provides valuable ways to reach prospects and measure marketing performance.
But digital marketing is also complicated. Platform updates and changes happen often and can make marketing more expensive if you don't know how to properly adjust settings and use the latest features.
That's why Homesnap built a digital marketing service that gives agents an automated, seamless way to market their brand and listings across social media and the web, targeting both prospects and contacts.
The Homesnap Pro digital marketing suite has published agent ads on Facebook and Instagram since 2015, and within the Waze navigation app since 2017.
Homesnap recently added the Google network to its offerings, allowing agents to publish ads on Google Search, Gmail and Google's display ad network. Agents can now set their marketing mix on Homesnap Pro and specify budget allocations for all four networks — Facebook, Instagram, Google and Waze.
Because of its deep integration with many MLSs across the country, Homesnap allows advertisers to automatically advertise their transaction-related successes across social media and the web, something few if any other real estate digital marketing services can offer.
Homesnap Pro also offers ready-made templates that can be customized with an agent's logo and brand colors, plus branded landing pages optimized for lead capture.
Homesnap's experts stay on top of the latest updates on each of these networks and constantly test different strategies, ensuring that agent campaigns incorporate the latest best practices. For example, its tool integrates with Facebook's relatively new Lead Ads format, which allows agents to pull in Facebook-verified prospect contact info directly from Facebook.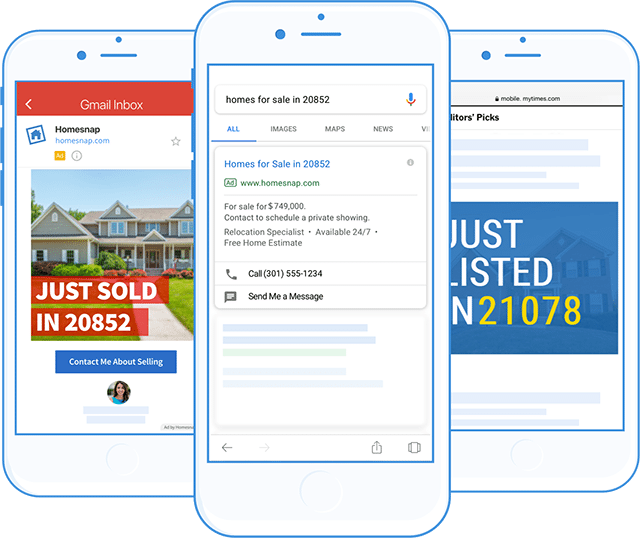 Unlike other digital marketing services, Homesnap Pro automatically prompts agents to market their individual transaction events, such as a listing agent's Just Sold or Just Listed event or a buyer's agent Just Sold event.
It's able to do this because of the direct listing feeds it has from more than 125 MLSs, including some of the nation's largest: California Regional MLS, Arizona Regional MLS, Bright MLS, My Florida Regional MLS, Miami MLS, Smart MLS, MRED and more. In all, its MLS-feed footprint spans over 850,000 real estate agents.
Those feeds don't just power Homesnap's digital marketing services, but also the technology behind the MLS-powered national real estate search platform known as the Broker Public Portal. This consumer-facing site showcases listings with the listing agent prominently featured under what's become known in the industry as Fair Display Guidelines. For more on the movement, and Homesnap's role in it, see this story.
Members of MLSs who partner with Homesnap get access to Homesnap Pro, the agent-only version of Homesnap that makes agents' MLS information available on the go, complete with quick access to streamlined views of showing instructions, transaction histories, agent productivity data, school attendance zones, a safety timer and more. These features in Homesnap Pro are free to agents as part of their MLS membership benefits; the digital marketing services are available for an additional fee.
---
To learn more about automating your digital marketing, visit Homesnap or watch this video: