Have suggestions for products that you'd like to see reviewed by our real estate technology expert? Email Craig Rowe.
A company called Creel Information Technology (CREELliT) announced on Wednesday new updates to Amarki, an automated marketing platform for the real estate industry that now allows agents to upload and tag InDesign templates.
The company is demonstrating the new platform in Start Up Alley at the Hilton San Francisco Union Square Hotel for Inman Connect in San Francisco this week.
Users of Amarki (Automated Marketing with AI) can tag content placeholders within InDesign brochure and collateral templates that will pull and place property images, logos, copy, and agent information directly from MLS accounts.
Like Photoshop, InDesign is part of Adobe's Creative Suite, and one of the business world's most popular print publishing software solutions.
Amarki automates a range of marketing tasks for its customers, enabling agents and brokers to rapidly distribute property flyers, presentations, emails and promotional products.
The software links to a range of third-party apps and systems, such as MLS accounts, Mailchimp, WordPress, Dropbox, Google apps, Salesforce, Twitter and LinkedIn to help agents push content to customer email lists, websites and social media accounts. It also connects to UPS and FedEx accounts to facilitate the sending of documents and postcards, for example.
The new InDesign feature was added to further streamline the creation of sophisticated marketing collateral for print and online publishing.
While popular within marketing departments, news outlets and ad agencies, InDesign traditionally requires a good deal of training to use effectively.
Once brand-aware templates are created and tagged by a marketing assistant or outsourced professional, agents can rely on Amarki to populate the templates with property information, supporting copy and visuals, in essence creating an automated brand asset manager.
The mobile-optimized software also includes a feature that allows users to search for and hire professional photographers and printers. Or, existing, preferred vendors can be invited to join the Amarki network.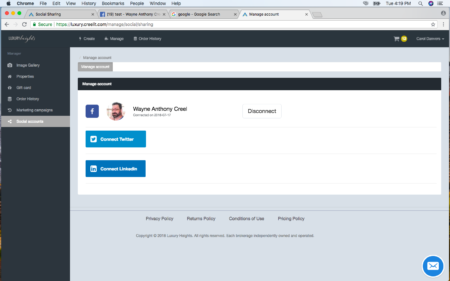 Amarki also rolls out listing sites, email and social media campaigns, and can help agents buy lead lists.
Pricing models are tiered, based on Agent, Broker, and Company account levels. They range from free to several thousand dollars per year for large company accounts.
Have a technology product you would like to discuss? Email Craig Rowe