Enthusem is a direct mail marketing solution that combines print and online marketing for hyper-personalized messaging and rapid turnaround.
Have suggestions for products that you'd like to see reviewed by our real estate technology expert? Email Craig Rowe.
Enthusem is a direct mail marketing solution that includes hyper-personalized messaging and rapid turnaround.
Platforms: Browser; iOS app
Ideal for: All agents, teams and brokerages; brokers actively recruiting
Top selling points
Direct mail tied to online campaigns
Omnichannel — multiple platform integration
Automated campaigns
Easy tracking and reporting
Top concerns
Enthusem is most valuable when tied to online messaging and other business platforms, so agents should get their customer relationship management (CRM), email marketing, etc. buttoned up.
What you should know
Enthusem works in a multitude of industries and recently turned their sights on real estate, having attended their first Inman Connect in New York a couple weeks ago.
Their product is well-suited for real estate agents as it combines proven direct mail practices with tech-powered hyper-personalization tactics.
Enthusem can churn out a 25-card campaign directed at a single street where an agent recently sold a listing. Each card would be an image of the recipient's home with the agent's For Sale sign planted in front of it.
An included link would then take the homeowner to a video landing page, contact form or a landing page of some kind in the hope of furthering the relationship.
Enthusem's back end tracks clicks and calls, which makes simple the hardest part of all direct mail: tracking.
The software also connects into a number of CRMs and marketing solutions, such as Salesforce, HubSpot, Sugar, Marketo, Zapier, Prosperworks, Insightly and Agile CRM.
As their presence in real estate grows, it's safe to assume that names like Dotloop, Top Producer, and Chime will make the partner list.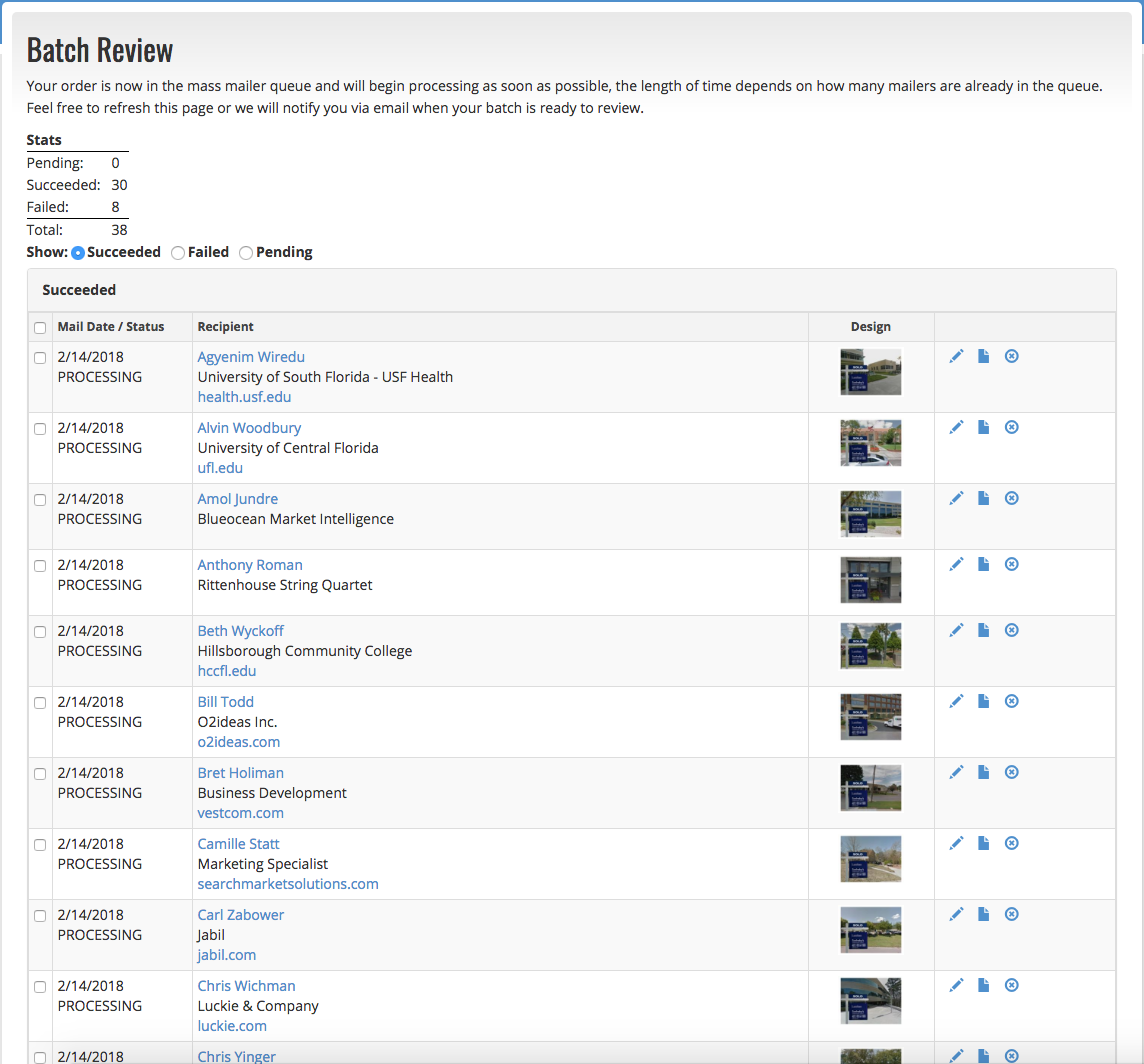 These integrations can streamline mailings and campaign management by eliminating the need for accessing another database and updating contact records. Generally speaking, it also helps align your marketing stack.
It can also use your CRM as a launchpad to automate a mailing based on a lead status update from "cold" to "warm," for example. Or the use of Zapier could turn a "Just Listed" update into a ZIP code-wide personalized mailing.
Brokers can use Enthusem to recruit too. The software can capture an agent's social media profile and apply his or her logo to it, for example, and use that on a card as the basis for an invitation to meet or interview.
Designing an Enthusem card or mailer is relatively easy, requiring the use of a drag-and-drop interface and basic WYSIWYG (What you see is what you get) editor. Images and logos can be uploaded and stored.
Agents and brokers can use Enthusem in a traditional direct mail manner with extended campaigns.
The company has installed a 90-day launch program to guide new users on how best to earn a return on investment (ROI) on their account. They help customers determine a focus, devise a strategy and offer assistance in analyzing what worked and what didn't.
For those still skeptic, Enthusem won the 2016 American Marketing Association Marketer of the Year award. That's nothing to shake a postcard at.
Between ProspectsPlus! and Enthusem, real estate agents are rich in technology-powered direct mail solutions, despite the rapid onset of social media and no-touch lead generation.
Have a technology product you would like to discuss? Email Craig Rowe.