Lew Sichelman is a seasoned writer with 50 years of covering the housing and mortgage markets under his belt. His biweekly Inman column publishes on Tuesdays.
Rather than move to new digs, some homeowners spend big money on sprucing up their places. Mostly, it's an updated kitchen with new cabinets, a sprightly countertop and all the assorted accouterments. And often, it's a modern bath with new tubs, showers and glistering fixtures.
They spend thousands upon thousands — these upgrades don't come on the cheap, even from the big-box stores. According to estimates from the National Kitchen and Bath Associations, homeowners will spend on the order of $178 billion this year to improve just these rooms alone.
But how do they pay for it all?
A new study from Houzz, the renovation and design platform, and Bank of America, one of the world's largest financial institutions, finds that 1 in 7 owners use the equity they've built up in their manses to bankroll their projects. And they spend big — almost three times more than the typical remodeler pays.
The 15 percent of the more than 72,000 owners who responded to Houzz's online questionnaire used mostly home equity lines of credit to access their equity, which is the difference between the home's value and what the balanced owed on the primary mortgage.
Some turned to other forms of secured financing such as more straightforward cash-out refinancing or home equity financing, according to the latest figures from living in houses in which they owe 50 percent or less of the estimated value. And CoreLogic said that as of the end of last year, they are sitting on a combined $8.3 trillion in equity.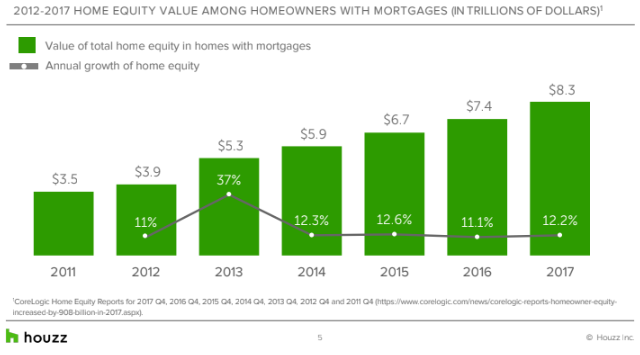 All of this shows in what people spend when they decide to remodel. The typical owner in the Houzz-Bank of America study spent $32,000 on renovations in 2017 when they opted to pay for it with some form of secured financing. By comparison, the homeowner who paid cash for his remodel forked over just $13,000.
"Recent record gains in home equity give homeowners greater confidence to invest in their homes, spurring gains in the more than $300 billion home improvement market," Houzz principal economist Nino Sitchinava said in a statement.
The survey findings were no big surprise to the folks at Bank of America. "It makes total sense," spokesperson Kris Yamamoto told Inman.
What is surprising is how few people tap into their equity to cover the cost. "There's a total lack of knowledge about how HELOCs work," Yamamoto said. "For some, it's too complicated. For others, they don't see how it works. They just don't get it."
But that raises the question of why people choose to dig into their own pockets rather than borrow on their house for their house. Asked and answered: 1 in 7 renovating owners who paid cash for their projects considered some kind of secured financing, But they decided these loans were too expensive, the Houzz study found.
On the other hand, most of those who opted some kind of financing sighted promotional low-interest rates as a key reason. Indeed, the relatively low cost is the main reason 39 percent picked a cash-out refinance and 33 percent took on a home equity loan. But those who went with a HELOC also sighted ease of use, the power to get money quickly and the ability to write-off the interest they are paying.
(By the way, the difference between a HELOC and a home equity loan, which is essentially a second mortgage, is that with the latter, borrowers receive a lump sum amount. Consequently, they have to pay interest on the whole enchilada, whether they need all that money all at once or not. HELOCs, on the other hand, are revolving lines of credit that can be accessed as needed. They're typically less expensive than either a refinance or a second mortgage.)
Secured financing, no matter the type, is key for larger projects, the study found. Three out of 10 respondents who spent more than $50,000 on renovations in 2017 used some form of financing. When the project is in the $5,000 to $15,000 range, that percentage dips to 1 in 10.
For what it's worth, Gen-Xers age 35 to 54 are leading the remodeling charge and were more likely to use financing then either millennials (25 to 34) or baby boomers (55 or older). Gen-Xers also tended to spend more, financing $12,800 to $22,200 of the remodel spend. That, according to the survey, is "a far greater amount" than other generations.
"Homeowners, and Gen-Xers in particular, are comfortable using their homes' equity to make renovations that can have a significant impact on their lives," Bank of America Senior Vice President David Doyle said in a press release.
Spokesperson Yamamoto agreed, noting that Gen Xers, the middle generation that sometimes seems to be a forgotten demographic, "are doing everything they can financially," from remodeling their current homes to planning for retirement.
Lew Sichelman is a seasoned writer with 50 years of covering the housing and mortgage markets under his belt. His biweekly Inman column publishes on Tuesdays.