I put this on Facebook Coast to Coast yesterday.
"Send us a picture of your home office or where you work from home. I will give a $100 Amazon gift card to the most original."
The Winner is Amy Gorce's Hustle Hut!
---
2. Amy Gorce Built the hustle hut last year.
---
3. Christian Harris My work station in my office. Not pictured is my standing desk low-profile treadmill.
---
---
5. Anthony Mendoza Zoom meetings and code in between.
---
6. Billy Ekofo  Reading Inman, of course! (Totally staged).
---
7. Valerie Garcia Currently at my 94-year-old Gram's dining room table.

---
8. Andrew Flachner
Backdrop ~$150 via
gotprint.com
.
Standing desk $175 via Veridesk. Light $17 via Amazon

---
9. Jenni Davies Not too original but this is where I am working.

---
10. Nicole Charles Stranded at my AirBNB in Colombia.
---
---
---
13. Susan Jean Horne I have  lived and worked here for 18 years and I have made hundreds of deals right here.
---
14. Joe Cafasso Jr. My home office has turned into my kid's classroom for the foreseeable future. Therefore, my home bar has turned into my home office.
---
15. Boyd Campbell I absolutely need to be in touch with all things real estate. A picture is worth a thousand words.
---
---
17. Stephen Kaseno Just launched a listing with my feline assistant.
---
---
19. Matt Gentile Above the computer monitor there is a picture of the Daily News Building in McKeesport, PA, architected by my great grandfather. (circa 1892)
---
20. Cindy Knight My office wall in MI that keeps me calm. My desk is a 6′ x 4′ standing desk with double monitors over looking my lake.
---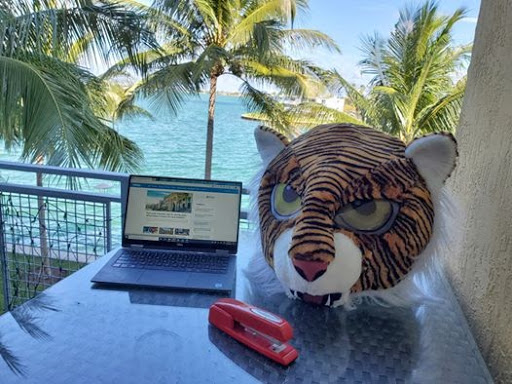 ---
22. Trish Figueroa I love being mobile and decided to work outside this day. My dog however decided to do yoga right in front of me.
---
23. Leslie Appleton Young At my desk in between Zoom and Slack meetings with CNBC on mute — the new normal.
---
---
---
26. Renee Funk Current home office. Grill prepping for dinner, working on an upcoming listing, teenager in the pool. #reality
---
27. Ryan Bokros No staging here — straight up organized chaos.
---
28. Laura Monroe When it was clean in Feb.

---
29. Beth N James Adams If you have to be at home, couch and slippers.
---
30. Sue Pinky Benson Getting it done in the garage. We have an office but needed a break from inside. (Footnote: that is not Pinky.)
---
---
32. Susana Higuera Murphy Been sitting in this position for 6 hrs because doesn't everyone work on their couch with blanket and Laptop on their laps?
---
33. Nicole Hogue One of us is working,  the other is enjoying the gorgeous Naples weather.
---
34. Jan Prescott Weber Looking out my home office window at my neighbor's sheep on the "lam" again!
---
---
---
.
---
---
39. Sam DeBord It's always this clean.
---
---
---
---
---
44. Jim Walberg Working beside our fireplace and setting up our new home gym, even with a built in stairmaster.
---
45. Katelyn Castellano While Engel & Völkers is set up for remote working, my set up for home learning is failing.
---
---
---
48. Angel Piontek My semi-smart home office which is changing next week to make room for a new desk & monitor. Cute dog will stay.
---
---
50. Scott D. Geller How many Springsteen items can you spot?
---
51. Nick Bastian Took a little trip, got some work done in my temporary office.
---
---
---
54. Jay Thompson What you can't tell from photo — this is a converted closet.
---
55. Ryan Grauberger IKEA countertop desk, my dad's old wooden desk chair, MacBook Air with a secondary monitor, photos, and a few of my favorite things.
---
56. Shelley Zee Totally focused on real estate obviously.
---
57. Denise Mecseji Until Friday this was set up for gaming and painting, it serves well as a home office too.
---
---
59. Paul DiSimone I can ride my bike in virtual worlds (and answer emails) on the curved monitor right from my vintage steel Tanker desk.
---
60. Julie Chancerelle Ziemelis When the sun starts shining on the lanai, I have to come inside.
Have a story to share with the Inman community? Visit Inman Coast to Coast and join the conversation.