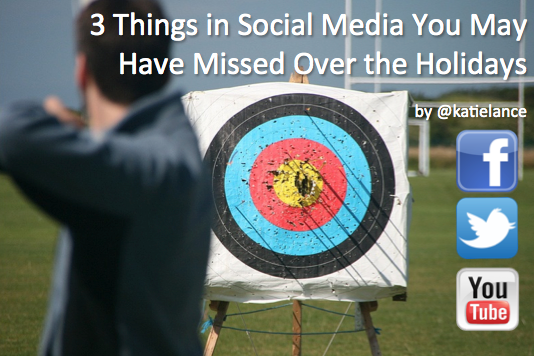 This time between Christmas and New Years is always a challenging one. No matter how much you plan to work (or not work), there are always a lot of distractions; family in town, kids home from school, others working (or not working), and more. Like many of you, I am working and taking advantage of this somewhat quiet time before the start of 2013 and catching up on what I may have missed last week in social media.
There were three very significant announcements made in social media over the last week or so, that you want to make sure you know about!
1. Archive your tweets. For the first time ever, Twitter has announced on its blog that you can now archive all of your tweets. Previously, it was tough to see even a few days of tweets because they would simply "drop off" the Twitter radar and not be available to view. We know tweets have been catalogued by the Library of Congress for some time, but the ability to go in and download all of your previous tweets is a big step.
As a real estate agent, this is just one more step in the ability to archive conversations that you may have with clients and potential clients through Twitter. For many in compliance industries, like our friends in the financial services, mortgage and insurance industries, this is invaluable and will open the door to many more in those industries being able to utilize social media.
To download your tweets, according to the Twitter blog, "Go to Settings and scroll down to the bottom to check for the option to request your Twitter archive. If you do see it, go ahead and click the button. You'll receive an email with instructions on how to access your archive when it's ready for you to download."
2. Capture and share videos instantly to YouTube. YouTube announced on its blog the new YouTube Capture app (available for iOS only for now.) This app allows users to point and shoot a video and then save and share it immediately to YouTube. This app is a huge improvement over the previous ability to send a video to YouTube – which always seemed clunky and take quite a long time to upload.
In addition, the app allows you to do color correction, improve stabilization, trim your video and add music tracks. For agents who have been a little shy of doing video, this could be an interesting option – especially since it takes the cumbersome upload process out of the equation.
3. Facebook launched its 'Nearby' feature. Facebook announced a new feature available for iOS and Android devices called Nearby. Now, people can search via their app friends who have liked a location and who recommends it. You can also share locations that you like with your friends.
Personally, I think this is just the tip of the iceberg in terms of Facebook's integration of local search into its app. For real estate professionals, this could be a huge opportunity down the line. Think of all the community, dining and neighborhood info you share with clients you are working with – imagine if that was tied to a listing on Facebook? It will be interesting to see the next iteration of this feature, but for now I recommend getting familiar with it – it's certainly a big step for Facebook.
What else did we miss this week? Let me know in the comments below and what you think about these three big announcements.
I'd also like to personally thank all of you who read my posts here on Inman Next week in and week out. This is 339th post for Inman (can you believe it?!) Your support, comments, likes and shares do not go unnoticed! Wishing all of you a very happy and prosperous New Year! See you in January!