You would never walk up to a total stranger and ask her on a date or tell her to buy your stuff? At best, you'd be ignored; at worst, she might call the cops. Sure, this sort of behavior may work at a frat party, but it generally doesn't lead to lasting relationships.
Unbelievably, many online marketers still seem to think it is totally acceptable.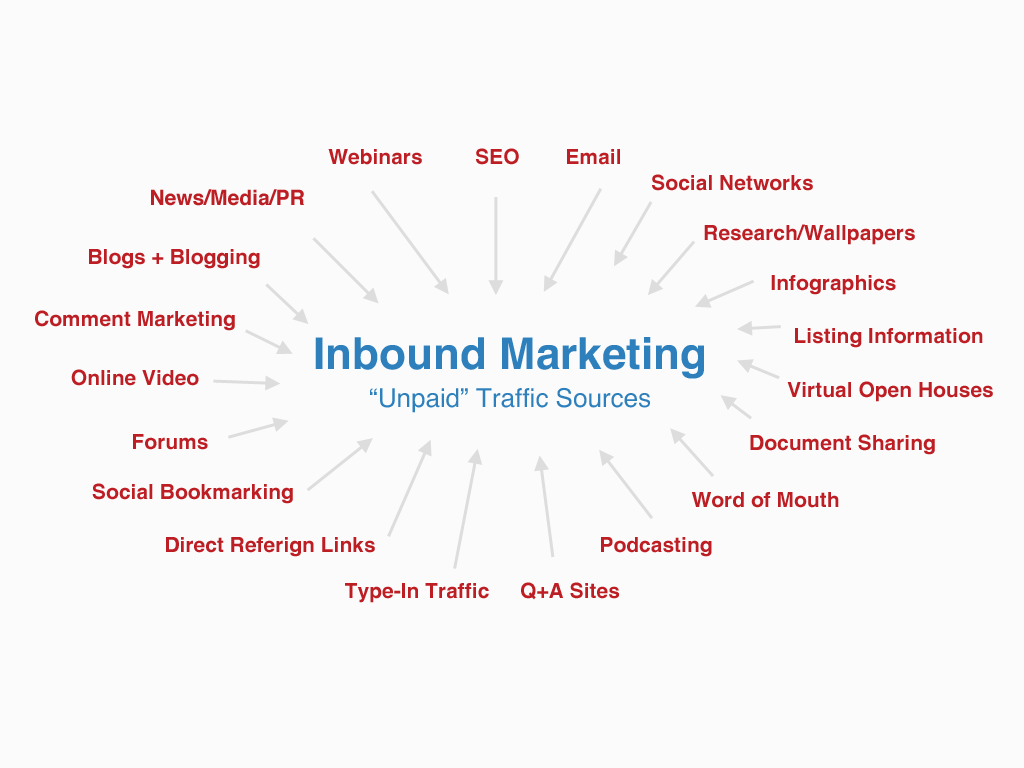 Successful online marketing needs to center on your website and include all of the successful tactics of the day: search engine optimization, content marketing, social media and conversion rate optimization. Most of these don't require huge budgets. They do, however, require an ongoing investment of time, money and creativity.
The value of ranking at the top of search engine results can mean the difference between a click-through rate of 18 percent for first position on Page 1, and 1 percent for the 10th position.
The benefits of inbound marketing can be great. The cost per lead generated by these activities is 61 percent less than traditional paid marketing activities. The channels used with these strategies have much higher conversion rates. This means more customers click, engage and buy, while fewer dollars are spent getting them to do so.
Here are some proven techniques that agents and brokerages, as well as more traditional businesses, can use as part of a well-rounded online marketing strategy:
Start by designing your site with your customers in mind.
A good website should be your best unpaid salesperson: creating an intuitive experience for both users and search engines, driving traffic and engaging your customers. Removing roadblocks before they occur is the first step to winning online. If your website isn't bringing you business, you're missing something.
See your content marketing with SEO goggles
Tuning your website to make it easily crawlable by search engines sets the foundations for effective SEO. Consider doing a few of the following:
Get the mechanics right so bots can crawl your inner pages and spread the PageRank love. Use canonical URLs, an XML sitemap, plain English permalinks, descriptive use of anchor texts/keywords for internal linking, and a robots.txt file to help Google and Bing do their thing.
If your site is slow, you are losing customers. Test it by using one of the free tools available, like Google's PageSpeed. If you build on WordPress, check out the W3-Total Cache plug-in to improve your server performance. Matt Cutts and Mashable are fans.
Focus on rich snippet optimization, like rel=author tags and microdata, to help your website and content display more prominently on search results.
Know your customers, and encourage them to know you
By identifying the characteristics of your customers during the buying cycle, you can map their needs in terms of keywords, content and social topics that will resonate during each stage. By taking this approach, when it comes time to convert, you'll have a self-educated prospect who has pulled himself through that journey to buy, thereby shortening the sales cycle and increasing the effectiveness of your resources. For more about your site's customer demographics, try YahooClues and DoubleClick Ad Planner.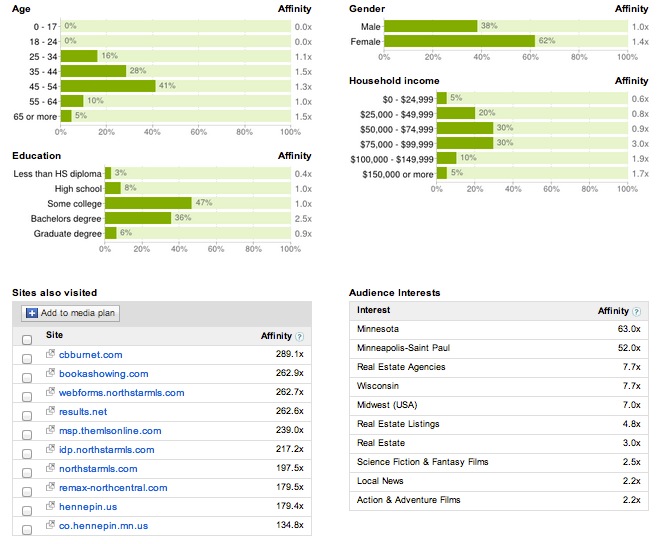 Demographics for visitors to www.edina.com
Do your keyword research.
This process is vital to having your content show up in search at the appropriate time and place. It's not just about getting visitors: It's about getting the right visitors, people who can turn into customers. There are a lot of free and paid tools available to help with this process. Try starting with free applications, like Google Keyword Tool, SEO Book Keyword Tool, Ubersuggest, or paid versions, like Wordtracker or SEOmoz's Keyword Difficulty Tool.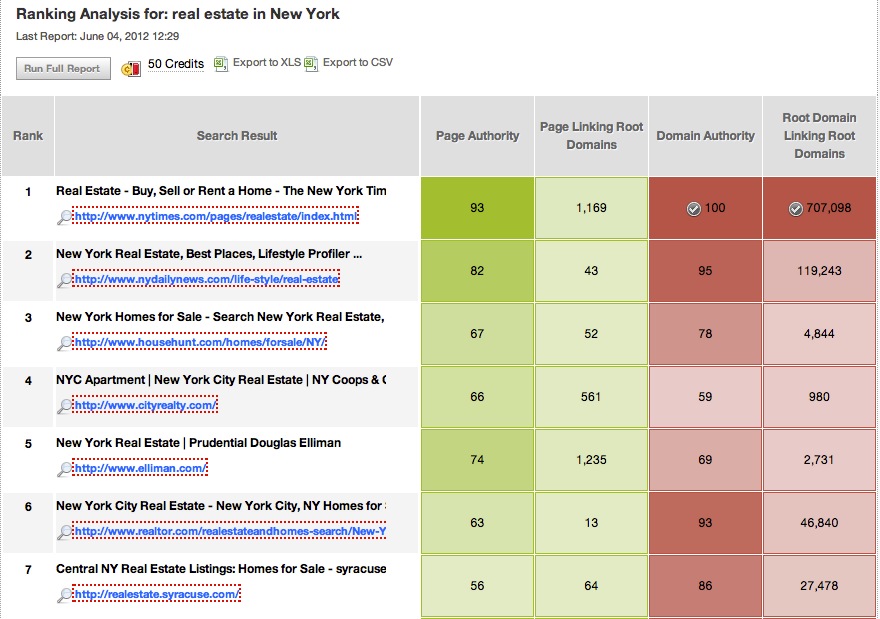 It may seem like SEO has a lot of moving parts, but it's never been easier to understand what drives the consumers of real estate and how to reach them. Your job is to get the lay of the land and determine a baseline from which to measure. Kick-start the process by doing your research: It will save you time and money in the long run.