It's hard to believe it's been a year since my first blog post here at FOREM!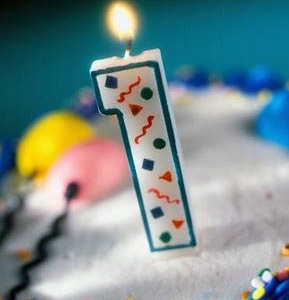 I remember when I was first asked to be a contributing author to the blog. Brad Inman, the founder of Inman News, emailed me shortly after I had started at Inman News to let me know he wanted me to start writing for FOREM.
My first reactions: humbled, honored, excited and nervous.  Personally, I had been a FOREM reader for years and had long-admired Joel Burslem and the content he produced day in and day out. I also knew that the readers of FOREM were extremely tech-savvy and had high expectations. I knew the content I would have to provide would need to be fresh, innovative, and cutting-edge.
I remember the first month or so struggling a bit. I enjoyed the writing but was really trying to "be Joel" instead of just "be me."
Many of you have emailed me and have asked me how FOREM has had the success it has. There is no "secret sauce" but there are a few things that I think we do pretty well that has helped us stay ahead, and keep our readers coming back for more.
1. Be real. I talked about this last week in my blog when I talked about being authentic. It took me a little while for me to "find my voice" with FOREM. As a blogger, the most important thing you can do is find your voice. Write posts you would like to read. What is interesting to you? What makes you laugh? Why do you click on a post? Would you read your own posts? If you aren't being genuine and letting your personality shine through, you will probably have a mediocre and boring blog.
How can you be real? Write your blog post as if you were talking to a good friend. Insert your personality!
So many REALTORS® tell me they couldn't start a blog because they are not a writer or they have no idea what they would say.
I couldn't disagree more. The next time you think that – think of all the conversations and emails you have with your clients. Each conversation is perfect fodder for blog posts. Keep a notepad handy and evey time you answer a question about the market, or a neighborhood, or your experience, make a note of it. You have more to talk about than you can imagine!
2. Don't be afraid to think outside the box. A blog post can be anything you want it to be. It doesn't have to be a 500 word essay. It can be a few short sentences. It could be a video. It could be images. What are you most comfortable with? At FOREM, our blog is a little bit of all that.
Need inspiration? Look at what Jay Thompson, Krisstina Wise, Dawn Thomas, Maya J. Paveza, and Torelli Realty have done on their blogs (just to name a few!)
3. Be respectful. This is a personal preference and something that was very important to Joel – to be respectful. It's ok to disagree but I will never bash a company or product. It's just not me to "flame" someone or something. I think you can debate and disagree but do so in a respectful way.
4. Read a lot. I read more now than I probably ever have. What do I read? New York Times, WSJ, TechCrunch, Gizmodo, AdAge, Marketing Profs, Open Forem, Mashable, and of course Inman News – just to name a handful. I follow over 500 Facebook pages and tons of blogs via RSS and Twitter. I am able to see what trends people are talking about and get inspiration for FOREM.
Reading makes me a better blogger and has helped me find my voice. If I was a real estate agent, I would make sure I read anything from my state and local board (i.e. C.A.R.), home improvement articles and blogs (like HGTV), local and national real estate news sources, and local community and school info. As an agent, all of these sources would be great inspirations for a blog!
5. Post regularly. This one thing made a huge difference. I remember chatting with Joel about how he started FOREM and he recommended creating a schedule and committing to a certain number of posts a week. Since that conversation, I committed to having at least 3 posts a week. By making that commitment, it has made me a better writer and it keeps our readers engaged because they know that there will always be fresh, new posts coming from FOREM.
If you are new to blogging or even if you have been blogging for some time, make sure you blog on a schedule – treat it just like any other "must do" for the week.
So those are just a few of the things that have kept the wheels spinning here at FOREM. In addition to what I have learned, it's been fun to look back over the course of last year to see what new technologies emerged, which ones thrived (Apple iPad) and which one dived (Google Nexus One).
Bonus: Check out this cool video from Google – it's a quick "Year in review" of the most popular searches in 2010 – really fun video and made me reminisce over this past year here at Inman News and at FOREM. I am super excited about the 2011 and can't wait to see what's next!
What types of posts would you like to see in the coming year? I'd love your feedback and opinions, leave me a comment below!
Written by: Katie Lance, Senior Marketing Manager, Inman News @katielance