Hey FOREM fans – can you believe that our next Real Estate Connect conference is literally less than two weeks away? Where has the time gone?!
I wanted to post a very special message on here and encourage you all to sign up and come out to Real Estate Connect® in NYC on Jan. 12-14th in the heart of Times Square. Many of you have already been to a Connect and I know can attest to the pure "awesomeness" that is Connect. The learning, the networking, the people you meet, and the ideas you come home with are priceless.
I know I've said this before, but it bears repeating again. Before I worked for Inman News, I had the good fortune of attending two Real Estate Connect conferences. The President of the real estate company I worked for paid for me and a few other colleagues to attend, and those two events were so impactful on me and my career.
When someone talks about the ROI of an event – I can say first-hand that coming to Real Estate Connect WILL make you more money. It will change how you think. It will propel you into doing bigger and better things, and working smarter with the best tools available.
As an attendee there were so many things I loved about Connect – the 'intimate' environment where you could go up to some of the most successful people in real estate and technology and shake their hand, introduce yourself and make a real connection.
I loved getting the "inside scoop" on what the hottest and newest companies were. I loved walking down Start-Up Alley and feeling like I was getting a sneak peak into the next big thing in real estate. I loved being able to meet the different exhibitors of companies I had heard about, see real-live demos, get my questions answered and so much more.
I love sitting in the general session with 1,500 people and feeling the excitement and anticpation as Brad Inman, the founder of Inman News would begin each session. I loved the awesome "bar stool" panel discussions where no questions are off limits and it's ok to disagree and even make the whole room uncomfortable. I loved the amazing keynote speakers – many of whom were not from the real estate industry and would provide one or two nuggets that you'd scribble down or fear you'd forget.
I can't fully put into words what its like to come to Connect – I can only hope that you will take my word for it, buy your plane ticket and sign up today before it's too late. If you are fortunate to live in New York, then you have no excuse!! We will be right in your backyard. People from all over world come to this event – don't let it pass you buy. If you truly want 2011 to be YOUR year, if you really need to get ahead of your competition (and who doesn't right?) then you can't afford not to be at Connect.
For a limited time, we have a special offer – it's a 2 for 1. If you purchase your tickets to both Real Estate Connect NYC and San Francisco you will save $500 total! This is an amazing deal not to be passed up.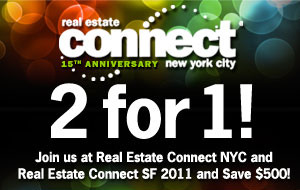 Here is the breakdown of the 2 for 1 offer:
Real Estate Connect NYC – $899 (Jan. 12-14th 2011)
Real Estate Connect SF – $399 (July 27-29th 2011)
SPECIAL RATE: $1298*
If you have money left in your 2010 budget, act now to secure your spot at the two hottest real estate tech conferences and save $500.
If there was ever a year to go to BOTH Real Estate Connect conferences – 2011 is it.
REGISTER TODAY >> (use promo code 'FOREM1229')
Offer available for a limited time only.*
Questions about registration? Please email us at registration@inman.com
* You must register for both conferences to receive this special price. Offer expires 12/31/10 at midnight. These rates are not valid with any other offer.
See you in New York! Leave me a comment below – are you joining us? Have you been to a Connect before? I'd love to hear from you. Leave me a comment below!
Written by: Katie Lance, Senior Marketing Manager, Inman News @katielance