The Facebook and real estate community has been buzzing since Zillow.com® announced a little over a week ago, that they had teamed up with Pulte Homes®, one of America's largest home builders, to give away a new, $350,000 Pulte home in the "I Want a New Home Sweepstakes" through their Facebook page.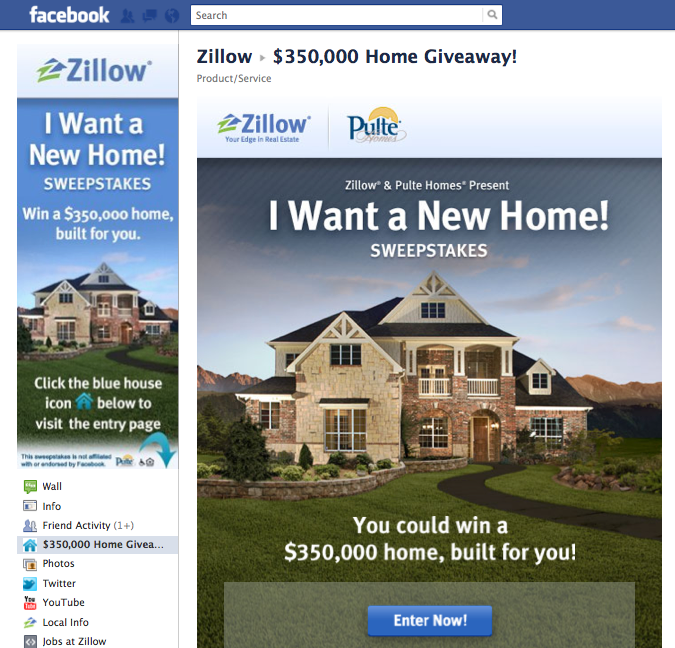 I had the chance to speak with Cynthia Nowak, PR manager at Zillow.com and Amy Bohutinsky, CMO at Zillow.com about this exciting contest.
Your Facebook page is exploding! How many new "likes" has your Facebook received as a result of the sweepstakes?
Since the sweepstakes launched on 11/1/11 we have added over 75,000 new page likes to bring our total likes to nearly 100,000.
Your "what people are talking about" numbers are huge – how many comments or likes would you say you've received since this sweepstakes launched?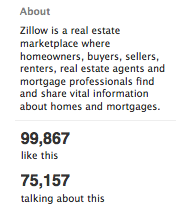 We started at 22,000 'likes' on November 1, the first day of the promotion.  We're on track to reach 100,000 today. We haven't specifically counted the comments, but you can see from the page that there is a lot of discussion happening among our fans – with our brand and with each other.
Can you share any stats with us about the engagement on your page?
One example of this – every week we do a "Tuesday Taste Test" – showing two homes for sale at the same price point, in different parts of the country, asking fans which they like better.  It's popular content and we typically receive 100+ comments and dozens of 'likes' each time we do it.  Today, by noon, we are at 611 comments, 56 'likes' and growing.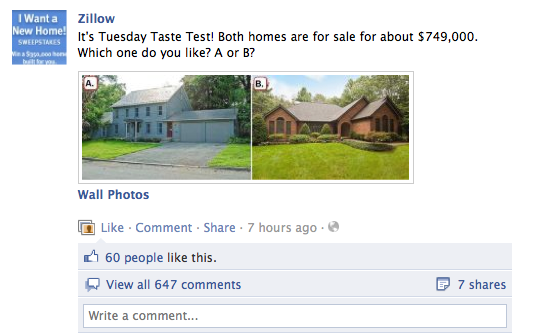 What this tells me is that we're gaining fans who are right in our target audience – people who care about homes, are shopping for homes, and love to dish about real estate.
How has this impacted the web traffic to Zillow.com?
Since this is a Facebook promotion, not an on-site promotion, it's unlikely that it has significantly impacted traffic. That said, we are seeing a huge response and increased engagement from our Facebook community around the sweepstakes.
What are you asking people to do on your Facebook page and on Twitter?
It was pretty simple, we asked people to share why they want to win a home and comments have been flowing in! In addition, during the month of November, participants are invited to share why they want to win a new home by posting on Zillow.com's Facebook wall, or tweeting @Zillow using the hashtag #IWantaNewHome.
How often do you post to the Zillow.com Facebook page? Has this changed since your sweepstakes launched?
We've been fairly prolific posters on our Facebook page for some time, and this hasn't changed with the promotion. We post a few times a day, at least.  We have had to comment more (for example, clarifying rules of the promotion, or answering questions about Zillow.com) as our fan base grows.
Tell me about some of the personal stories you are seeing on the Zillow.com Facebook wall:
It has been particularly exciting to see users share personal stories about why they want to win and new home and watch the energy continue to build around the sweepstakes.
Here are a few examples from the Zillow.com wall: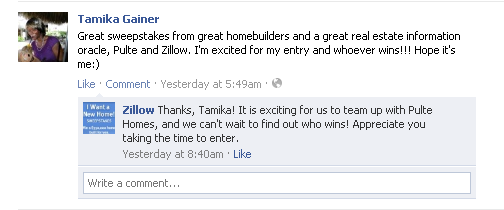 How can someone enter the sweepstakes?
Head to Zillow.com's Facebook page,"like" Zillow.com, then complete a short entry form for a chance to win. Existing Zillow.com fans on Facebook are also eligible to enter. Participants interested in doubling their chances of winning may earn one additional sweepstakes entry by visiting a local Pulte Homes community sales center. More information can be found in the official rules.
Entry link: http://www.facebook.com/Zillow#!/Zillow?sk=app_265169080189841
Official rules: http://zillow.prizelogic.com/rules.pdf
Are there any states that are excluded from the sweepstakes?
Due to real estate brokerage laws, residents of Alaska, Hawaii, Michigan, Minnesota, New Jersey, Rhode Island and Puerto Rico are excluded from the sweepstakes.
Has there been any backlash or negative response from this sweepstakes?
Overall, people have been excited about the opportunity to win a new home. There has been some frustration from consumers in states who aren't eligible to participate.
How long does the sweepstakes run?
The sweepstakes runs from Nov. 1, 2011 at 12:01 a.m. ET to Nov. 30, 2011 at 11:59 p.m. ET.
Did you use a 3rd party app to host this app – or did you or Pulte create it in-house?
3rd party
How will the winner be revealed?
We will notify the winner via email or phone in mid-December.
Any plans to do this type of sweepstakes again?
Not sure – we are exactly one week into a month-long promotion.
Any other social media insight/lessons learned that you'd like to share?
Obviously, every brand marketer wants a large fan base on Facebook, and promotions like this can help. But I think the most important element is engineering a contest that is core to your brand and what you do.
So that the 'likes' you gain are people who are likely to be interested in your content, and will engage with the brand again.  And also, frequent, interesting content is key to maintaining a page where people want to come and hang out.
Thank you Cynthia and Amy for your candor and for giving InmanNext™ the inside scoop. Congrats to Zillow.com for putting together a really exciting social media campaign!
We'd love your thoughts and feedback about this sweepstakes – post a comment below!