Kori Covrigaru is a young entrepreneur, currently CEO of PlanOmatic, an online real estate marketing company providing interactive home tours. Kori grew up in Michigan, went to school and Western Michigan University, and currently lives in Colorado, enjoying the mountains in all seasons.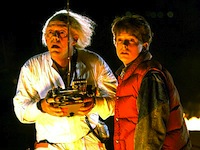 This week, "Tip Tuesday" is not what you are expecting. I'm not reviewing an iPhone app that I can't live without. I'm not recommending my favorite site where you can consolidate all of your social media noise. This week, a technology obsessed 27-year-old is going to ask you to put your smartphone and mouse down, sign off Facebook, Twitter and LinkedIn and think about what made you (real estate agents) successful. Before I move on, I should disclose that I have never been a licensed real estate agent, and I am deeply involved in social media, but on a SOCIAL level and not so much for business.
Facebook, today's dominating leader of social media, began in 2004 during my sophomore year of college. Back then, (only 6 years ago) we used Facebook to party, chase girls and make new relationships. We would then share these experiences with the hope that it would lead to even more socializing. Since 2004, Facebook has evolved tremendously, but is still being used in the same general sense. Perhaps you're not running around Fraternity Village Drive looking for the next best date party, but the point is that people are using Facebook to be social, and that's the way you should play it. Here are a few things that support my philosophy that social media is being misused in the real estate industry:
Referring to yourself as a "Social Media Guru" – What exactly makes you a "Guru"?
Creating a Facebook Business Page dedicated to yourself which is different from being a Facebook user.
Tweeting 10+ times a day and believing this is leading you to financial success – There are a few exceptions here.
Spending considerable amounts of time trying to be "Mayor" of restaurants and coffee shops (unless this is for pure entertainment)
People who have two Facebook accounts. One for business, and one for personal use (which is against Facebook's TOS, by the way)
I do recognize my audience, so before you turn purple and begin to comment on how successful social media has made you and your business, please give me five more minutes of your time. I'm not here to ask you to abandon social media altogether because it definitely has a place in real estate. Social media is a phenomenal way to communicate and network within the industry. Personally, I have made substantial connections through social media that would not have developed otherwise. What I'm asking you to do is take a moment and reflect on how social media contributes to your bottom line. Are you allocating your time, money (time is money) and resources efficiently, or are you tweeting, 4squaring and facebooking your valuable time away because a tiny percentage of real estate agents who DID find success in social media told you it's the Second Coming? Perhaps you drank one too many Kool-Aids at an RE Bar Camp. Let's take a moment to listen to what a couple successful real estate agents had to say about social media's impact on their achieved success.
Earlier this week, I had a chance to speak with a friend of mine, Katie Karczewski. Katie is a real estate agent in Grand Rapids, MI and has been involved in social media increasingly as of late. I asked Katie what led her to be the #2 real estate agent in her community and here is what she had to say:
"A lot of hard work, getting involved in the community, being visible, looking directly into people's eyes, shaking people's hands and getting out there every Sunday for open houses."
When I asked Katie how social media has impacted her business, she replied:
"It's been great. It keeps me connected to my clients and it's another great form of networking. I've also reconnected with countless people from my past. Has it improved my business? Sure it has. Can I say I sold or signed a listing via Facebook or Twitter? No, I can't. For me, it's really about the basics."
Earlier this year I spoke with Michelle Genovesi, a real estate agent in Westport, CT. She explained that her team uses social media mostly to communicate with her clients, but generally, it was back to basics for them. Direct mailings, open houses, etc.
I believe social media has a very important place in the real estate industry. Real estate has always been about networking, socializing and getting involved in the community. I do, however, believe that many agents are misusing this tool. It's not here to replace Open Houses or PTSO meetings. Social media in business is here to enhance and expand your reach, not take you away from what increases your bottom line. As a matter of fact, the most productive day I had all year was the day my Mac went dead. I would have never guessed that.
Go figure. Here I am writing on a social media, technology and real estate marketing blog preaching how it's is not being used effectively. Do you think I made any friends today (no pun intended)?