Written by Nick Lovegrove of limeyboy.com.
limeyboy.com has spent over a decade helping real estate agents get more from the web, whilst trying to insulate them from the really geeky parts. We help agents define their online brand through building real estate websites, integrated blogs and social networking strategies around them. We are dedicated to helping you find the web approachable and fun, and yet have no desire to turn you into a geek.
Website: http://www.limeyboy.com
Facebook: http://www.facebook.com/limeyboy
Twitter: @limeyboyweb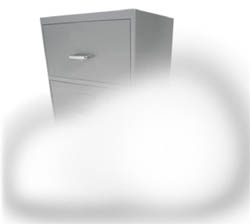 We are big fans of the big filing system in the sky. Ground based filing is sooo 2005. What I am talking about is the ever growing google docs cloud, the online office tools for the creation of documents, spreadsheets, presentations etc, and the storage of them.
Though we've never actually 'lost everything', we've all heard a few of those doomsday stories of computer crashing woes, and the threat nonetheless is always there.
Sure we've been through external hardware auto backups, automated online backups like mozy.com (which we thought were pretty good), sharing work across a network, however with the best of intentions and as geeks say in Las Vegas,  "What happens on your computer, stays on your computer".
Stuff To The Fluff
Which is why we felt pretty early on that moving all the creation of that stuff (work) to the fluff (cloud) where it was going to be stored would be a pretty good idea.  The goodness of this idea has already been waxed lyrically here at FOREM. Yes, it's great that teams can collaborate, etc etc
However, what I wanted to share today was about taking the next step, I mean really making a commitment to the cloud and in doing so fix its biggest annoyance for us.
You see, we've always not fully committed to docs. There was something that always stopped us from full adoption. That reason was having to use a gmail address as the primary email address to share this stuff with the folks down below.
Not that gmail is bad, far from it, but for anyone who is serious about their brand, online or otherwise, having a matching email address to their domain name is about as basic a first step as it gets. Having worked towards a considered online brand, sending your emails from gmail just seemed like a step in the wrong direction.
You see as well as being great and powerful, gmail is also free for everyone, which simultaneously places it in my mind with a hotmail or yahoo account.
I wanted my company to be able to get all the advantages of the cloud while retaining the branding of my emails. Is that too much to ask?
Fortunately this can be achieved by subscribing to google Apps. For current users of google docs you are already a dab hand at this. You know it inside out at this point, because it's essentially the same as google docs.
The big reason why we moved over to Apps, is that you can essentially place your domain, that's right the root of your email address, under google's wing.
When you have done that, you simply (haha) have to change your MX Record (what the what?) to point to google and then your lovely email will appear in your Apps gmail account. It's gmail alright, but each of your lovely emails will float down the ground with your brand's suffix, @yourbrand.com
google, has done an impressively horrible job with the explanation of how to do this, really, it made a geeks fingers tremble over the keyboard, and godaddy wasn't much help either.
If you are thinking of doing this, perhaps use the holiday lulls to do it rather than the spring market as a little disruption of your email account could occur when you are transitioning, although ours went smoothly.
What does this cost, $50/year/account for oodles of storage.
Are you using Google Apps? How was your transition?