Matthew Shadbolt is the Director of Internet Marketing for The Corcoran Group, Manhattan's largest real estate brokerage.
Follow Matthew on Twitter at @corcoran_group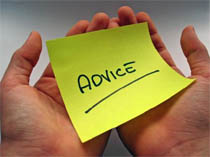 One thing social media comes with a lot of, is advice. And perhaps big numbers. Very, very big numbers. I hear the word 'should' a lot in conversations about how real estate professionals are shifting their thinking about their online marketing. There's a lot of conflicting conversations directed at them from 'gurus', 'evangelists' 'jedis' and 'ninjas'. I was recently presented with a business card that read 'Sales Assassin'. Really? I asked if it was supposed to read 'Sales Association' and if there'd been a mix-up at the printers. I received an eye roll for my curiosity.
I hear that "your blog is the cornerstone of your business" or "you really should get into the foursquare thing", even "if you're not on Twitter your business is dead in 3 years". Very often the agent is left feeling confused, overwhelmed and simply not knowing where to start. Is this you?
A side effect of this conflicting advice is the multiplication of problems that never existed before. Many agents feel like they have to 'be everywhere' in order to reach as many people as possible, so they start a blog, set up a fan page, begin a twitter account, upload videos, check-in everywhere, and generally do as many things as they possibly can to distract themselves from the process of helping people find homes. What happens is the multiplication and syndication of bad content. Poorly maintained blogs, fan pages that cry out to be hidden, adding open houses to Foursquare, or video tours that speak more about the agent than the home are unfortunately rampant within online real estate.
What's missing in this conversation is consideration of the unfortunate recipient. The value of your content is not its value to you as the creator, but its value to those people RECEIVING those messages. It's an old idea, but one very much brought to light recently through social media. If you're not solving business problems through doing this, why are you really doing it?
Take status updates in Facebook or Twitter. If you've elected to use those platforms to build your business, what is the real, lasting value of what you're writing? Is there one? How interesting is it REALLY that you have an open house this Sunday? Or that you checked-in at your office and blasted that announcement to all your connected social platforms?
It's one of the hardest things we struggle with as marketers – the transition from 'selling' to 'helping' as the key metric for your marketing success. It's not a print vs. web thing, or even a web vs. mobile thing. It's not how many fans you have, but what they're doing, especially amongst themselves. It's 'how many people did we really help today'. We often hear the discussion of attempting to quantify the ROI of social media. Helping people isn't the same as a transaction, and this makes people understandably nervous. Helping people doesn't immediately pay the bills.
But which is more powerful for your business in the long-term? Answering someone's question about a neighborhood, or showing them the same banner ad 50 times? Sharing information about where to buy the groceries they love nearby to an apartment they're interested in, or a 4 line open house announcement in the newspaper?
Banner programs will drive a large volume of people into your site, especially if you buy them in a smart way. But what happens to those visitors once they arrive? Think about the metrics you look at when dissecting an ad program. A 0.2% click through rate is considered very, very healthy. 0.2%! And the likelihood of those people simply bouncing in and out of your site as they go between brokerage and syndication sites is all too common.
In many ways what we see make strong online presences is what real estate professionals have always done best. Sharing local expertise, personalized customer service, and the notion of genuinely helping someone find a fantastic home. Working online is no different, whatever the platform. So the idea of doing one thing well instead of 20 things poorly becomes something that many have begun to think about. Stretched too thin from a content perspective, many have elected to pick a platform, and build their businesses in a more focused, strategic and problem solving way.
Ask yourself, you're doing a lot of things that are sucking your time right now. What problems are you really solving by doing this work?