I spend a lot of time on real estate sites.
There is one thing that drives me bananas.
Is it…
…a really awful agent photo from 20 years ago?
…links that take you nowhere?
…a tacky template?
Yes, all of these things.
However, the number one thing that drives me crazy is not being able to find your email address.
Not your phone number.
Not your Facebook page.
Not your "contact me" form.
Just your email.

If I want to get a hold of you and I don't know you – I'm not going to call.
Let me say that again – I am NOT going to call you.

Blame it on the fact that I am a Gen X-er. I hate calling people out of the blue. I'd rather poke myself in the eye!
I may tweet you, unless the last time your tweeted was in 2009.
I may or may not leave a message on your Facebook page.
If I want to reach you, and I've never met you – I want to send you a quick email.
I don't want to fill out a form. 
Why?
Sending someone a contact request on a form is like sending something into a black hole.
Who knows where the form goes to and who knows how long it could take before someone gets back to me.
Also, it is a bit off-putting that you wouldn't put your email address out there – yet you are asking me for my name, phone number, email, etc.
I am willing to bet that if real estate agents stopped hiding their email address that they would start getting more leads off of their site.
In this age of transparency where people can find you just about anywhere at anytime, why in the world would you hide your email?
Many of you have the phone number in the upper-right hand corner of your site. I suggest right below that you list your email. Don't want spammers to spam you? Then instead of katie@inman.com put katie (at) inman (dot) com.
Two Big Takeaways
Your email should be on every page of your website.  (Tweet This)
You are losing business by not displaying your email.  (Tweet This)
Does most of your business come from people you know?
95% of agents I talk to say "yes."
Even MORE reason to not hide your email. If your past clients want to reach you quickly or refer a friend, then there is even more reason to prominently display your email on your site.
Can You Have Both?
Can you have a lead generation form and display your email address? Yes, absolutely. In fact, you can have a number of them throughout your site.
Now is the time to be creative.
Promote a drawing for a gift card or a dinner out.
Give away a free market report.
Enter to win a drawing for a free home inspection.
Get creative, but also stop hiding your email.
Five Examples of Agents Doing This Right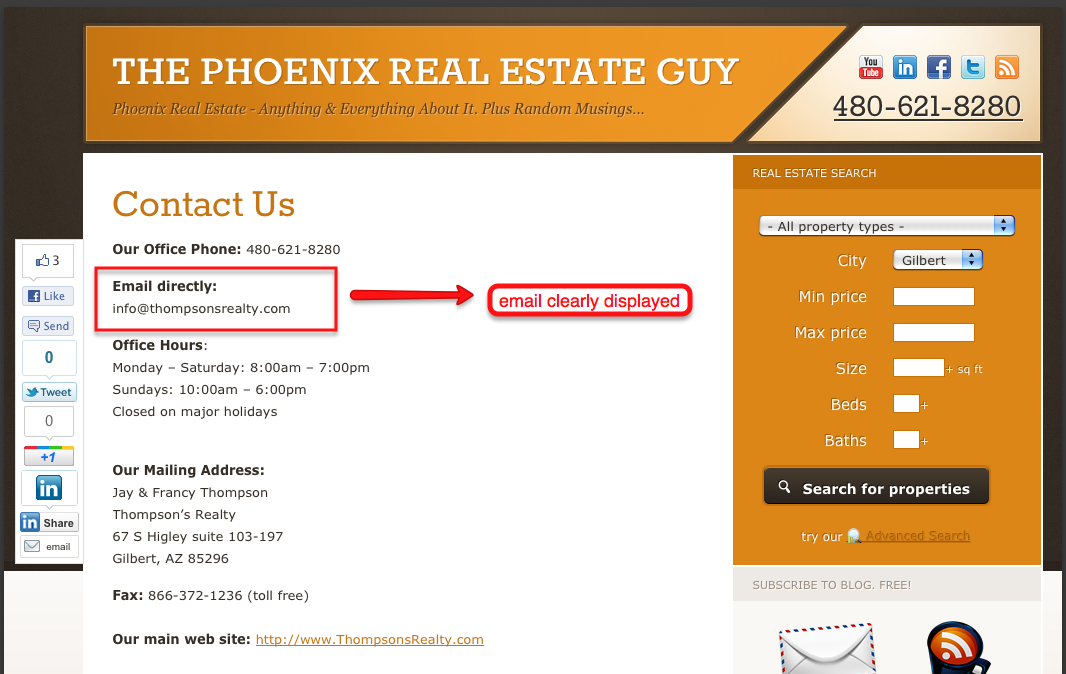 Jay Thompson – www.phoenixrealestateguy.com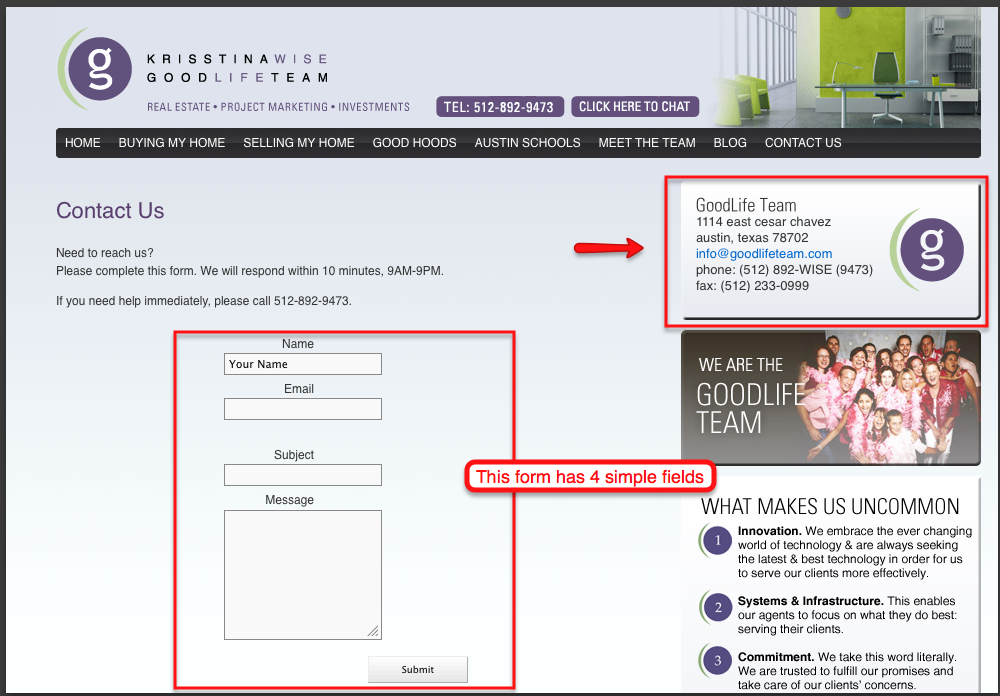 Krisstina Wise – www.goodlifeteam.com
Janie Coffey – www.janiecoffey.com
 Elizabeth Enea – www.elizabethenea.com
Nicole Beauchamp – www.nicolebeauchamp.com
One More Secret
Keep it simple. If you are going to have a form keep it to five fields or less. Don't make it complicated and don't ask for more than people are willing to give.
Give them a reason to give you their info on a contact form.  (Tweet This)
So please, if you have a site you can edit yourself like a WordPress site – add in your email – make it blatantly obvious. If you don't have a site you can edit, call (or email :)) your Webmaster and ask him/her to add your email to the upper right hand corner of your site!
Bonus Tip
Since you are going to start promoting your email address on your website, now is the time to get rid of the AOL account or Hotmail or Yahoo for your business email.
I have argued with agents for years on this point, but please listen and heed my advice!
What does an AOL or Yahoo or Hotmail address say to a potential consumer?  It's unprofessional. You wouldn't expect your financial advisor or attorney to have an AOL email, right?
I'd love your feedback on this post. Leave me a comment below and if this resonates with you, please share or "like" it!