Editor's note: This is the second installment of a four-part series that explores how the spread of neighborhood data will complicate the role of agents and aggravate residential segregation. 
Allan Van Inwegen said he received some unsettling news almost immediately after moving into a home with his wife and two children about 14 years ago.
His neighbors told him they were living in a property right next door to a sex offender, "who happened to be 17 with a green mohawk," said Inwegen, a broker in Denver.
But after some digging, he discovered that the offender wasn't exactly a menace. The 17-year-old had had sex with his 15-year-old girlfriend, and the girl's father, a preacher, had caught them and pressed charges.
His story points towards the potential for sex offender data to mislead and spook consumers, a growing concern for real estate agents and even neighborhoods.
Sex offender data sets off alarm bells, can be difficult to interpret and is sometimes inaccurate, setting the stage for some buyers to dismiss listings online based on knee-jerk reactions, misperceptions or inaccurate information.
"Our laws and our websites never divulge the actual facts behind a sexual offense charge, oftentimes leaving buyers and homeowners with a false impression that every sexual offender is a pedophile, rapist or worse," Inwegen said.
The confusion will only increase. A growing number of sites and apps are serving up sex offender data to consumers. Some, like browser plug-in CensusConnect and listing portal RealtyTrac, have even woven the data into the online search experience, sparking criticism from some in the industry.

This screen shot taken last year shows two Trulia listing search results overlaid with data from the plug-in CensusConnect. The plug-in, which no longer works because its creator chose not to update it, added block-level information including sex offender, employment, income and demographic data to listing results. 
But the spread of this data won't just cause headaches for agents.
As with school ratings, crime rates and other community information, it threatens to aggravate economic and demographic differences between neighborhoods, along with ghettoizing sex offenders.
"This is a whole different level of disclosure," said real estate agent Steve Clarke, when asked why RealtyTrac's data rollout should matter given that sex offender information was already public. "This could literally bring down property values all over the United States."
Driving down home values
Online state sex registries emerged in the mid-to-late 1990s, following the enactment of legislation requiring disclosure. Since then, the websites have grown in ease of use and popularity.
Family Watchdog, the top-ranking consumer site, invites visitors to "please sign up for our free notifications to keep [updated] with offenders that move in/out of your area." The iPhone App Store serves up at least 10 apps that allow people to search for sex offenders. One of them has been a top 10 seller.
"It's only in the last five years that people have asked about sex offenders," said Clarke, who is based in Orem, Utah. "It's definitely coming up more."
That heightened awareness is probably causing consumers to shun listings near offenders more than in the past, driving down the values of those homes, according to experts and agents.
Jonah Rockoff, an associate professor of finance and economics at Columbia Business School, showed that the arrival of a sex offender pushed down home values within a tenth of a mile of an offender by 4 percent in North Carolina's Mecklenburg County from to 1994 to 2004.
The proliferation of data and new technology since 2004 has most likely magnified that effect, he said.
"You would presume it would magnify price discounts," Rockoff said, referring to the amount by which a nearby sex offender drives down home values. "[The study] was clearly before people were using apps and probably before the databases became a lot more user-friendly."
Have some of your clients rejected listings due to the presence of nearby sex offenders? Have you worked with buyers who are registered sex offenders? Please share your stories in our comments section.
Surfacing on real estate sites
Specialized sites and apps have already piqued awareness of sex offenders, said Anthony Longo, CEO of the neighborhood information app CO Everywhere. But if many real estate sites pepper their search experiences with offender data they will launch that awareness to new heights.
Homefacts.com, a neighborhood information site owned by RealtyTrac, highlights sex offender data at the top of its property and neighborhood information pages, right next to school ratings. The browser plug-in CensusConnect overlaid sex offender data onto listing search results on Trulia, Zillow, realtor.com and other listing sites. (The app no longer works because the creator opted not to update it.)

Screen shot of a RealtyTrac property page displaying sex offender data. RealtyTrac tells users who move their cursors over the "i" in the upper-right corner of the module that close proximity to a sex offender drags down a property's value by 4 percent.
Earlier this year, RealtyTrac migrated sex offender information along with data on other unpalatable neighborhood characteristics like the locations of drug labs, underground spills and hazardous waste sites over to its listing pages from Homefacts.com.
Some agents objected to the data rollout, pointing out that public sex offender data can be inaccurate.
They're right. Offenders move, and they might not immediately register their addresses with authorities or, for that matter, register them at all.
"I've already checked the 'sex offender' list for my neighborhood," commented Inman News reader Linda Swift. "It was totally wrong, I knew my neighbors in the homes listed."
But even if the data is accurate, buyers might misinterpret it. Many offenders have not committed crimes that are as nearly as heinous as many might initially assume.
"I know of a young man who was 18 caught with a 15-year-old girl who he thought was his own age," said Vickey Wachtel, owner of Katy, Texas-based Imagine Realty International. "He is in his 30s now and no threat to anyone but … his neighbors will be punished because he was a teenager who didn't ask a girl her age."
Reasons like these are why Andrew Schiller, founder of NeighorhoodScout, has elected not to display sex offender data on the site's neighborhood profiles.
"I felt like it was not providing social good to be able to provide that information until the data was better," he said.
Schiller said he once met a man holding an infant child who told him, "I feel like I've got the scarlet letter on me."
"He and his wife were drinking, and it was nighttime and everyone was being revelers," Schiller said, recounting the story the man told him. "He went outside and he and his wife made love on the lawn and got caught … then he was registered as a sex offender."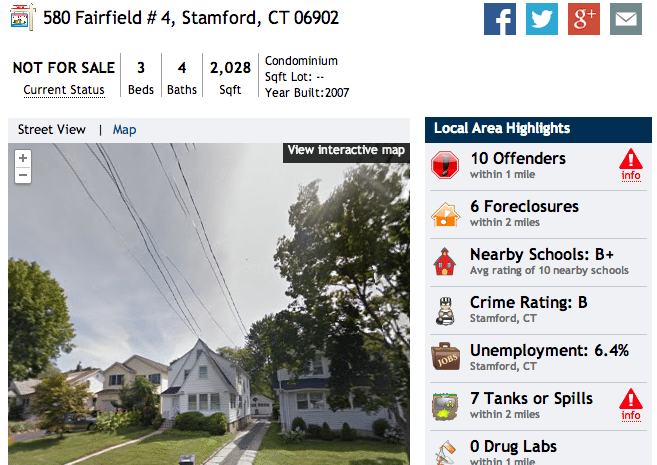 Screen shot of a property page on Homefacts.com showing data including the number of offenders within one mile of the property's address.
Just weeks after RealtyTrac introduced sex offender data, the company removed the statistics from its listing pages. Users may still access the information on the site, however, by clicking from listing pages over to property report pages, which exclude listing data.
Some other real estate sites seem likely to follow RealtyTrac's lead, though it remains to be seen whether they'll display sex offender information directly next to listing data.
Zillow CEO Spencer Rascoff recently said the listing portal would probably add sex offender data. Trulia, however, said sex offender data is "not on our product road map."
"It's certainly possible that as information becomes more easily available that not only will the impact become greater, but it also may have a further reach," said professor Rockoff, referring to sex offender data's impact on property values.
Ghettoization
The data also could help herd offenders into enclaves, depressing home values in some neighborhoods and scaring away families with children.
Research published by four professors from Longwood University in Farmville, Va., in late 2013 found that sex offenders tend to cluster together, and that such clustering increased from 1999 to 2009 in Virginia.
The researchers posited that, along with rules that restrict where offenders may live, sex offenders may gravitate towards areas with other offenders even as other people retreat from them because those areas are cheaper, and because offenders generally have a higher tolerance for other offenders.
The study even identified a "tipping point" for neighborhoods that absorb sex offenders. It showed that the values of three-bedroom homes suffer much more from the presence of four nearby offenders than three, suggesting that families living in such areas pack up and leave in droves while buyers with families avoid them like the plague.
"You can almost think of it as clusters of sex offenders are almost like a spiral," said Scott Wentland, one of the researchers who worked on the study. "You start to see a neighborhood start to tip in one direction … sex offenders beget more sex offenders."
The profusion of this data will complicate agents' jobs. But some agents say that it also presents an opportunity for them to provide additional value.
Portland-based agent Steve Bornick said the proliferation of data is exactly "why a good, educated, professional local Realtor can help avoid shortsighted buying impulses from the general public who now think they are real estate experts."
On Monday, in Part 3 of this series, we look at how online school ratings are frustrating agents and fueling economic segregation. Read part 1 on crime data here, part 3 on school data here and part 4 on demographic data here. 
Do you think the spread of sex offender data could erode neighborhoods? Please share your thoughts in our comments section.