Editor's note: This product review focuses on a free trial of RealtyTrac.com, an online real estate site that maintains information on U.S. properties in a foreclosure process. The site also features information on bank-owned, for-sale-by-owner, resale, new construction and multiple listing service properties.
Click here for a description of the product rating and review process. Please send your feedback, and recommendations for products to review, to productreview@inman.com.
Product: RealtyTrac.com seven-day free trial.
About: RealtyTrac, an online real estate site, offers information on more than 1.5 million properties and attracts about 3 million unique monthly visitors. The company's data has been used by several government agencies to aid in evaluating foreclosure trends, and RealtyTrac also supplies data through partnerships with a range of real estate Web sites, including Yahoo Real Estate and The Wall Street Journal's Real Estate Journal. The company was founded in 1996.
Cost: The company offers some free property information, with more detailed information and additional tools available through a paid subscription. The base price for a monthly subscription is $59.95, though the site currently advertises that discount pricing is available. In a recent test the site offered a $49.95 monthly subscription rate, and in an earlier test the offer was for a $39.95 monthly subscription. Also, the site offers a seven-day free trial.
Review team: Deb Agliano (leader), Anita S. Crum, Mark Bergman.
Ratings: Ease 83, Value 73, Power 75 (100 is the highest possible score in each category).
RealtyTrac.com, which offers access to a range of property information including data on foreclosure and bank-owned properties, received highest marks from a three-member product review team for its ease of use.
The reviewers tested the site's features and functionality during a seven-day trial period that began in late July. All of the reviewers are active real estate professionals and are not employed by Inman News.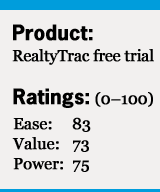 Deb "DebOnTheWeb" Agliano, the team leader, gave RealtyTrac 90 (out of a maximum 100) points for "Ease," which measures the site's learning curve and ease of use. "Ease" is one of three categories that team members use in evaluating products.
"The Web site is straightforward.  Put in your search criteria and you get a list of properties. There should be no learning curve," Agliano wrote in her review.
She noted that the site allows users to save searches and to view a list of recently viewed properties.
But she said she found examples of erroneous data. "As with all foreclosure Web sites, there are inaccuracies. I found one home under the bank-owned tab of my search that showed that no sales price had been set yet for the property. However, I found the same house under the next tab, 'Homes For Sale,' with its correct list price."
Agliano's lowest rating, a 70, was in the "Value" category, which is a measure of how helpful and useful the site is to real estate professionals and to consumers/clients.
RealtyTrac has "a good library of information for people looking to learn more about buying foreclosed properties" and does "a good job of pulling together information from a variety of sources so that you can have a list of preforeclosures and foreclosures without spending a lot of time," she stated in her review. …CONTINUED
But the quality of the information is a "weakness in value," and she said she was disappointed by the site's choice of comparable sales for a foreclosure property she examined.
"There are plenty of comps in the same city, but of the five comps the system showed me, only one was in the same city, making the information virtually worthless," Agliano stated.
For "Power," a measure of the power of the site's features and its innovation, scalability, advanced features and potential for changing the industry, Agliano gave RealtyTrac a rating of 80.
Its strengths include its large database of properties and "interesting statistical information" available through a "Trends" tab. Also, Agliano noted that agents can sign on as a RealtyTrac "affiliate" to add a foreclosure search on their own Web sites. She also noted that the "search feature was consistently slow each time I tried to use it," whether she was using the Firefox or Internet Explorer browser.
Like Agliano, review team member Anita S. Crum offered the highest score — a 90 — for RealtyTrac's ease of use.
"The average user should develop a comfort level within 30 minutes, a more proficient user within 10-15 minutes," she said.
The search is prominently featured on the main page of the Web site, and the "overall layout and presentation is good and easy to follow," she stated, adding that the availability of personal search results on the main page "is even nicer" and the ability to save notes on individual properties "is a definite plus."
Crum said that many links opened up as pop-up windows, which "was a little annoying" and "too reminiscent of advertising pop-ups, which, in a way, many of these were."
Some items listed under a "Tools & Services" section at the site "were either links to third-party vendors or to other data and services provided by RealtyTrac at an additional cost," she also noted.
And there were many sponsored links at the bottom of the page, she said. "I stopped bothering to 'page-down' all the way after the first few times of seeing it."
For "Value," Crum rated the site as an 85. The information on preforeclosure properties "could especially be useful to investors" who seek to purchase homes before they are listed for sale, she stated in here review.
Like Agliano, Crum said the site's "Trends" section provides interesting information, including charts and graphs.
And she agreed with Agliano that "As with other foreclosure information sites, this site also suffers from a degree of inaccuracy in data. Not all the properties I reviewed were current on status; however, the percentage of inaccuracies noted were less than those of other sites I have used in the past."
She added, "As an industry professional with access to other methods of obtaining information, I find this product to have limited reliability," while it "does provide a good general overview and some helpful tools but not anything I couldn't produce through other means."
She said a Home Value Analysis Feature at the site "was a nice surprise," and showed a median home value about 4.3 percent below that of a local MLS report. …CONTINUED
A tool at the site offers "Renter Alerts" — a service that tracks a property for 12 months and provides notification "if your landlord goes into foreclosure," Crum stated.
And she said the e-mail alerts offered by the site "were a nice touch" and "its strengths lay, in part, on the amount of good information available in general."
A foreclosure prevention section at the site "was a little disappointing," Crum said, adding that a "get help now" section leads to a form that requests information "from an unidentified third-party source."
And a "find and agent" section at the site also leads to an online form requesting information from the user.
A "contact owner" button at the site, available on preforeclosure properties, "did not seem to work for me," Crum stated, and the "contact agent" feature for bank-owned (REO) properties "does not actually connect you to the listing agent but rather sends you to (an online) form."
RealtyTrac is "a good research tool for checking trends in a particular area and for doing preliminary research of properties," though "I don't foresee this product replacing anything currently used by the industry unless it can ensure more accurate data," she concluded.
Mark Bergman, another review team member, said entry-level users may prefer basic, "preformatted searches" using the site, while more experienced users "may enter very targeted, detailed searches" such as county-specific searches.
Bergman said he was distracted by the volume of ads at the site: "From the time of signup one is bombarded with offers and adds for services … so many ads on a paid site is obnoxious."
He offered the lowest ratings in all three categories among the three reviewers: a 70 for "Ease" and 65 for "Value" and for "Power."
Like the other reviewers, Bergman questioned the accuracy of the information provided at the site. "Accuracy of the information presented is inconsistent," and "MLS updates or connections are inconsistent," adding that the site should seek to acquire "complete and accurate (Internet Data Exchange) feeds."
He also stated in his review that the information provided at the site doesn't empower users "with enough information to go out and buy or sell foreclosures," though he acknowledged, too, "I have no doubt that tracking foreclosures is, at best, a real challenge for any service provider."
Even so, he added, "I've used other foreclosure tracking sites that are superior."
Click below to view individual reviews:
Deb Agliano
Alicia S. Crum
Mark Bergman
For details on the Inman News Product Review process, please click below:
Inman News Product Review Rules
***
What's your opinion? Leave your comments below or send a letter to the editor.