Economic optimists remain firmly in charge of markets and the media, and the search for data to support their view …
Wait! A not-news flash! The administration has at last released its Fannie-Freddie study, which contains three plans that will not be enacted. Nor will any until housing and the financial system recover — which they may or may not, given current underwriting.
Home mortgages total more than the national debt, and we don't know what to do with that either. Bipartisan criticism of the government-sponsored entities (GSEs) will continue, as Fannie and Freddie are no longer sources of campaign cash. Back to actual news …
The optimists found some supporting evidence, but too close to the broad baseline of wobbles to confirm a self-sustaining recovery. Consumer credit card balances at last rose in December, for the first time since August 2008.
New claims for unemployment insurance likewise broke to a three-year low of 383,000 last week, but a slowdown in layoffs is not the same as hiring.
The National Federation of Independent Business small-company survey (www.nfib.com) is critical because small firms have been absent from this "recovery" and are the heart of U.S. job-creation.
The overall survey reached a three-year high, but to a level similar to the worst of the two prior recessions. Earnings have nudged up (makes sense, firms cut to gristle), as have plans to increase inventories (ditto), and although sales expectations are the best since 2007, actual sales are still sliding.
Current employment has stabilized from negative, but plans to hire are flat.
The finger-drumming and toe-tapping wait for recovery, or not, would be unbearable without comic relief from Rupert Murdoch's newly dumbed-down Wall Street Journal page-one headlines.
This week brought a new standard in the mindless hunt for positive news: in 48-point type, "Cash Buyers Lift Housing."
Cash purchases did soar in 2010, oddly enough in places like Phoenix's 42 percent, Miami's 54 percent, and Las Vegas' 45 percent (those stats according to Zillow), and nationally from 14 percent in 2008 to 28 percent in 2010 (that data according to the National Association of Realtors).
However, these transactions are not lifting anything — these are the bone-picking takedowns of foreclosures. Cash is required. Just try asking the public trustee to take a prequalification letter, and wait a month for your appraiser and clear-to-close from underwriting.
Perhaps next week we'll read: "Lens Caps Found to Cause Photo Underexposure."
On Monday, President Obama told a U.S. Chamber of Commerce audience to "get in the game" and use retained earnings to hire people. More than one attendee expressed puzzlement at hiring people who were not needed, and found it improbable that doing so would add to their sales.
In genuine good news, the oil-drilling rig count in the U.S. has jumped to the highest number in 23 years, as gas-fracking (a hydraulic fracture-stimulation mining technique) technology is suddenly working the same miracle in oil-bearing strata.
Domestic production will pick up 1 million barrels per day in the next four years, to 20 percent of total U.S. output. Some will object: the global warming-fearful (who have had a frustrating winter), and the "Gasland" mob convinced that fracking causes fiery tap water.
See "Lens Cap," above: If you drill a well for water into gas-bearing strata, you'll get gas with your water (see Colorado Division of Natural Resources investigation of the "Gasland" well).
Serious business: The U.S. Treasury borrowed $72 billion in new cash this week, selling long-term bonds at auction. These are the same bonds the Fed is buying at a $100 billion-per-month clip, and post-auction is always our best shot at a reversal of a sustained rise in rates.
Not this time: The 10-year Treasury note crept down to 3.6 percent from 3.74 percent, with mortgages down a hair from 5.25 percent — but that's been it. If the Fed cannot control long-term rates, they are out of all control.
Housing will have to deal with rising rates so long as recovery optimism holds, and the optimists will have to deal with the contradiction.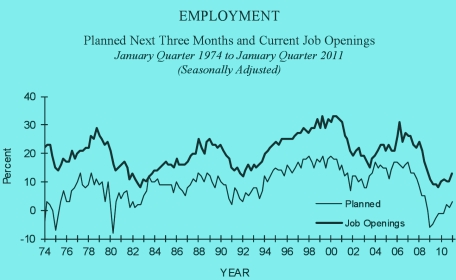 Source: National Federation of Independent Business, Small Business Economic Trends, February 2011.